MA Legislature passes energy bill shortly before end of session deadline
Late Sunday (July 31) night the Massachusetts Legislature passed H.4568, paving the way for the country's largest offshore wind procurement ever. We want to thank the nearly 200 members who reached out to members of the Energy Conference Committee urging them to act to make the bill as comprehensive as possible. Although the final version does not include all the provisions we wanted, it is a step forward for renewable energy in Massachusetts. Here's what you need to know about what passed.
Steps in the right direction
Offshore Wind & Hydroelectricity: As expected, the final bill directs utilities to enter into long term contracts for offshore wind and hydroelectricity. On offshore wind, conference committee members struck a compromise and agreed to 1600MW of offshore wind by 2027. In addition to offshore wind the "clean energy resources" component can be met with either hydroelectricity by itself, the purchase of Class I RPS eligible resources by themselves, or a combination of the two.
Gas Leaks: The Department of Public Utilities (DPU) is required to move forward with a process to identify and repair "environmentally significant" Class 3 gas leaks. This was a priority of Mass Energy's and should help accelerate gas leak identification and repair.
Energy Storage: Requires the Department of Energy Resources (DOER) to evaluate energy storage procurement targets for electric utilities. The provision has the potential to help accelerate deployment of storage in Massachusetts and may have a positive impact on clean energy consumption in our state. We would rather meet peak demand with stored energy than by building new gas pipelines carrying fracked methane.
Commercial Property Assessed Clean Energy (CPACE): Allows for owners of commercial properties to finance energy efficiency upgrades and on-site renewable energy measures and installations as an adder to their property tax bill.
Bad components that made it in
There are also some bad measures included in this final bill. Most notably, utilities have been handed an unnecessary perk in the form of remuneration on long term contracts signed for offshore wind AND hydro. Put another way, the utilities are guaranteed payment in the amount of 2.75% of the annual value of the long term contract.
The guarantee on the hydro contracts is particularly egregious because utilities are already guaranteed substantial rates of return on new transmission lines. In other words, there is the potential for a utility to benefit from the procurement of wind or hydro AND the construction of the transmission lines required to move the resource.
Another disappointing measure that made its way into the final bill is language allowing for the inclusion of trash incineration, referred to in the bill as "waste-to-energy," under the alternative portfolio standard (APS). The provision was a very late addition to the bill.
Missing from the bill
Ban on Pipeline Tax: Mass Energy strongly supported an explicit prohibition on the proposed 'pipeline tax.' This unprecedented cost-recovery mechanism has been put forth by the utilities to allow them to pass on to consumers the cost and risks associated with the build out of unnecessary fracked gas pipelines and related infrastructure. Anti-pipeline tax language was unanimously adopted by the Senate, and a 97-member majority of House Representatives signed an April letter to Speaker DeLeo urging leadership to protect ratepayers from financing gas pipeline infrastructure. Yet despite this and overwhelming public support, the final bill was silent on the issue.
We all look now to the Supreme Judicial Court to issue a ruling on the matter (possibly this month) and hope that the result is one that puts the interests of consumers and the environment ahead of utility interests and their profits-at-all-costs pursuit of Access Northeast.
RPS Increase: Also noticeably absent from the final bill, was the incremental increase in the state's Renewable Portfolio Standard (RPS), proposed in the Senate bill. Mass Energy strongly supported the 2% per year increase as a way to accelerate a clean energy transition. It is also a means of achieving GWSA compliance in the near term, as required by the recent Kain v. MA DEP ruling by the Supreme Judicial Court, and in the long term, by 2050.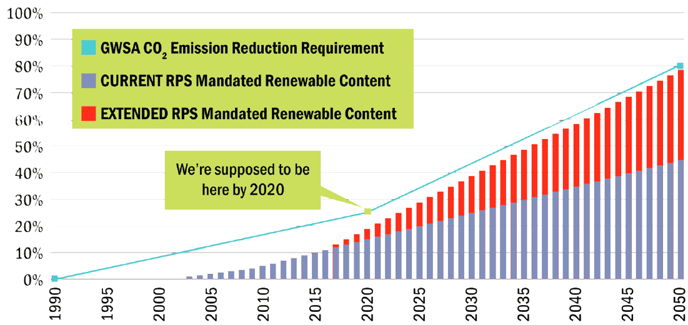 Although we are pleased that the bill promotes the development of offshore wind, we will need all available renewable resources to fully move off of fossil fuels and to combat climate change. Increasing the RPS, particularly alongside large procurements of offshore wind, is necessary to sustain demand for and steady growth of onshore wind and other Class I renewable resources.
It is unfortunate that the RPS increase did not make it into a final bill especially since so many other states including several regional neighbors have done so as a way to meet ambitious clean energy objectives. Our current 1% per year increase will result in barely 25% renewable supply by 2030. This pales in comparison to states like California and New York who have set RPS requirements of 50% by 2030. Oregon has set a requirement of 50% by 2040. And Hawaii is pursuing 100% by 2045. A 2% increase per year will keep MA among the ranks of national leaders on clean energy. For all of these reasons, Mass Energy will continue to pursue legislation to adjust the RPS.
H.4568 was delivered to the Governor's desk for a signature just after midnight.
Related Posts
Massachusetts' rebate program for electric vehicles, MOR-EV, has been critical to the growth of electric vehicle...

Anna Vanderspek
Oct 21, 2022 5:22:01 PM