UPDATE: House passed its Energy Bill (H.4385) on Wednesday, June 8 by a vote of 154-1. The bill includes a procurement of 1,200MW each of offshore wind and hydroelectricity. It also includes a technical amendment that addresses the need to fix gas leaks. A total of 61 amendments to the bill were filed and nearly all, including those that Mass Energy supported, were not voted on because they were withdrawn or laid aside as beyond the scope of the bill. This includes an amendment that would have increased the Renewable Portfolio Standard (RPS) and an amendment that would prohibit the "pipeline tax" on electric customers to fund unnecessary gas infrastructure.
The bill has made its way to the Senate where lawmakers are developing what we hope will be a more comprehensive energy bill. We would like to see the Senate version include the "pipeline tax" prohibition, an increase to the RPS, alongside the energy procurement and gas leak repair included in the House version.
---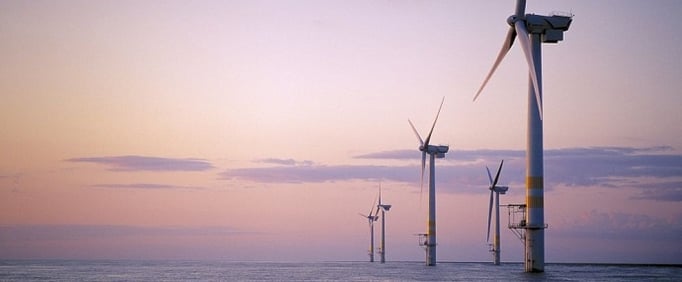 After months of speculation, the House's "omnibus" energy bill is slated to be taken up for a vote today (Wednesday, June 8th). H.4377 (An Act to promote energy diversity) directs utilities to procure a large amount of offshore wind and hydroelectricity.
Mass Energy has been meeting with legislators and collaborating with our advocacy partners to ensure that this legislation goes as far as possible to advance clean energy. Provided below is a summary of the House bill as revised by House Ways and Means (HWM) and a breakdown of the amendments we support or oppose and why.
H.4377 at a Glance: Wind, hydro, and little else.
H.4377 directs electric utilities to enter into long term contracts for 1200 megawatts (MW) each of offshore wind in waters off the coast of Massachusetts and hydroelectricity from Canada. The hydroelectric power can be backed by other Class I RPS eligible resources, like onshore wind from Maine.
What's missing from H.4377?
From Mass Energy's perspective, there are several ways in which the bill could be improved, beginning with the inclusion of the following items that are missing from the HWM version of the bill:
Prohibition of ratepayer financing of fracked gas pipelines.

We would like to see lawmakers take steps to expressly prohibit public subsidies for fracked gas pipelines because we expect that the Mass. Department of Public Utilities will approve such a pipeline tax unless the legislature takes action. We are hopeful that an amendment to this affect will be filed in the House, but if not, it is something Mass Energy and others will continue to push hard for in the Senate version of the bill.

Action: SUPPORT AMENDMENT #27: Prohibition of electric customer support for gas pipeline expansion & #59: Protecting ratepayers from subsidizing gas pipelines

Increase in the Renewable Portfolio Standard (RPS)

The Massachusetts Renewable Portfolio Standard (RPS) is a requirement that electricity suppliers source a certain percentage of their electricity through local renewable resources. The RPS helps drive demand for in region resources like onshore wind and has been instrumental in displacing fossil fuel generation by bringing qualifying projects online. These resources also have the potential to be brought online by 2020 and could help in achieving compliance with the GWSA that was recently affirmed by the Supreme Judicial Court. Currently, our RPS requires electricity suppliers to meet 11% of their load with eligible renewables and this amount increases 1% per year. We need the legislature to support a doubling of this annual increase (2% per year) to help accelerate the growth of local renewable power.

Action: SUPPORT AMENDMENT #2: RPS Annual Growth Increase filed by Rep. Khan (D-Newton)

Fix natural gas leaks.

Our gas distribution network is old and emitting high levels of methane every day. Consumers are stuck paying for this lost gas, a significant contributor to our greenhouse gas emissions. This is expensive, potentially dangerous to residents and businesses, and poses a threat to the environment. Fixing gas leaks is a very important part of Massachusetts' clean energy strategy and is very much in the interests of consumers and the environment. The legislature should support language requiring gas utilities, instead of customers, to bear the cost of leaked an unaccounted for gas.

Action: SUPPORT AMENDMENT #31: An amendment relative to natural gas leaks filed by Rep. Ehrlich (D-Marblehead).
Mass Energy strongly OPPOSES Amendment 14: Energy Efficiency Improvements filed by Rep. Haddad (D- Somerset), because, despite its name, the amendment seeks to exempt large Commercial and Industrial users from energy efficiency and renewable energy programs. This is a huge mistake because its costs less to save energy in the large commercial and industrial sector than it is to buy any other kind of energy resource.
Once the bill passes the House, the Senate will release its version. That will provide another opportunity to improve upon what has been put forth by the House. Follow progress made on this bill by visiting our new MA advocacy page.
Want to take action in the meantime? Contact your Senator and urge them to support a comprehensive energy bill that accelerates the growth or renewables, ensures gas leaks are fixed, and prevents public subsidization for unnecessary pipelines.