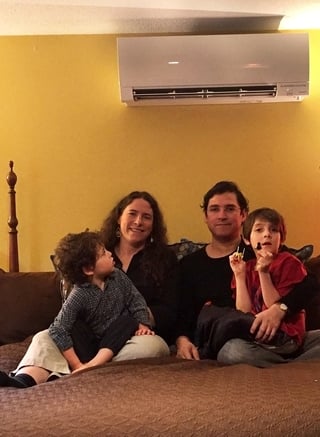 If you're looking to reduce your energy consumption and want an example of how Mass Energy and People's Power & Light can help, look no further than the family of Ricard Torres-MateLuna and Christine Hatch. As Massachusetts residents, they joined Mass Energy in 2014. Since then, these members have reduced their environmental footprint and cut down their energy bills not only by making their home more energy efficient, but also by participating in our Discount Heating Oil Service, our Mass Solar Connect program, and our pilot Heat Pump Program (MA only). A RI solar program is coming soon! Subscribe to this blog to hear all about it when it happens.
Since the first (and cheapest) step towards reducing your energy consumption is increasing your energy efficiency, Ricard and Christine replaced all the lights in their home with high-efficiency LEDs and purchased a high-efficiency water-heater to make sure they get the biggest bang for the bucks they spend on energy. (Mass Save in MA and Energy Wise in RI can help you find the most cost-effective steps for your own home and offers rebates for things like plugging up those drafty window seams, insulating your walls, investing in high-efficiency appliances.)
Ricard and Christine took advantage of something else we promote: a no-cost home energy assessment, available in both MA and RI. But their family first got involved with Mass Energy after seeing a brochure on Mass Energy/PP&L's Discount Heating Oil Service from one of Christine's colleagues. They signed up, got paired with a local oil distributor, and "got great prices" on oil, according to Ricard.
But Ricard and Christine didn't stop there, because "other things started coming along" – specifically, Mass Energy's Mass Solar Connect program. During the spring of 2015, the family was working with four different solar companies, comparing bids to install a solar array on their home. After receiving an email about Mass Solar Connect, which used group buying power to get people a discounted price on solar panels, they drove 45 minutes to an informational meeting in Easthampton to check it out. This summer, they successfully installed a solar array on their home through the Mass Solar Connect program. For the past four months, the system has not only lessened their carbon footprint dramatically and brought their electricity bills to $0, but has allowed them to build up over $100 of credit with their utility that they'll use during the winter months (when the sun doesn't shine as much! Learn more about solar net-metering here). Needless to say, they're thrilled!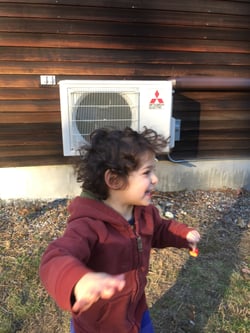 Ricard and Christine's most recent step has been to install four heat pumps through Mass Energy's Heat Pump Program for the Pioneer Valley. The four heat pumps are in different spaces that they can heat individually as needed: the master bedroom, the main family area, the kids' room, and the guest room. Cold Climate Air-Source Heat Pumps (ccASHPs) capture the heat energy in the air outside and use it to either heat or cool your home. Recent advances in technology have made them much more energy-efficient than traditional gas- or oil-heaters and viable in cold climates like New England's. And, because they run on electricity and don't burn fuel, they can improve air quality, indoor and out! Learn more about heat pumps here.
How would Ricard describe his experience with heat pumps so far? "Magic! They're great, they're not noisy, they're fantastic, and they heat up the rooms really quickly!" Installation was very simple ("pain-free" and "not intrusive at all", according to Ricard); it only took two days for Mass Energy's partner, Noonan Energy, to install the units and run the piping up to the correct floor. And, because heating with heat pumps is more energy-efficient than heating with oil alone, the pumps will pay for themselves in only five or six years.
Looking back on the family's energy decisions over the past year, Ricard says: "I researched my water heater and I got the best one in the market, but it took me around two months of research. But through Mass Energy's programs, you get all of this information for free, done for you, in a way that makes sense and helps you to make an important decision."
We're so glad we could help! At Mass Energy/PP&L, we aim to assist consumers to make sustainable and sound energy choices. If we can help you, let us know: reply@massenergy.org.
---
Follow Ricard and Christine's Lead
Interested in a no-cost heat pump assessment of your home through Mass Energy's Heat Pump Program, running through December 31st?
Interested to learn more about Mass Energy's Discount Heating Oil Service?