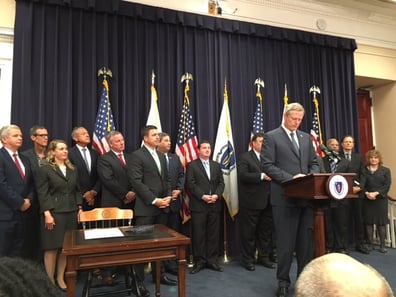 Late Friday morning, Mass Energy joined policy makers and stakeholders at the Massachusetts State House to witness Governor Charlie Baker sign Executive Order 569: Establishing an Integrated Climate Change Strategy. EO 569 directs members of the Baker administration to take steps to address climate mitigation and adaptation. Notably, the order sets August 11, 2017 as the date by which the Department of Environmental Protection must adopt regulations required to meet statewide GHG emissions reductions by 2020, in accordance with the mandates of the Global Warming Solutions Act (GWSA) Section 3d. Regulations establishing "declining annual aggregate emissions" for sources of greenhouse gases are several years past due. This failure to pass regulations as required by law is what prompted Mass Energy to join Conservation Law Foundation in its case against the Mass DEP, Kain v. Mass DEP, that was heard before the Supreme Judicial Court last winter and unanimously decided upon in May.
In addition to regulations, the Governor's order includes a pledge to set GHG emission reduction targets for 2030 and 2040, a commitment to developing an in-depth climate adaptation plan, and plan for coordination between agencies, including Transportation and Public Safety, on mitigation and adaptation strategies to ensure state resiliency in the face of changing climate.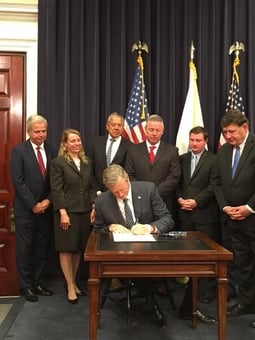 Governor Baker signed the order during a press conference on Friday where he was joined by members of the Legislature and his Cabinet. Matthew Beaton, Secretary of Energy and Environmental Affairs asserted that the Executive Order is a reaffirmation of this administration's commitment to combatting climate change. Senator March Pacheco (D-Taunton) and Senator Bruce Tarr (R-Gloucester) told attendees that EO 569 was a collaborated and bipartisan effort to address some of the key issues that had been excluded from the final energy bill passed in July and signed in August. "If you don't plan for change, you can easily become its victim," said Tarr. Conjuring the image of the house of one of his constituents falling into the ocean, he called on policy makers to heed the science of climate and to be proactive in their actions to combat it. Senator Pacheco, who has long been an environmental champion, remarked that addressing climate change is as much about preserving Massachusetts' economic well-being as it is about safeguarding the environment. "The vulnerabilities [of climate change] are immense," he said. "This Executive Order is a welcome and necessary step forward."
As co-plaintiffs in Kain, we at Mass Energy could not agree more. Our organization is pleased that the Baker Administration has initiated the long-overdue regulatory process required by GWSA and that the Governor has established a date by which compliance with the SJC decision must be met. These are important steps in the right direction. At the same time, however, we feel compelled to remind folks that the SJC decision focused on meeting the state's requirement of 25% reductions by 2020. And by that score, we are undoubtedly lagging. The recently passed "omnibus energy legislation" will not significantly help us in time for 2020. Furthermore, no mention was made Friday to what should be a diminishing role for natural gas in Massachusetts' energy future. The Baker administration continues to push for additional gas capacity and has yet to move away from its support for the Spectra Access Northeast fracked gas pipeline project.
So while this executive order is welcome regulations, policies, and programs implemented in the 49 months remaining between now and then must close that gap and ultimately add up to 25% below 1990. Simply put, we need specific plans and good accounting.
We look forward to working with the administration in the months ahead to get there together.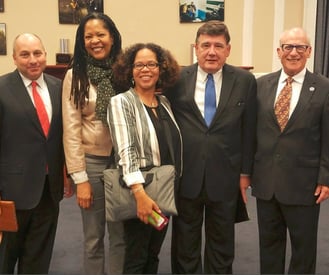 (From left: Brad Campbell of CLF, Veronica Eady of CLF, Eugenia Gibbons of Mass Energy, Senator Pacheco, and Representative Smizik)
What can you do?
Contact Governor Baker to thank him for signing Executive Order 569, while reminding him that fracked gas has no place in our state's energy future. He should double down on his commitment to energy efficiency, demand response, and renewable resources instead of digging in for gas.
Click HERE to read press release from Office of the Governor.