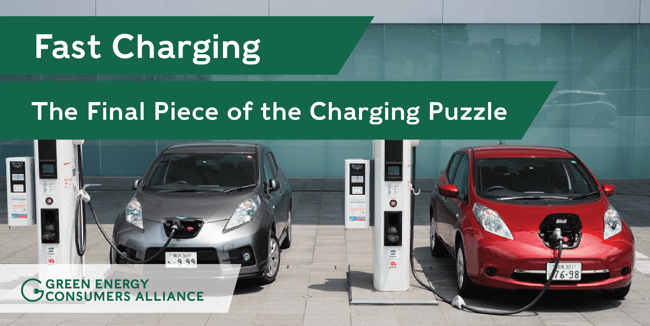 Most drivers have probably had at least one experience in which they asked themselves, "Am I going to run out of gas?" Range anxiety, or the fear a car will run out of fuel before it reaches its destination, is not unique to electric cars. It is, however, a commonly-cited reason that drivers use to justify driving gasoline-powered cars when their electric counterparts are cheaper to own, better for the environment, and more fun to drive.
Based on the experience of EV drivers who acquired their cars through Drive Green, the adjustment to charging is easier than expected and feelings of range anxiety dissipate quickly. Instead of making a detour to the gas station, drivers learn to plug in at their homes, workplaces, or parking lots. Level I and Level II charging is fast enough to meet the demands of these everyday trips.
But still, sometimes people will need to drive a couple hundred miles in a day. As more people adopt EVs, DC fast charging provides an element of convenience and security that can help displace the purchase of gasoline-powered cars. But how exactly does it work, how good is it now, and how much better can we expect it to be?
How DC fast charging works
Unlike Level I and Level II charging stations, DC fast chargers are only available for public use (in other words: you cannot install one in your home) because of their higher voltage output – up to 500 volts. DC fast charging stations can reach significantly higher rates of charging than other stations because of this high voltage and because DC power can bypass the limitations of the car's on-board charger.
The on-board charger in electric cars converts the alternative current (AC) power that comes out of wall outlets to direct current (DC) power the car can use. Charging speed is limited by acceptance rate, or how much voltage the car can take. (If you want to learn more about how this works, read my last blog.)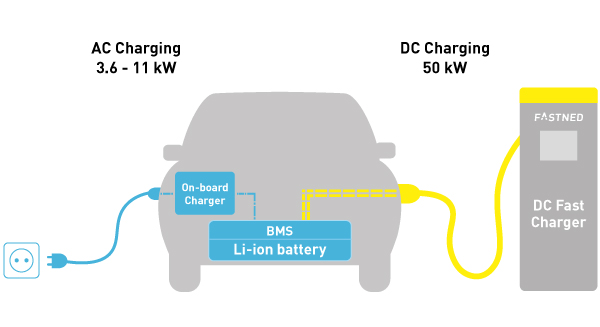 Energy from DC fast charging does not need to pass through the car's on-board charger. The speed of fast charging is solely managed by a battery management system. Source
However, for the aptly-named DC fast charging stations, the on-board charger is not required to convert the power source from AC to DC. The power coming from these stations is already DC, so electricity from the station can flow directly to the battery, bypassing the limitations of the on-board charger to achieve much faster rates of charging without adding significant weight or complexity to the car.
How fast is fast charging?
The only cap on DC fast charging is the car's battery management system, or BMS, which is a software that controls battery performance. BMS can achieve fast charging rates by optimizing charging conditions when the battery is between 20% and 80% capacity. It is in this window that EV manufacturers have the opportunity to achieve much faster rates of car charging.
(EV tip: Batteries degrade faster with frequent cycling between 0% and 100% capacity. If you want to maintain the health of your battery for as long as possible, try to avoid charging to 100% and draining it completely before recharging. It's much better to keep your car around half full for the majority of your driving.)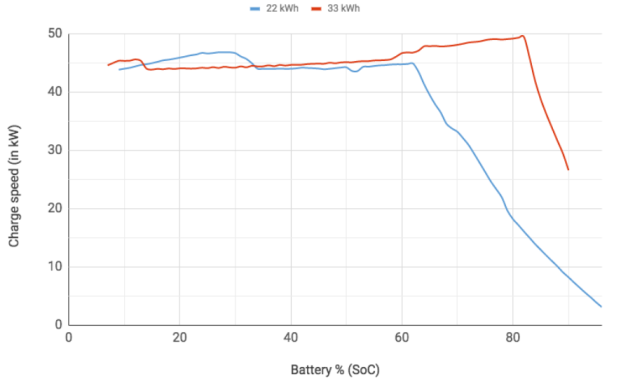 The fast charging rate of the BMW i3, like all electric cars, depends on the size of the battery, its state of charge, and ambient temperature. Even if the fast charger is able to deliver 50 kW, the actual rate of charging is often lower than that. The graph illustrates that as a battery approaches a full charge, the speed of charging decreases. Source
Many DC fast charging stations available now can support charging rates of 24 to 50 kW, and the maximum charging rate allowed for many EV models is about 50 kW. Considering imperfect battery conditions, the actual average charging rate is around 43 kW for a 50 kW station, which is equivalent to gaining 90 miles of range in 30 minutes of charging.
While there are several EV charging platforms competing on the market today, Tesla's proprietary network of Superchargers has excelled because of station abundance and power. Tesla Superchargers can deliver as much as 120 kW of power, and they're getting better because Tesla can make improvements to its' cars' BMS through periodic software updates. The third iteration of Superchargers is expected to be capable of charging at a rate of 250 kW, which is enough to add 75 miles of range in 5 minutes of charging or over 200 miles of range in 30 minutes.
Traditional car-makers are designing their cars with the rapid evolution of DC fast charging in mind. The Audi e-tron, a luxury electric SUV to rival Tesla, has a maximum rate of 150 kW for DC fast charging. In the non-luxury class, the 2019 Nissan LEAF Plus is capable of charging at around 70 kW, with a peak rate of 100 kW; that's twice as fast as the regular version of the 2019 LEAF.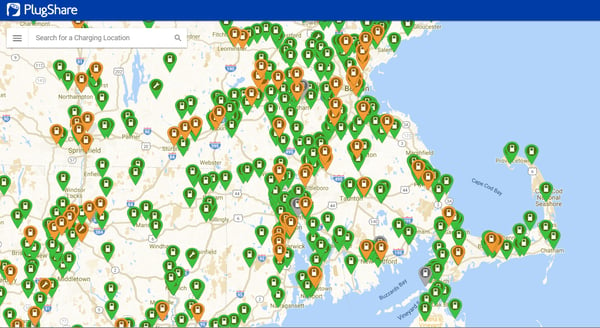 Orange stations are fast chargers, green stations are public Level I or Level II chargers. If you're considering buying or leasing an EV, check out the closest charger to you on PlugShare.
Since traditional automakers do not own their own charging networks, there aren't many stations available for charging at rates higher than 50 kW. But if you look at PlugShare, there are more DC fast charge stations around than most people think. It's a good sign that EV models will be compatible with faster DC fast charging stations as they appear in greater abundance in the next couple of years.
What's the future of DC fast charging?
If fast charging becomes significantly faster, do cars need huge battery packs to support 400+ miles of range? Maybe not; the vision for Lucid, a new electric car manufacturer started by a former Tesla employee, relies on small, 30 kWh batteries, ultra-high efficiency, and widespread, 350 kW fast charging stations. As quickly as the industry is growing, it's unclear how long such a breakthrough would take or how expensive it would be to develop the necessary infrastructure to make this vision possible. As of 2015, it costs between $10,000 and $40,000 to install a single 50 kW DC fast charging port. They're not going to appear on every street corner overnight, and it can cost as much as $100,000 for a single charger with a 250 kW capacity.
In the short term, the installation of new DC fast charging stations should be prioritized along interstate and highly-trafficked routes to accommodate for long-distance driving. Data collected from drivers can help install DC fast chargers strategically to improve access to on-the-go charging and get the most out of investment dollars in cities. But if a driver has easy-to-access options for Level II charging at work, the grocery store, or the gym, then convenience can quell range anxiety without having to invest in as many expensive DC fast chargers.
In fact, there are more DC fast charging stations being built all the time. Massachusetts has $5 million of its Volkswagen settlement funds earmarked to supplement the network of existing charging infrastructure with a focus on workplaces, multi-unit dwellings, and public sites. Utilities like National Grid and Eversource are also offering financial incentives to help employers and other building-owners install charging on their properties.
At its simplest, DC fast charging is the best way to compete with the 5-minute refueling time of a gas-powered car. It's a convenience that many long-distance drivers can't sacrifice, and so more abundant fast charging will make it harder to justify ever using gasoline. Still, long road-trips make up a small portion of our driving miles, and most EV drivers will continue to find charging at home most convenient.
Click here to read part 1 of this series: Better Battery Technology
Click here to read part 2 of this series: EV Charging 101