Since November 2016, we have helped hundreds of people learn about and buy or lease electric cars at significant discounts. Consumers from all walks of life have come through the Drive Green program. But some of our members, as we like to call them, have expertise in fields such as energy, climate, and electric vehicles (EVs). Here's what a few have to say.
Electa Sevier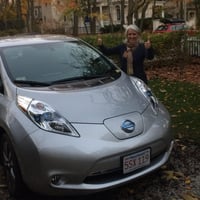 , Executive Director of Mothers Out Front
Mothers Out Front is building a powerful grassroots movement to ensure a swift, complete, and just transition away from fossil fuels and toward clean and renewable energy. That means shifting to EVs. My family bought a LEAF through the program and we love it.
Tod Hynes, CEO of XL Hybrids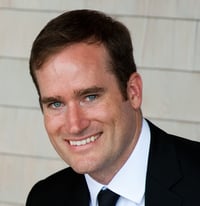 My company electrifies large vehicles for fleets and municipalities. When I wanted to electrify my own transportation, I looked to the Drive Green program for a Chevrolet Bolt. The Drive Green program was easy to navigate and the dealer was very helpful. The pricing was also very competitive.

Craig van Batenburg, CEO of Automotive Career Development Center
I bought a brand new Chevy Volt in the year 2011 having driven Honda's my entire life as Honda did not offer a plug-in car at that time. After my wife drove the Volt she wanted one too and we bought a used Nissan Leaf. That way we were a two electric car family. When the Bolt came out we still had the Volt and the Leaf but the EV was just too good of a car to pass up. We both agreed that driving to our summer place in the Berkshires in a Chevy Bolt would be a great addition to the two electric cars we already had. Leasing the Bolt was our best option. (ACDC teaches people how to fix electric cars, in the US and abroad, and teaches in Spanish, English, and French. Learn more on our website here.)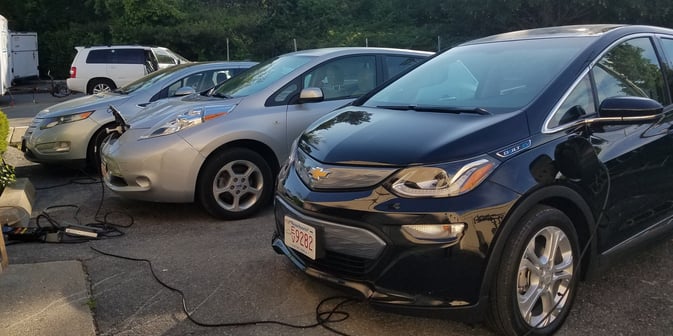 The three Van Batenburg's plug-in cars at a hotel, charging up: 2011 Volt, LEAF, and 2017 Bolt.
Abigail Krich Starr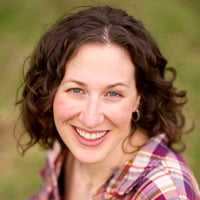 , President of Boreas Renewables
I'm a consultant to renewable energy developers and have an electrical engineering background. Union of Concerned Scientists' report showing that EVs charged from the grid in New England have equivalent global warming pollution to a gas car that gets 86 MPG convinced me I should upgrade from my hybrid to an EV someday. The Drive Green program is what made that "someday" today. Drive Green has truly revolutionized EV buying in this region, making it easy and affordable. I'm truly grateful and LOVE my Bolt!
Jennifer Marusiak, Marketing Manager for Synapse Energy Economics
The company I work for is all about the economics of sustainable energy. Drive Green is a great, practical example of smart choices we can make today to get our energy use where it needs to be. My Chevrolet Volt has been fun and fabulous, and it even fits our family's hockey gear!
Timmons Roberts, Ittleson Professor of Environmental Studies at Brown University
I teach about energy and climate policy and I advocate for policies at every level to fight climate change. The Drive Green program had all the answers I needed to shift from fossil fuels to my renewable energy-powered Chevrolet Bolt. With the charger we put on the house, we almost never need to fuel up anywhere else.

Haskell Werlin, Business Development Director at Solar Design
I am fortunate to have a garage with 40 amp 220 volt service where I could install a level 2 charger, and I have a 6.2 kW solar array on my roof significantly reducing my electrical demand from the Eversource grid and making my ride greener and cleaner than most people. The car itself is fun to drive as it has better acceleration than my Audi A4 Quattro did. Seating is comfortable for taller adults, even in the back seat. My wife Connie likes the quiet and smooth ride as there are no gear changes or shifting. Considering the low cost of leasing through the Drive Green program and the ease of shopping the different Chevy dealers, the decision to make this happen was a no brainer.
If you're ready to follow in these experts' footsteps and buy or lease an electric vehicle, visit www.massenergy.org/drivegreen (MA) or www.ripower.org/drivegreen (RI).