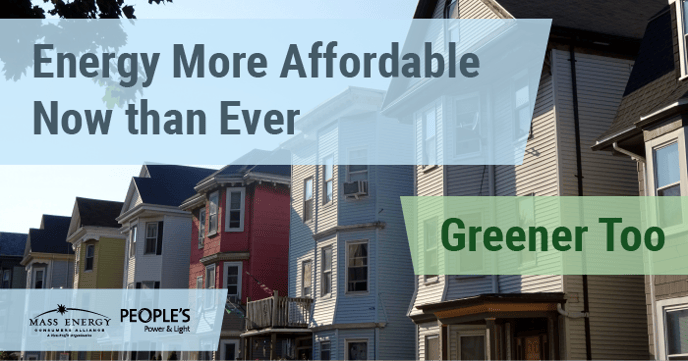 Americans are now spending less on energy as a percentage of income than ever recorded. That's a finding from a recent study by Bloomberg New Energy Finance. On average, consumers spend just four percent of their incomes on electricity, heat, and transportation. This statistic is a clear pushback against those who would say that "we cannot afford clean energy." It also points out that our economy has changed over the years in such a way that we don't need to burn as much stuff in order to make a living.
There are several factors at play in creating this affordability. It is true that natural gas and oil prices are at historic lows, especially when adjusted for inflation. That's in large part due to the fact that fracking and horizontal drilling has made getting fossil fuels out of the ground cheaper. But it's just as true that oil and gas would be far more expensive if we made them internalize the costs they impose on society such as carbon emissions, other forms of air pollution and water contamination.
Here's a chart from electricity expert Dr. Sue Tierney at The Analysis Group showing how power costs as a percent of income in New England states and the US have been pretty stable over the past ten years.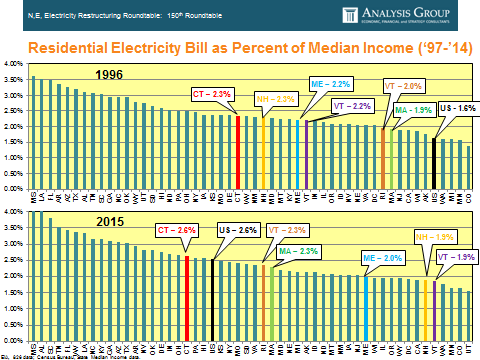 At the same time, emissions of sulfur dioxide and nitrogen dioxide from the electricity sector have gone down dramatically – more than dramatically. We've made some progress on carbon dioxide emissions in the electricity sector while the economy has grown. On that score, we have to do better.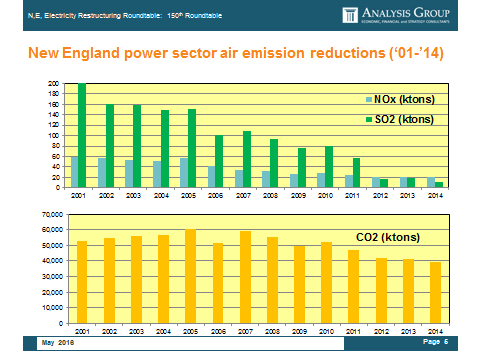 Efficiency continues to be a huge factor in reducing our energy costs. And efficiency comes to us in different ways. The American Council for an Energy Efficiency Economy recently reported that appliance efficiency standards save the average household in Rhode Island and Massachusetts $610-620 per year! That's an astounding figure brought to us by federal and state requirements on things like heating systems, air conditioners, lightbulbs and heating systems. We can now keep the beer cold in a refrigerator that uses 25% less electricity than those on the market in 1975!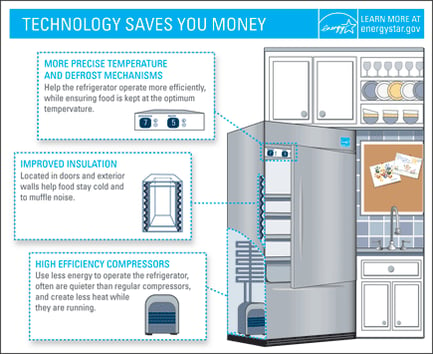 These standards benefit all of us. But they are especially important for lower income families. Commenting on the ACEEE report, Charlie Harak, senior attorney for energy and utilities issues at the National Consumer Law Center, said, "Appliance standards save low-income households money, leaving them more to buy food and pay the rent. They disproportionately are renters, not homeowners, and move into housing where the owner purchases major energy-consuming appliances like furnaces. Standards ensure that low-income renters aren't saddled with inefficient appliances that are energy hogs."
We also know that programs like Mass Save in Massachusetts and Energy Wise in Rhode Island work on top of the standards and help us reduce consumption ever further, at costs much less than buying energy supplies. It's worth noting that those programs provide extra support, including more comprehensive and free upgrades, to income-eligible families. This is as it should be. Low income ratepayers are also eligible for discounts on their electric bills and subsidies on their oil and gas bills. This is also as it should be.
Think about it – as we have gradually increased the amount and percent of renewables in our mix, energy costs have gone down, not up.
While energy costs have gone down, energy is getting greener all the time thanks to renewable energy standards. In 2003 in Massachusetts and Rhode Island, less than one percent of our power mix came from sources like wind and solar. In 2017, the Massachusetts standard is 12% (going up 1% per year). The Rhode Island standard is 11.5% (going up 1.5% per year). Think about it – as we have gradually increased the amount and percent of renewables in our mix, energy costs have gone down, not up.
And when we say our energy mix, we mean for everyone. Thanks to the state standards, renewable energy is in the mix of every National Grid and Eversource customer, including those of us who do not have solar on our own roofs. This includes low income electricity consumers. So when you hear that solar energy is not accessible to everyone, that's a bit of hyperbole. The state standards work very well to deliver clean energy to us all.
We can anticipate that energy costs will be tame for a long time. I will go so far as saying maybe forever. This is because the costs of wind, solar, LED lightbulbs and electric car batteries have fallen dramatically and are expected to do so for many more years. Here's what Joe Romm calls the chart of the year:

Bloomberg New Energy Finance expects further big cost reductions for electric batteries, making transportation cheaper over time (and hastening the day when electricity storage will be a practical option for all energy consumers).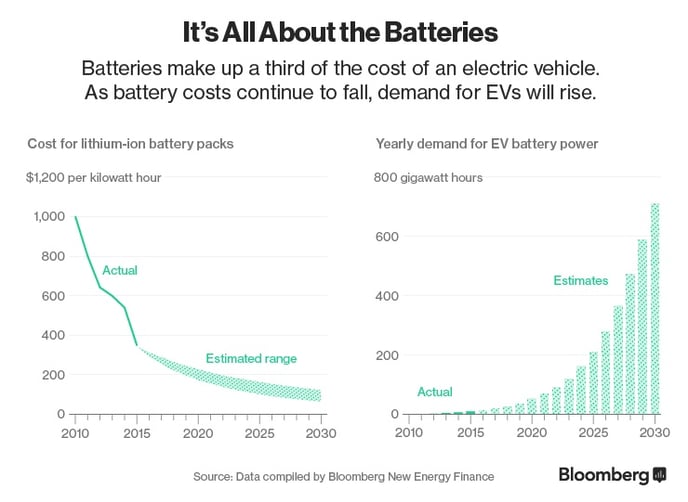 Bloomberg is so optimistic about electric cars. They describe a scenario in which oil prices eventually crash as demand for gasoline weakens. Economists describe this effect of electric cars on oil as an example of "price suppression." We should not be surprised. Efficiency programs and renewables have helped keep fossil fuel prices in check too.
Efficiency saves you money by virtue of the energy you did not buy and it helps reduce the cost of the fossil fuels that you still have to buy
To be clear – efficiency saves you money by virtue of the energy you did not buy and it helps reduce the cost of the fossil fuels that you still have to buy. Kind of like having your cake and eating it too. These positive economic factors are going to be reinforced as time goes on. To mix metaphors, the snowball is rolling down the hill.
When it comes to our economic future, there are plenty of things to worry about such as job creation, fair wages, health care, education, and saving for retirement. But energy costs should be a very bright spot. One thing we should be worried about is whether we have the collective wisdom to experience permanently low energy prices without giving into the temptation to gorge ourselves. As Juliet Schor would say, we are in era of plenitude.