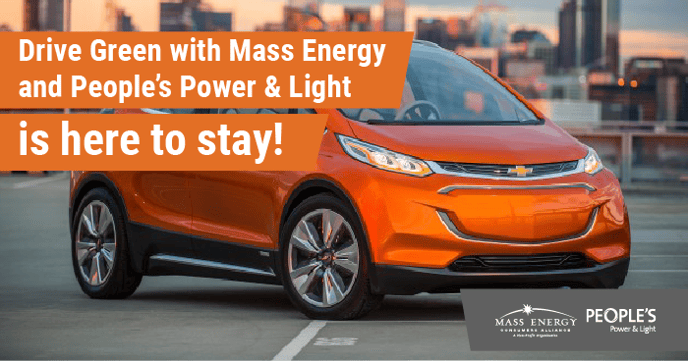 It's no fun taking away the punch bowl just as the party was getting good, so we decided that Drive Green with Mass Energy and People's Power & Light, our newest program, is here to stay, rather than ending on June 30 as we previously indicated. Our board of directors voted unanimously to keep the program going. We see it as a great way to achieve our mission of making energy more sustainable and affordable. When we launched the program on November 2, we had a good feeling that it would go well and, truth be told, it has. We're proud to say that over 130 people have purchased or leased electric cars, dozens more are in the process, and more people are registering every day. And the comments we have received from shoppers have been very positive. One thing that really makes us happy is when a new owner sends us a testimonial talking about how much they love their car or how they enjoyed our program. We know we're not yet perfect, but we are confident we're on the right track.
It's no fun taking away the punch bowl just as the party was getting good, so we decided that Drive Green with Mass Energy and People's Power & Light, our newest program, is here to stay, rather than ending on June 30 as we previously indicated.
We're also happy to report that we have added many more dealers and models since program launch. Today in Massachusetts and Rhode Island, we have: 7 Chevrolet dealers offering the Bolt and Volt, 5 Nissan dealerships offering the LEAF, 3 Ford dealerships offering the Fusion Energi and C-Max Energi, 1 Kia dealership offering the Soul EV and the Optima Plug-In Hybrid, 1 Hyundai dealership offering the Sonata Plug-In Hybrid, and 1 BMW dealership offering the i3, i8, and more! And we expect to add a few more dealers this summer. Just as in the beginning, our goal is to offer consumers an opportunity to choose from a wide selection of electric cars. We put more time and effort into recruiting dealers with cars that the middle class can afford.
In the coming weeks and months, we will be looking to enhance Drive Green with Mass Energy and People's Power & Light in a few ways:
• Adding a few more dealers in certain parts of Massachusetts and Rhode Island so that consumers won't have to travel so far for a test drive. If a dealer wants to offer EVs at a competitive price, they're welcome to join.
• Developing a way for dealers in our network to offer used electric cars. If you want an even more affordable ride, a pre-owned EV might be a good option.
• Providing more help to EV owners who want to install a Level 2 charging equipment at home.
• Holding even more "Ride & Drive" events. You can sign up to test drive an EV through our program at any time here (in MA) and here (in RI), but we've had a great response to events we hold at wind turbines and at dealer open houses.
The sheer need for Drive Green with Mass Energy and People's Power & Light has become more obvious than we knew a year ago. We love the idea of helping consumers save thousands of dollars on a great new EV. But while our humble little program is effective, it has become increasingly apparent that EVs need to become far more commonplace than they are today if we are going to significantly reduce greenhouse gas emissions. To be specific, EVs need to go from 1-2% of car sales to 25% or more by 2025.
Whether we hit our emissions targets for any particular year will depend on a robust mix of advancements in technology, markets (both supply and demand), and public policy at all levels. But we're excited about the possibilities because the cost of lithium-ion batteries, the key components of electric cars, is going down rapidly. At a lower cost, carmakers can either put more battery cells into a car and increase its range or keep the range steady but at a lower retail price. Both options make EVs more appealing to consumers. Aside from the battery, we're also seeing great improvements in things like computer software and technologies relating to safety, comfort, and "infotainment".
Even though EVs are still just 1-2% of car sales in the US, they are penetrating the market must faster in a few countries and cities around the world. As a result, virtually every carmaker in the world is transitioning towards electrification.
Those who have been leaders in EVs are working hard to maintain their leadership positions. Some examples:
• General Motors is aggressively marketing the Bolt and Volt, and has already built some autonomous Bolts.
• Tesla is starting to produce the Model 3, an all-electric car with a list price and range comparable to the Chevy Bolt.
• Nissan is expected to come out with a 2018 LEAF to challenge the Bolt and Model 3 as an affordable, all-electric car with a range of over 200 miles.
Meanwhile, all the other carmakers are eager to catch up or leapfrog the "EV Big 3" – GM, Tesla, and Nissan.
• Hyundai will soon be making available on the East Coast the Ioniq, as either all-electric or plug-in hybrid. The Ioniq is the most efficient EV on the market, meaning that it goes further on a kilowatt hour than any other model.
• Volkswagen will soon be coming out with a 2017 eGolf with a greater range, 125 miles, than the 2016 eGolf.
• China and India are adopting EVs in huge numbers, making manufacturers in their countries world leaders. They are doing this for reasons that resonate here – to reduce emissions, to make transportation affordable, and to create good jobs.
• Many carmakers, such as BMW and Volvo, are planning on making all their cars with a plug-in version. At some point, some carmakers will stop offering cars that run only on gasoline. Thanks in large part to the VW scandal, we are going to see diesel cars all but disappear from the road.
We know for a fact that carmakers and dealers are not yet good at marketing electric cars. They've been selling internal combustion engines for a century. So if you are reading this post, you are probably way ahead of the industry in some ways. But the industry is seeing signs that many consumers are not yet aware of. They know how the technological advancements are enabling them to make EVs that people will really want to drive. And perhaps most importantly, each carmaker knows that if they don't make progress in this area, their competitors will. As a result of all this global competition, we fully expect the number of different EVs affordable to the middle class to keep growing year after year. Some experts predict that EVs will become cheaper than gasoline powered cars within just a few years. That's good news. There will be more choices. And if we can help to make shopping for an EV better for consumers, we will.
Oh, one final thing. Yes, it's true that there will be more awesome electric cars a few years from now than there are today. But if you need a car today, before you look at cars that don't plug in, check out the options we have right now through Drive Greenwith Mass Energy and People's Power & Light. With our great dealer discounts, federal tax credits, and state rebates, 2017 is as good at time as any to Drive Green!