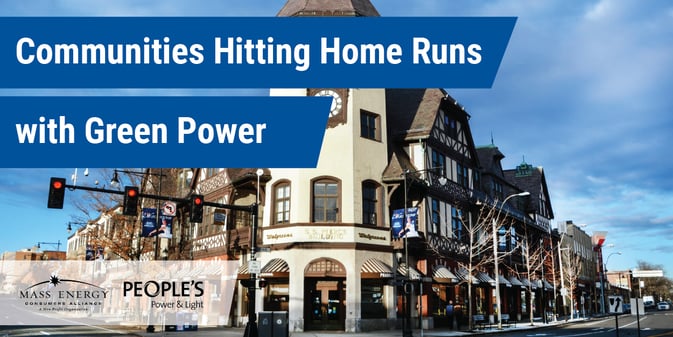 We've been saying for a while that communities should exercise their right to choose their electricity supply because it's a cost-effective way to increase renewable energy content. Today we have further proof that Green Municipal Aggregation (GMA) or Community Choice Energy (CCE), whatever you want to call it, works!
New data shows how several eastern Massachusetts communities in Eversource territory have successfully harnessed their purchasing power to drive demand for renewable energy while delivering savings to residents. These communities aggregated their electricity and offer at least five percent (5%) more Massachusetts Class I renewable energy than Eversource from July 1 through December 31 of this year.
Customers in those communities who "opt-up" to 100% green power, will pay roughly the same in their aggregations than with Eversource Basic Service
But the savings for these communities will continue! Eversource just announced its rate for January 1, 2018 through June 30, 2018 and look how the communities compare now. The 5% offers in Arlington, Dedham, Somerville, Sudbury, and Winchester are significantly below the Eversource rate. Brookline, which leads the way with 25% more renewables, is still cheaper by two cents! Furthermore, customers in those communities who "opt-up" to 100% green power, will pay roughly the same in their aggregations than with Eversource Basic Service.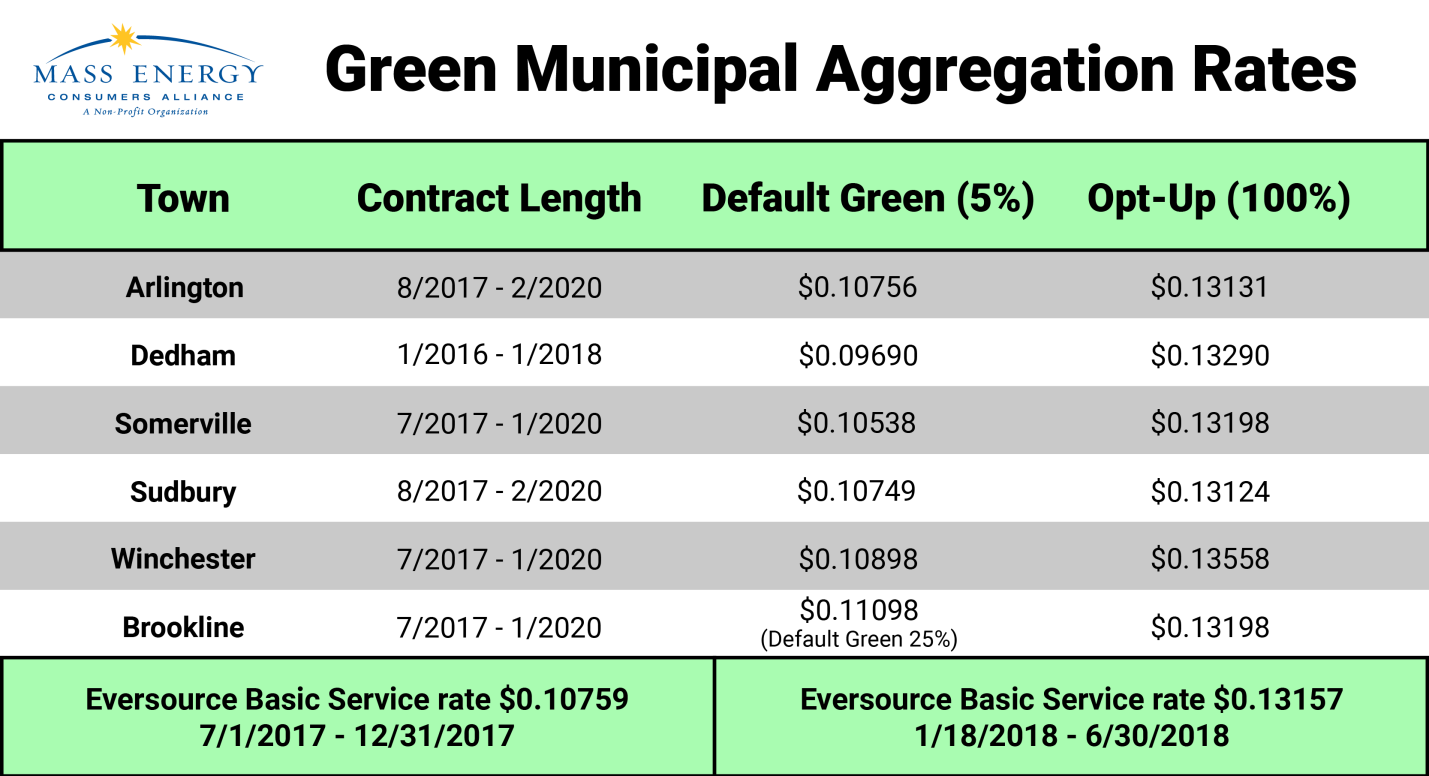 Note: When we talk about 5%, we mean 5% above what is required by the Massachusetts Renewable Portfolio Standard (RPS). In 2017, the RPS mandates 12% renewable energy supply. That amount currently increases 1% per year so that in 2018 it will be 13%. That's actually an increase of about 40% more wind and solar! People in these communities are five years ahead of most people in the state. When we talk about 25%, we mean above the state's RPS requirements. That's a 300% increase. Brookline is 25 years ahead of the state. When we talk about people in the various communities opting-up to 100%, we mean an increase of about 9-fold and 100 years ahead of the state.
How is this being accomplished? The model was developed by Mass Energy in collaboration with Good Energy, a consultant advising cities and towns on municipal aggregation. Through a competitive process organized by the Metropolitan Area Planning Council (MAPC), Good Energy was selected by the above-named communities to procure electricity supply. The MAPC process focused on selecting a consultant to help communities procure renewable energy in the most meaningful ways possible. Mass Energy is proud to provide the "extra" green power (mostly wind, with more solar and small hydro) above that required by state law.
None of this would be happening without leadership at the local level. So at our recent 35th anniversary celebration, we were happy to give awards to representatives from the most recent communities to adopt the green aggregation model - Arlington, Brookline, Somerville, Sudbury and Winchester.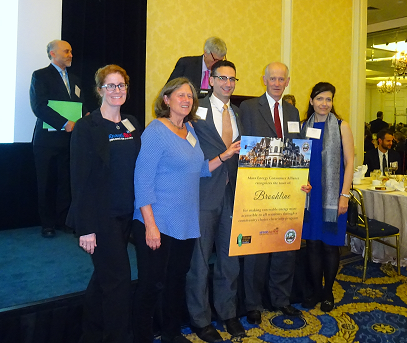 Kathleen Scanlon, Mary Dewart, Tommy Vitolo, Werner Lohe, and Maria Morelli from the town of Brookline.
We honored these communities at our recent Annual Meeting because they are leading by example, showing others a path forward. And it's exciting to see that many other communities are looking to follow suit. For example, in October the Boston City Council voted 13-0 to join the bandwagon. Councilors Michelle Wu and Matt O'Malley led from the council, but were strongly supported by activists with Boston Climate Action Network, Mothers Out Front, and the Green Justice Coalition.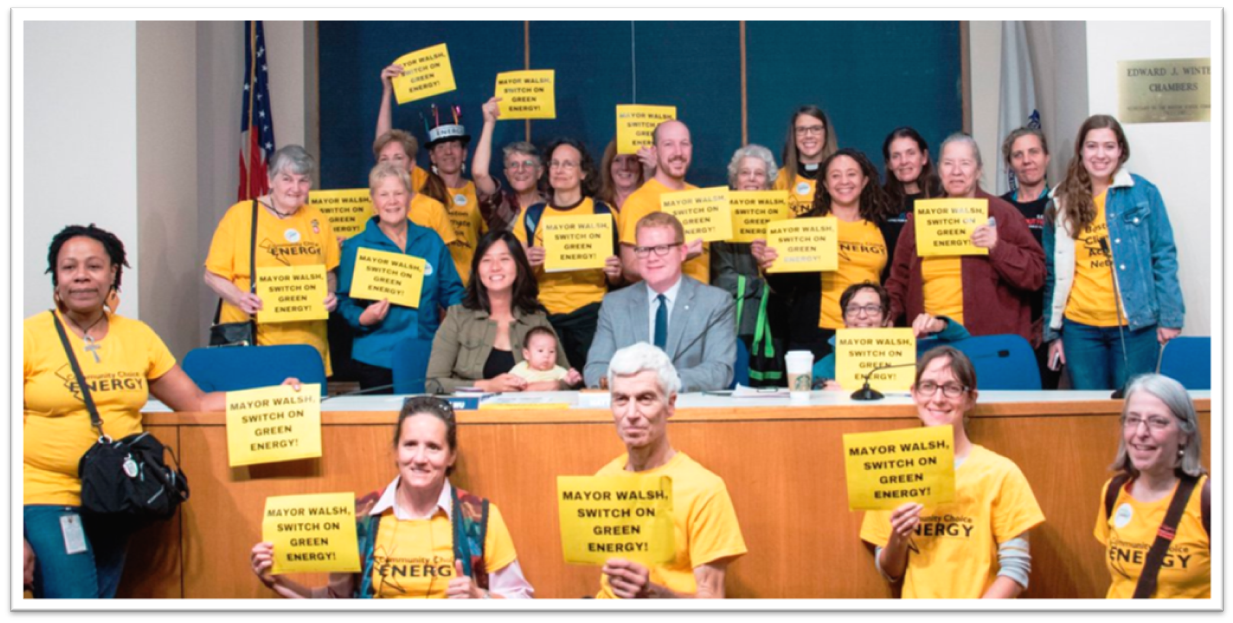 You can choose where your electricity comes from. So can your community. Not just in Massachusetts. Rhode Island changed its law to enable green municipal aggregation there too. So we are now committed to helping every city and town in the Bay State and Ocean State become a green community.