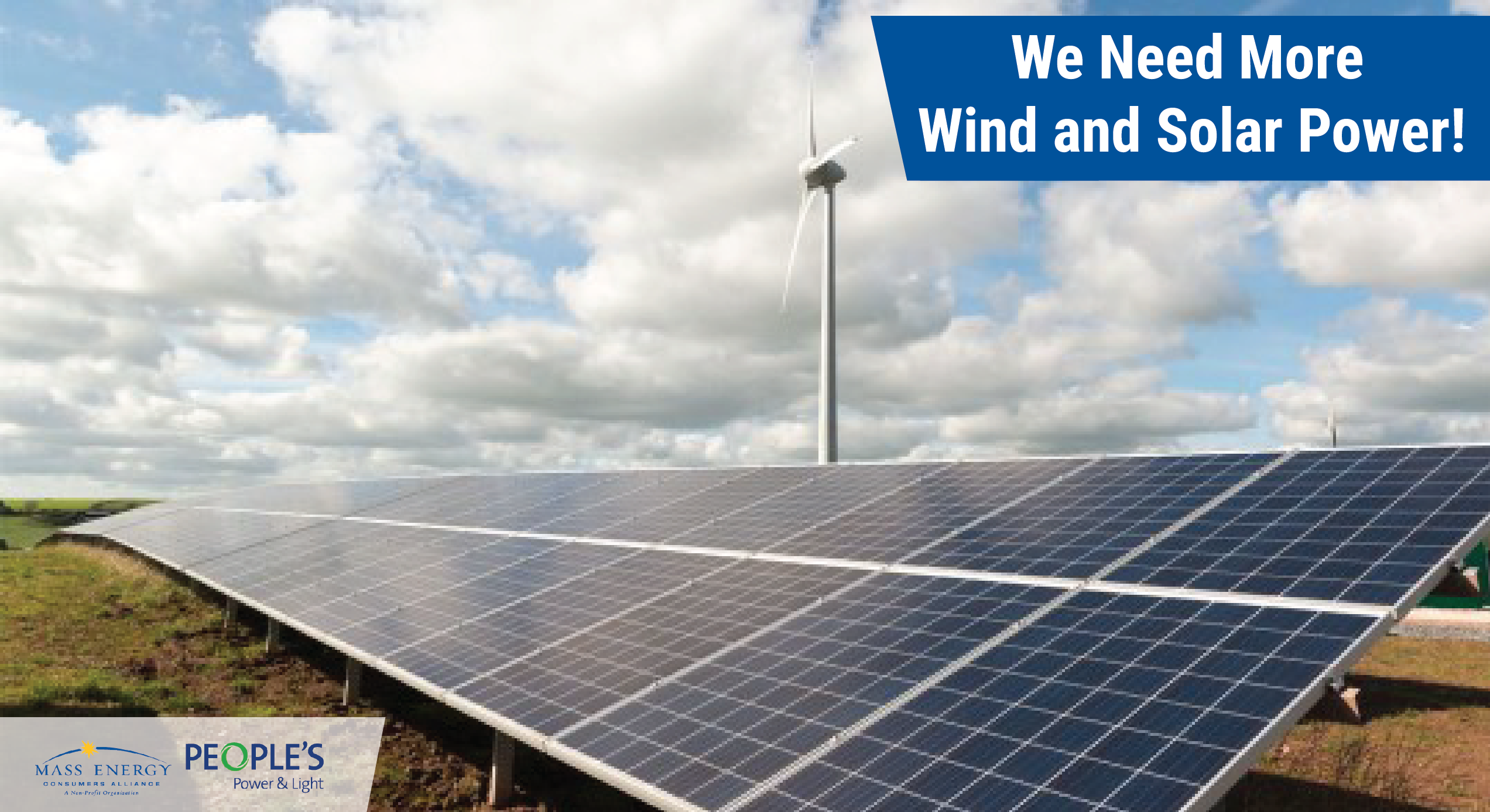 This piece written by Eugenia Gibbons and Deborah Donovan was originally published by Commonwealth Magazine on July 15, 2018.
---
A boost is needed to help state meet emissions goals.
As the legislative session draws to an end, state lawmakers are considering bills that would increase the annual growth rate of the Massachusetts Renewable Portfolio Standard (RPS). As these proposals move ahead, it is important that decision-makers not be deterred by unsubstantiated claims made by opponents that an RPS increase is incompatible with procurements of hydroelectricity required by statute (Section 83D) or will undermine compliance with the state's Clean Energy Standard (CES). This argument against an increase is a red herring based on a mischaracterization of the relationship between clean energy policies designed to fulfill different, but complementary objectives.
Massachusetts is part of a regional wholesale energy market that covers New England. Across the region, annual electric use is around 120,000 gigawatt-hours. Massachusetts uses around 45% of that. Under the 83D contract, hydro energy will be delivered into the regional market to meet a 20% share of Massachusetts' customer load. The RPS drives the cost-effective regional development of wind power, solar, anaerobic digestion and other clean resources. Large-scale hydro does not qualify for the Mass. RPS. Today, the RPS incentivizes renewable energy production equal to 13% of Massachusetts' energy use. By raising the RPS' annual growth rate, it could bring renewable levels approaching 50% by 2030, which Acadia Center's Energy Vision 2030 analysis for Massachusetts shows is necessary to keep the state on track with the state's goals.
Electricity suppliers comply with the Massachusetts RPS by buying Renewable Energy Certificates (RECs) produced primarily from New England renewable energy generators. A renewable energy generator produces one REC for every megawatt-hour of energy it generates. RECs can be bought and sold separately from the energy. Massachusetts electricity suppliers are not obligated to also buy the energy from these REC generators, although they have that option. Changing the RPS requirements will not prevent hydro energy from reaching New England and contributing to the energy needed to serve Massachusetts electricity customers. The claim that an RPS ramping up at a faster rate will "take up room" in the energy market needed for the imported hydro energy procured through 83D and potentially counted toward the CES target is illogical.
Massachusetts has a statutory obligation to significantly ratchet down greenhouse gas (GHG) emissions each year through 2050. The reality is RPS renewables and hydro imports are both needed to achieve this goal. The combination of Massachusetts' RPS, CES, and procurement policies serve a range of needs for the energy system and have been specifically designed to ensure that Massachusetts consumers have a diverse set of clean energy sources.
The way Massachusetts electricity suppliers comply with the RPS and CES is separate from fulfillment of Section 83D. Some sources of renewable energy satisfy both the RPS and the CES, so when the electricity suppliers buy RECs to meet the RPS target, that also counts toward their CES target. The remainder, the gap left between the RPS and the CES target, is made up of Clean Energy Certificates (CEC). Hydro energy from Canada delivered to New England does not produce RECs but it does produce CECs. The utilities buying the energy under the 83D contract can also apply some of the CECs for this purpose, but the number of CECs available through the 83D contract will far exceed the utilities' needs.
In New England generators deliver energy to the regional grid, not to a specific state. The boundary of the market is the New England region, not individual states. Through Section 83D of the GWSA, Massachusetts utilities are contracting to buy 9,450 GWh of energy per year from hydro imported into New England from Canada between 2022 and 2042. This is roughly 8% of the total energy used in New England, and between 15% and 20% of the energy consumed by Massachusetts.
Opportunities for additional hydro imports currently include: other states' procurements; meeting regional energy needs in response to planned retirements of older, uneconomic and inefficient generation; and ensuring that future electrification of transportation and building heating is powered by electricity coming from non-carbon emitting sources.
As several others, including Northeast Clean Energy Council, have pointed out, if the time comes when the RPS target surpasses the current CES target and as a result creates a financial impediment for additional imported hydro, it would be reasonable to consider addressing the potential impact through a regulatory change to the CES or different terms for future contracts between the utilities and hydro suppliers.
In the near term, imported hydro energy from the Section 83D contract will help to wean the region off costly and unsustainable fracked gas imports. And while hydro will play a role in this transition, we must be careful not to trade overreliance on a single imported resource for another. Instead, our policies must lead to a system served by a diverse set of zero-carbon sources. Doing so is not only in the interest of the environment but is also to the benefit of consumers who are currently exposed to the price volatility inherent to gas.
A clean grid is especially important since climate compliance in the heating and transportation sectors will be achieved largely through beneficial electrification. Hydro imports help, but in this regard, the RPS has proven to be one of the best policy tools at our disposal, driving development of new local and in-region renewable projects that bring economic development and jobs growth, as well as myriad benefits measured here.
In recent years, several of the 30 states with an RPS have moved to expand or extend their requirements, in part to maintain climate-oriented clean energy trajectories. Connecticut increased its RPS this year and Rhode Island updated its Renewable Energy Standard (RES) in 2016. Massachusetts, however, has not modified its RPS since passage of the Green Communities Act (GCA) in 2008, about 10 years after becoming one of the first states to require regulated electricity distribution utilities and competitive suppliers to provide a minimum percentage of renewable energy each year. Analysis supports an increase in the RPS. In fact a recent policy brief by the Applied Economics Clinic affirms findings from a 2017 study by Synapse Energy Economics and Sustainable Energy Advantage. Increasing the RPS is necessary, doable, and beneficial for the economy, the environment, consumers, and public health.
The time is right for Massachusetts to follow the lead of other states, such as Rhode Island, with similar clean energy objectives and adjust our RPS upwards. The House and Senate must agree to pass legislation before the session ends on July 31 to increase the RPS to maintain and expand these benefits.
----
Deborah Donovan, Massachusetts Director and Senor Policy Advocate at Acadia Center, a nonprofit research and advocacy organization dedicated to advancing the clean energy future.
Eugenia Gibbons, Clean Energy Programs Director at Mass Energy Consumers Alliance, a nonprofit consumer and environmental advocacy organization dedicated to making energy affordable and environmentally sustainable.