Climate scientists have concluded that in order to prevent the Earth's temperature from rising 2°C and avert the most dangerous impacts related to climate change, we must reduce carbon emissions 80% below 1990 levels by 2050. Since a significant portion of GHG emissions come from the electric sector, an obvious way to reduce emissions is to displace fossil fuels in that sector with zero-emission resources such as wind and solar. Not only does investing in renewables reduce our reliance on fossil fuels, but together with efficiency, renewable energy is the best way to hedge against price volatility of natural gas.
---
Total US Greenhouse Gas Emissions by Economic Sector in 2012
What are Massachusetts and Rhode Island doing to increase the amount of renewable generation in the electricity mix?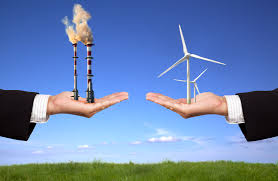 The good news is that both Massachusetts and Rhode Island have laws (renewable energy portfolio standards) in place that require electricity suppliers to have increasing amounts of green power in their generation mix.
In Massachusetts, this policy is called the Renewable Portfolio Standard (RPS). The RPS stipulates that in 2015 investor-owned utilities and retail electricity suppliers must generate 10% of their power from qualifying Class I renewable resources. That means wind, solar, and other qualifying NEW projects that come online. (Municipal electric utilities or "light plants" are exempt from the RPS. This is bad policy) Additionally, the RPS requires that this percentage must increase one percent (1%) per year, indefinitely.
Rhode Island's Renewable Energy Standard (RES) requires that in 2015, electricity suppliers must have 6.5% of their electricity from renewable sources. This amount increases 1.5% per year until 2019 when it will be capped at 12.5%.
Since first being introduced, these laws and similar laws in other New England states have helped to bring many renewable energy projects online. However, the bad news is that neither standard meets the climate challenge of 80% CO2 carbon emissions reductions below 1990 levels by 2050.
MA: What happens if we double the annual increase to two percent (2%)?
Let's look again at the Massachusetts renewable portfolio standard (depicted in red). If in 2015, 10% of our energy is supposed to come from qualifying Class I renewables, plus another 1% per year after that, then by 2020 we will reach 15%, 20% in 2025, 25% in 2030, and by 2050 utilities will be required to generate approximately 45% of their energy through renewable resources. That's a bit more than half of what we need to meet the 2050 reduction target. But if the RPS were doubled and the requirement put in place that it increase 2% per year beginning in 2016, then by 2050 80% of our electricity would be generated by qualifying renewables (depicted in green).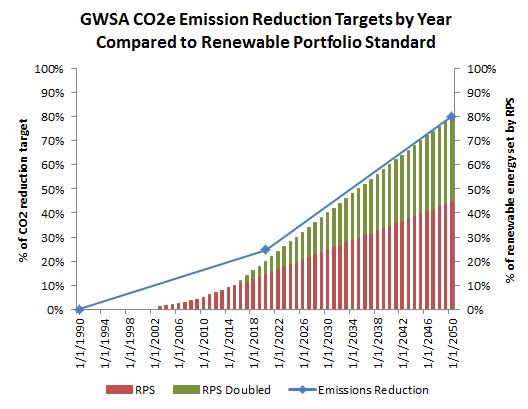 (GWSA: Global Warming Solutions Act)
The RPS requirement is important in Massachusetts and doubling it would make rising to the climate challenge that much more achievable. But the change requires legislative action, which is why we are grateful to State Senator Ben Downing of Pittsfield for including in his Clean Energy Resources bill, Senate Docket #554, a provision that would raise the annual increment to 2% beginning in 2016. Although some aspects of the bill need modification, there is broad support for an increase in the RPS. Together with many advocacy partners – CLF, AMC, ELM, Mothers Out Front, Sierra Club, Acadia Center, and others – we are working to double the RPS and to improve other provisions in the bill.
RI: What happens if we lift the 2019 cap and make the 1.5% increase permanent?
With a 2019 cap in place, Rhode Island's Renewable Energy Standard does not go nearly far enough. How can we need 12.5% renewables in 2019 and the same 12.5% in 2050? That doesn't make sense. That is why we are working the Conservation Law Foundation to make that 1.5% annual increase permanent. And we think this has a decent chance of passing this year. Making it permanent would get us to 80% by 2062. Not quite fast enough, but much better than current law.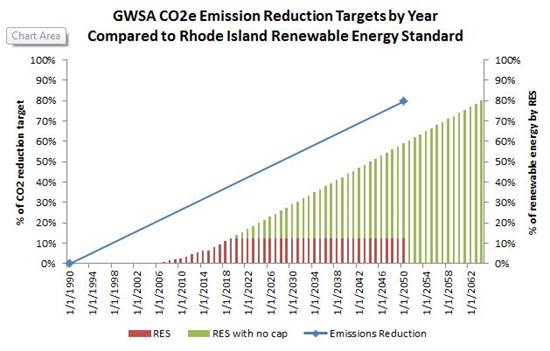 (GWSA: Global Warming Solutions Act)
Increasing the RPS in Massachusetts and making permanent the incremental increase in the RES in Rhode Island are important climate strategies. Moreover, correcting the renewable standards now sends a strong signal to renewable energy developers that they should build facilities (and create jobs!) to meet the increased demand. We now have over a decade of experience in New England with these standards and it is clear that the mandates work. Generators can get financing when investors know that suppliers have to purchase the output of wind turbines and solar panels.

How do we get there? Long-term contracting is the best practice
Long-term contracts are the way to go for increasing renewable energy infrastructure. Unfortunately, in both Massachusetts and Rhode Island, the legislature only requires utilities to sign long-term contracts for a small portion of their electricity load. The utilities tend to resist attempts to increase the percentage, even though experience tells us that long-term contracts with renewable generators reduce the price below that of electricity made by natural gas power plants.
Here's an article about Massachusetts' positive experience. And here's a slide from a presentation given on January 22, 2015 by National Grid to the Rhode Island Public Utilities Commission. It shows that rates in Rhode Island have been reduced as a result of the long-term contracts (LTCs) that National Grid has signed on behalf of its ratepayers. Clean energy with the financial advantage over fossil fuels!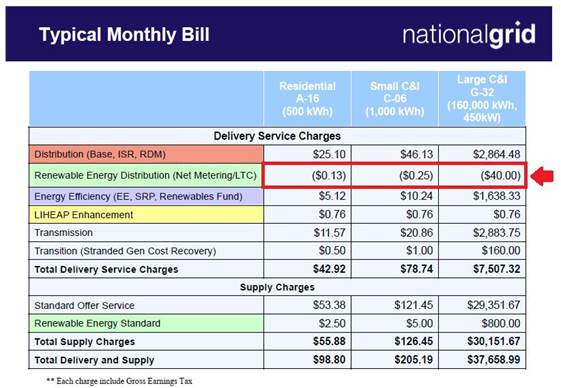 Our top priority is to increase the standards in both the Bay State and the Ocean State. If we can make that happen through more long-term contracts, even better.
How can you help in Massachusetts?
In Massachusetts, Senate bills have not yet been assigned to committee nor have hearings been scheduled. However, you can contact your legislators and urge them to support the provision in SD554 that would increase the RPS.
When the time comes, you can attend the public hearing on Senator Downing's bill (SD554) and speak in support of the increase. Check in with Eugenia Gibbons, our Clean Energy Program Director, for more information, including the date of the public hearing.
How can you help in Rhode Island?
Although the hearings have passed for the RES extension on the House and Senate side, it's not too late to contact your legislator. Contact your legislators and urge them to improve the RES. Or, call Kat Burnham at our office, 401-861-6111.
---
***Lastly, a friendly reminder that you can personally jump decades ahead of state law by choosing 100% local renewable energy through Mass Energy in Massachusetts or People's Power & Light in Rhode Island. Click the button below to learn more and get started.