When it comes to combatting climate change, energy efficiency is our first line of defense. It is an abundant, low-cost resource capable of curbing demand, reducing emissions, and saving consumers money. When we hear "energy efficiency," insulation and weatherization, lightbulbs and power strips immediately come to mind; but energy efficiency takes many forms, which is why appliance standards just may be the best climate and energy policy tool you've never heard of.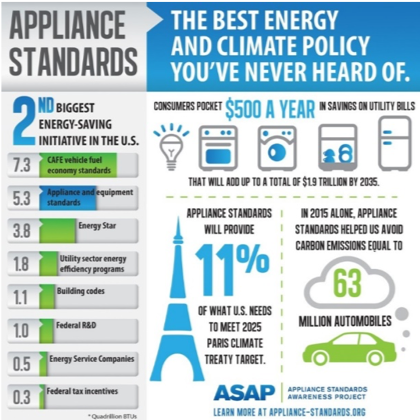 The Massachusetts Legislature is one of several across the country currently contemplating updates to outdated state standards that would ensure appliances sold in the Commonwealth are as efficient as possible.
H.3404
, sponsored by Rep. Frank Smizik (Brookline) is similar to bills recently passed by House Committees in
Washington
and
Vermont
. A similar bill will soon be introduced in Rhode Island. All of these bills seek to make sure that state standards keep pace with the most advanced energy- and water-saving technology available.
The potential benefits to consumers and the environment attributed to more stringent appliance efficiency standards are huge, which is why updating standards is broadly supported by industry representatives, the utilities, low income advocates, consumer advocates, and environmentalists.
Mass Energy and People's Power & Light are working with our friends at ASAP (Appliance Standards Awareness Project) and NEEP (Northeast Energy Efficiency Partnerships), among others to raise awareness about the importance of standards as a money-saving, emissions-reducing tool.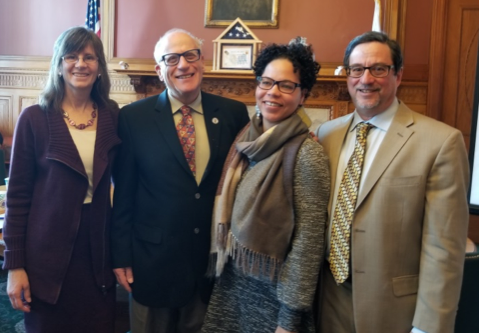 L to R: Marianne DiMascio (ASAP), H.3404 lead sponsor Rep. Frank Smizik (Brookline), Eugenia Gibbons (Mass Energy), Charlie Harak (National Consumer Law Center (NCLC)) following a State House briefing on the benefits of appliance efficiency standards earlier this month.
Understanding Appliance Efficiency Standards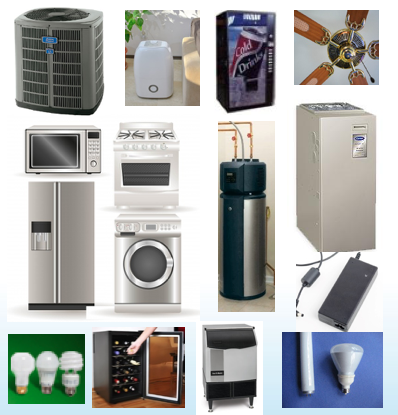 Efficiency standards are the minimum requirement for energy and/or water efficiency that must be met by most major appliances, equipment, lighting, and plumbing products. They ensure that products consume fewer resources while also preserving quality and affordability. President Reagan first signed national appliance standards legislation in 1987. Federal standards generally apply to the manufacture and import of regulated products. National standards have been amended several times in the last 30 years, including under President Bush in 2007.
Even though federal standards can preempt state standards, no weaker federal standard has ever preempted a stronger state requirement.
State standards apply to what can be sold in that jurisdiction. Even though federal standards can preempt state standards, no weaker federal standard has ever preempted a stronger state requirement. Manufacturers prefer consistency across states (as opposed to catering to a patchwork of policies), thus state action and leadership on efficiency is a key driver of national standards. In fact, most of the 55+ national standards began as state policies.
The benefits of implementing them far outweigh the costs. In a 2017 analysis, Consumer Federation of America estimated that in aggregate, appliance efficiency standards have resulted in $1.5 trillion in savings, but cost less than $300 million to introduce.
Standards help to eliminate the most inefficient products from the market and their impact can be measured in real dollars. On average households save roughly $500 per year on utility bills because of existing standards. ASAP estimates those savings to be slightly higher in Massachusetts and Rhode Island, $620 per year and approximately $610 per year respectively. ASAP also notes that water efficiency standards also help to delay the need for costly water and sewer infrastructure upgrades. They further note that many of the plumbing measures proposed are already available at no incremental cost to the consumer.
Legislative Activity in Both States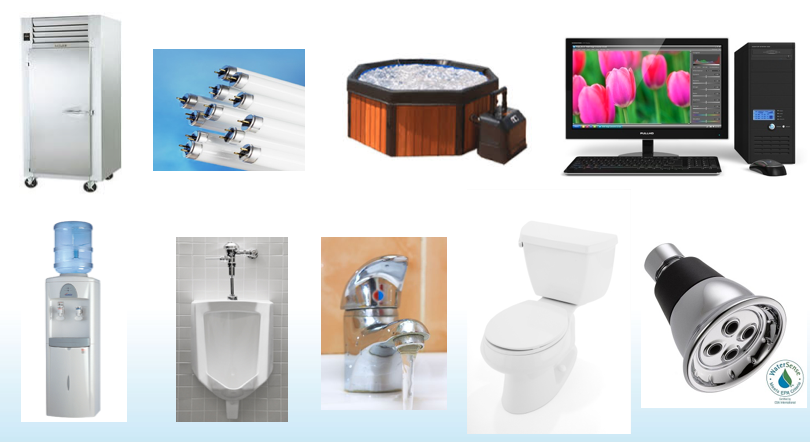 H.3404 proposes updating standards applied to these products.
Rhode Island: A bill updating appliance efficiency standards is expected to be introduced in the Rhode Island Legislature any day now, sponsored by PP&L founder, Chairman Art Handy (House) and Senator Jeanine Calkin. The bill is expected to set minimum energy and water efficiency standards for common household and commercial appliances, including computers and monitors, small electronic equipment, plumbing products and food service equipment.
Massachusetts: H.3404: An act relative to expanding resource efficiency in the Commonwealth (aka Water and Energy Savings Act (WESAve))
Very similar to Rhode Island, the bill currently before the Joint Committee on Telecommunications, Utilities, and Energy (TUE) would introduce higher standards for 10 common products, including computers and monitors, plumbing products, and food service equipment.
Energy savings resulting from the standards in H.3404 are estimated to equal 11% of the annual output from the Pilgrim nuclear reactor. The plant is slated to close in 2019, raising concerns about electricity reliability once it has shuttered. Efficiency standards are a low cost strategy to offset the impact of an aging plant going offline. ASAP also estimates that by 2025 energy savings attributed to the package of updates proposed in the bill will equal 3% of all residential electricity in Massachusetts and reduce the equivalent of emissions from 37,000 cars in that year.
These same standards are estimated to save residents, businesses, and local and state governments more than $160 million annually by 2025 and grow to $245 million annually by 2035. Those are dollars that could be re-invested into the Massachusetts economy, spurring job creation.
Click HERE for a summary of H.3404 and key an overview of all the associated benefits.
Actions you can take, today
Call (Senate TUE office: 617-722-1572; House TUE office: 617-722-2263) or email TUE Committee Members THIS WEEK to let them know passage of this bill this year is important.
H.3404 had a public hearing in November. At that time, Mass Energy testified in support of the bill alongside ASAP, low income advocates, and the utilities. The bill remains in committee, despite broad support. It needs to be reported out before February 7, 2018 to have a chance of being heard by the entire legislature. Therefore, it is critically important that members of the Energy Committee hear from the public about support for this bill and the role that standards play in delivering energy savings while putting dollars back in the pockets of Massachusetts residents and businesses.
Not sure what to say? Visit our advocacy page for some helpful tips and contact info for each member.
In Rhode Island, a public legislative briefing has been tentatively scheduled for February 7th at 3:00 pm at the State House. People's Power & Light will educate legislators on the notable energy and cost savings from appliance standards and testify in support of the bill at the upcoming hearings later this session. We will post bill numbers as soon as they become available, but you can follow progress and learn how to weigh in by visiting our advocacy page.