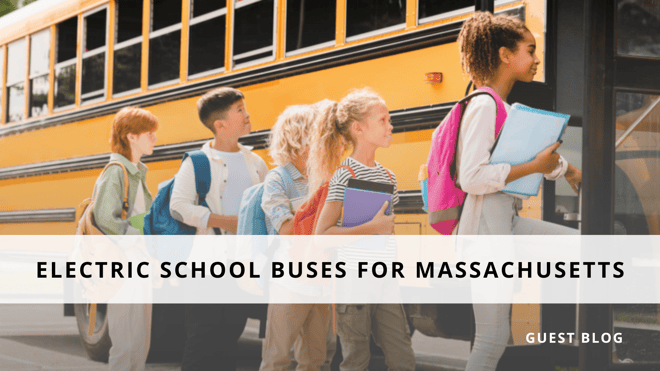 A note from Green Energy Consumers Alliance: We are BIG fans of electric school buses. We've written about them on our blog, we advocate for state policy to make it easier for school districts to get them, and we educate community members on their benefits. We are very happy to feature this guest blog from the Massachusetts Clean Energy Center on its school bus program, ACT School Bus.
School bus fleet electrification projects are on the rise nationwide, and new federal and state funding programs offer an opportunity for underserved public school districts to be some of the earliest adopters of electric school buses in the United States. In 2022, the federal Environmental Protection Agency (EPA) launched the Clean School Bus Program, a rebate program that will provide $5 billion over the next five fiscal years (FY22 through FY26) to replace existing school buses with zero-emission and low-emission vehicles. EPA's Clean School Bus Program, along with other state and federal programs, has the potential to deploy thousands of zero-emission school buses each year. MassCEC has launched a program called ACT School Bus to help Massachusetts school districts apply for and complement federal funding for electric school buses. Keep reading to find out how your school district can take action!
Why electric school buses?
Electric school buses, or "ESBs," offer a plethora of health and environmental benefits to some of the most vulnerable members of our population: children. Unlike traditional diesel or internal combustion engine school buses, electric school buses do not produce any exhaust, reducing the production of greenhouse gas emissions and lowering our daily exposure to air pollutants. The electrification of school bus fleets also presents an exciting opportunity to support clean manufacturing jobs and move us toward a more resilient and renewable future.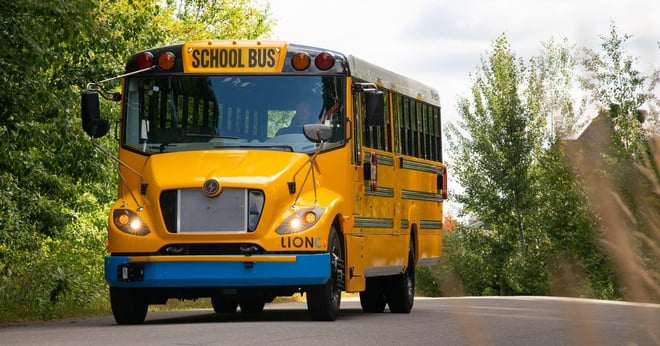 Photo Credit: Lion Electric
To complement the Clean School Bus Program and to ensure successful school bus electrification projects across the Commonwealth, the Massachusetts Clean Energy Center (MassCEC) developed the Accelerating Clean Transportation (ACT) School Bus Program. The ACT School Bus Program is deploying a total of $18.3 million over the FY22 and FY23 program years to advance school bus fleet electrification by providing technical planning services and financial support to Massachusetts public school districts. The ACT School Bus program is informed by three school bus electrification projects under MassCEC's Accelerating Clean Transportation Now (ACTNow) program. The ACT School Bus Program will serve as a continuation of these pilot projects. To read more about the ACTNow projects, please view the 2020 press release.
Support for your school district through ACT School Bus
ACT School Bus is divided into two program opportunities: the Fleet Deployment Program and the Advisory Services Program.
1. The Advisory Services Program offers free consultant services to public school districts and third-party fleet operators to inform a long-term path for full-fleet electrification. This program is a great first step for school districts and third-party fleet operators who are interested in electrification but are not quite sure where to start. MassCEC is enrolling new fleets into the Advisory Services Program this spring. Interested fleets can fill out the application form to be considered for the program.
2. The Fleet Deployment Program offers flexible funding as well as free technical assistance services to public school districts. This program is designed for public school districts, including public school districts partnered with third-party fleet operators, that are prepared to deploy electric school buses but may need additional funding support and/or technical assistance. The Fleet Deployment Program is intended to complement the EPA's Clean School Bus Program and ensure successful deployment projects across the Commonwealth. The Fleet Deployment Program will launch its second round of programming in conjunction with the FY23 round of Clean School Bus programming. Please continue to monitor the Clean School Bus webpage and the ACT School Bus webpage for updates on the respective program timelines.
In December 2022, MassCEC awarded six public school districts with funding and technical assistance services under the Fleet Deployment Program, run in conjunction with the FY22 EPA Clean School Bus Rebate programming. The ACT School Bus awardees received up to $2 million in funding from MassCEC and support from MassCEC's hired Technical Consultant to deploy electric school buses and make any necessary infrastructure upgrades by the end of the two-year project periods. The ACT School Bus Fleet Deployment projects will demonstrate replicable deployment and road-mapping projects as well as community partnership and implementation models. You can find out more about the 2022 awardees in this press release.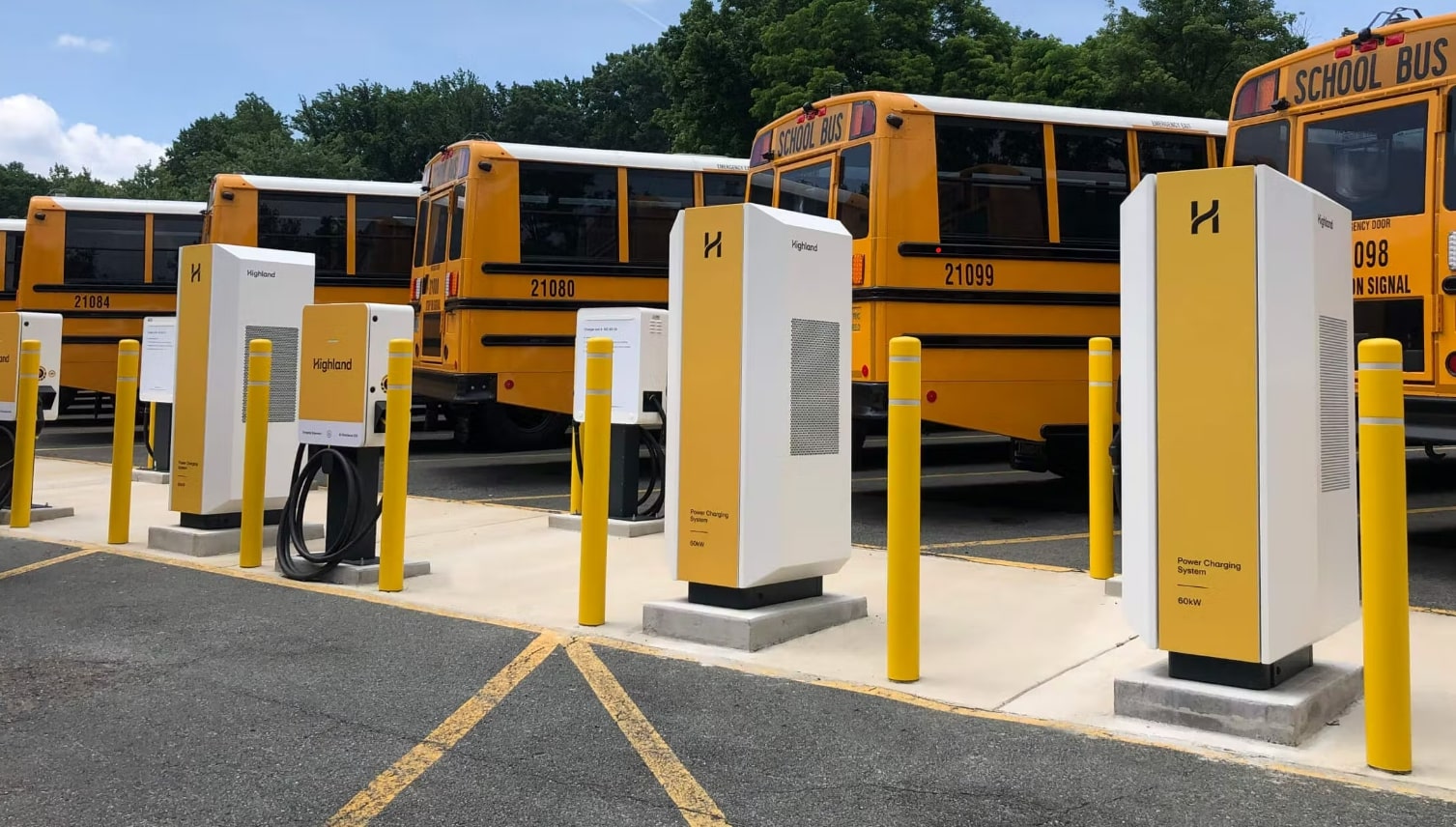 Photo Credit: Highland Electric Fleets
Is your public school district eligible for ACT School Bus?
Yes! Public school districts across Massachusetts, including those that work with third-party fleet operators, are eligible applicants under the ACT School Bus Program. Many school districts work with third-party bus fleet operators, which can dissuade school districts from transitioning to electric. Through ACT School Bus, MassCEC intends to showcase that public school districts with any ownership model can achieve and benefit from electrification and encouraged school districts to partner with their third-party fleet operators for the ACT School Bus program. Third-party operators are welcome to partner with a school district and fill out the interest form for the Advisory Services Program.
MassCEC recognizes the historical inequities in the transportation sector and is committed to prioritizing systemically underserved communities for electrification. The transition to electric school buses must be administered in an equitable way to avoid perpetuating environmental racism and other systemic inequities. MassCEC encourages and prioritizes applications from Environmental Justice Communities (EJCs), rural communities, and underserved communities.
How to get involved
Massachusetts is a nationwide leader in school bus electrification. The EPA Clean School Bus program is supporting the deployment of 80 electric school buses across the Commonwealth, which is supplemented by another 16 buses that MassCEC is supporting. These early electrification projects will inform and improve future school bus electrification projects. The best way to help electrification efforts is to spread the word and educate others on this up-and-coming technology. Raise the possibility of electrification at your local school board meetings or town council meetings. Tell your community's decision-makers about ACT School Bus and the EPA grants. Electrification is the future: help your town be an early adopter of electric school bus technology that will lead to cleaner, quieter, and healthier communities!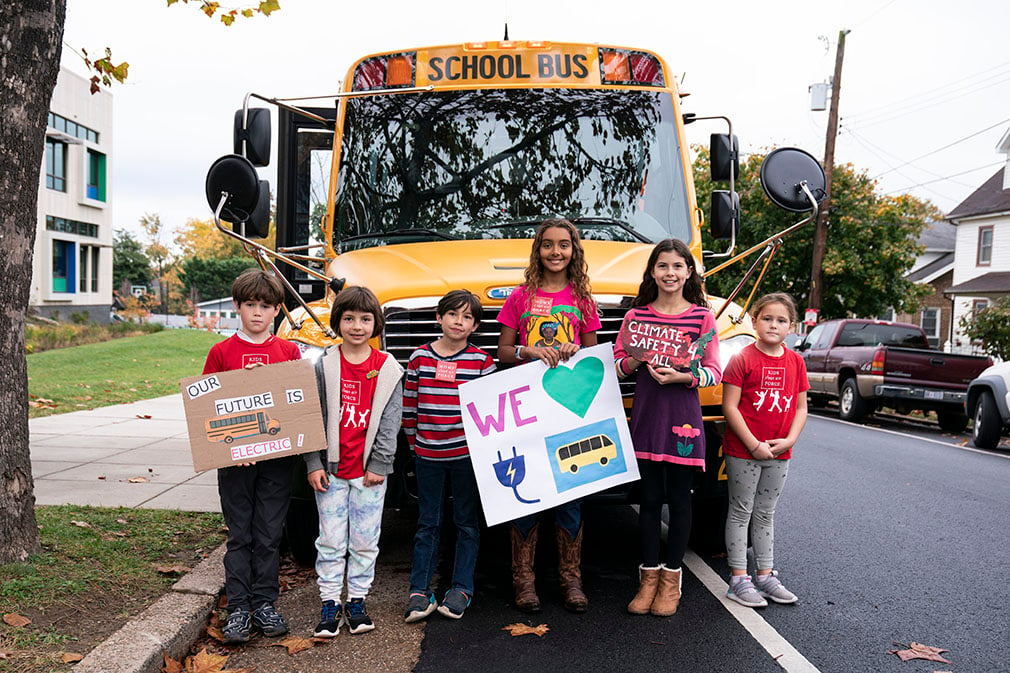 Photo Credit: Sarah Silbiger, Moms Clean Air Force