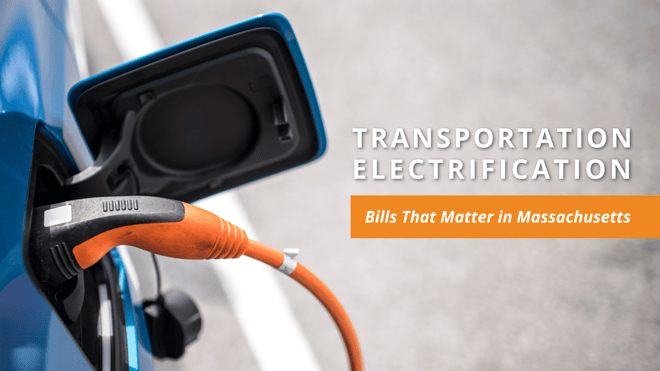 Per the Clean Energy & Climate Plan for 2025 and 2030, Massachusetts must reduce greenhouse gas emissions in the transportation sector 34% by 2030 for the economy as a whole to cut emissions in half compared to 1990. Last year's climate bill made some good progress on this front: adjusting the state's MOR-EV rebate, creating a fund to support the build-out of charging infrastructure, committing to a phase-out of new gas-powered cars by 2035, and setting timelines for MBTA bus fleet electrification. Though a promising start, there's much more to be done. Here are the transportation electrification bills we're prioritizing this legislative session. This list may change as the session progresses, but here's what we have our eye on now.
More Tools for Vehicle Electrification
Last year's climate bill made several important changes to the state incentive program for electric vehicles (MOR-EV) and set up funds for electric vehicle (EV) incentives and EV charging incentives. The economic development bill that passed in the fall then filled those two funds with $50 million each, but we are still waiting for all the changes to MOR-EV to be implemented.
To reach our climate goals, we need 900,000 of the 5.5 million vehicles on the road in Massachusetts to be electric by 2030, which means about half of the new car sales will need to be electric by that year. These pieces of legislation put us on the right track to increase EV adoption to the scale we need, but more can – and needs to be – done. That's why we're excited by these two new pieces of legislation.
An Act Funding the Transition to Electric Vehicles