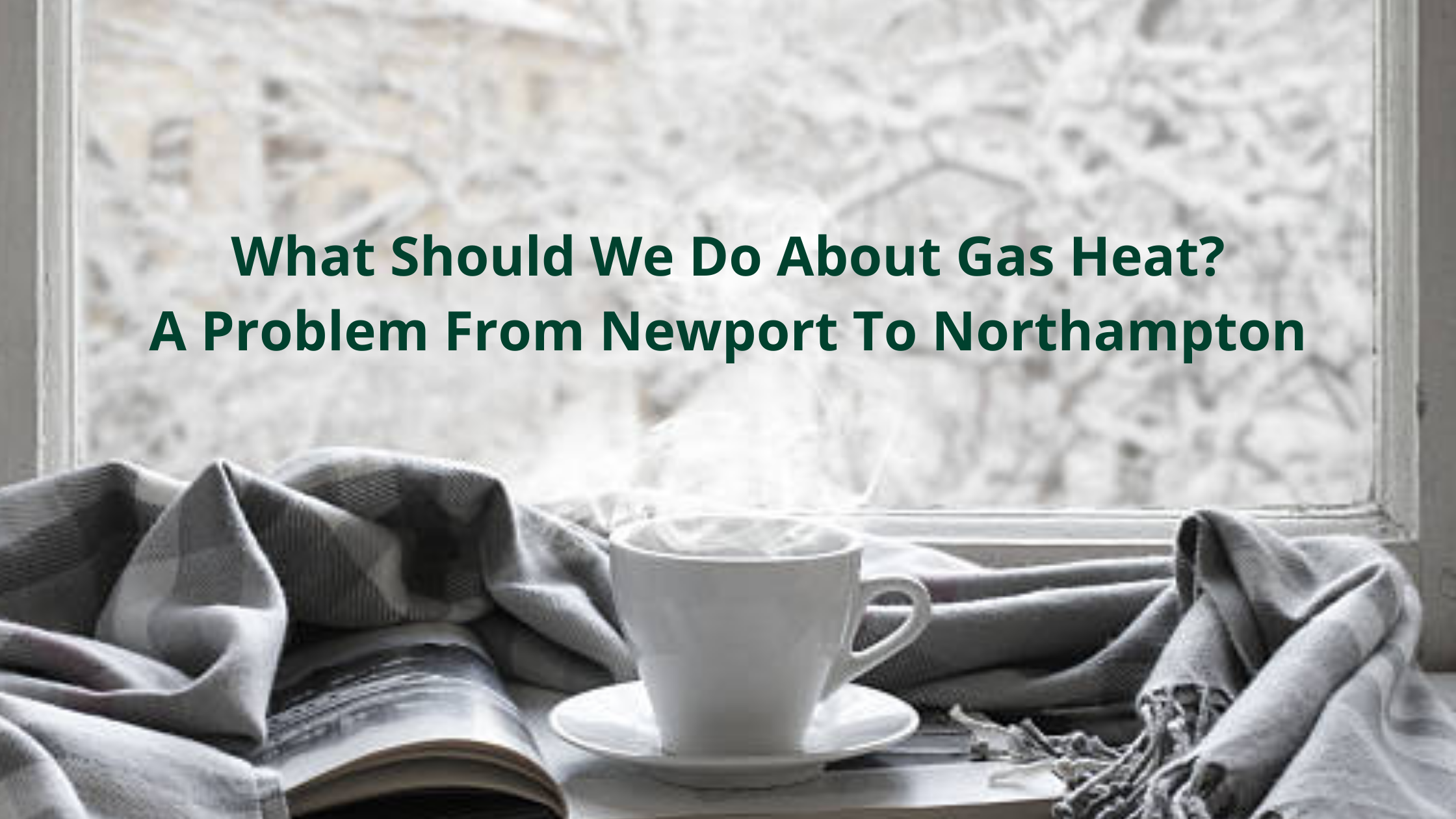 Over the past week, many of us here in New England might have turned on our heat as temperatures dipped to near freezing for the first time this fall. For the slight majority of us in Rhode Island and Massachusetts who heat our homes with natural gas, we're relying on a centrally distributed fossil fuel to keep our homes and businesses warm in winter. On the one hand, natural gas is cheap, and a growing economy calls for more customers to hook up to the pipeline. On the other, we are way over our budget for greenhouse gases. Natural gas releases carbon when burned and causes an even bigger problem when leaked in the form of methane. We have a conundrum on our hands: how do we urgently reduce emissions from our buildings when most of us rely on the natural gas system to supply needed warmth during the winter?
That makes the question of what to do about gas a hot topic - pun intended. In this blog, we'll cover the case of Aquidneck Island, where almost 7,500 National Grid gas customers experienced a gas outage during the coldest month of 2019. In Massachusetts, the discussion about gas has already reached a fever pitch following the Columbia Gas explosions in Lawrence. We'll cover Massachusetts in an upcoming blog on the Massachusetts Department of Public Utilities docket to discuss the future of gas utilities overall.
Aquidneck Island, Rhode Island
In January 2019, three different problems in the regional gas distribution system, including high demand during freezing temperatures, resulted in large-scale gas shutoffs to folks on Aquidneck Island (Newport, Middletown, and Portsmouth). Although these shutoffs were precipitated by an unlikely confluence of equipment faults, Aquidneck Island is vulnerable to gas unreliability.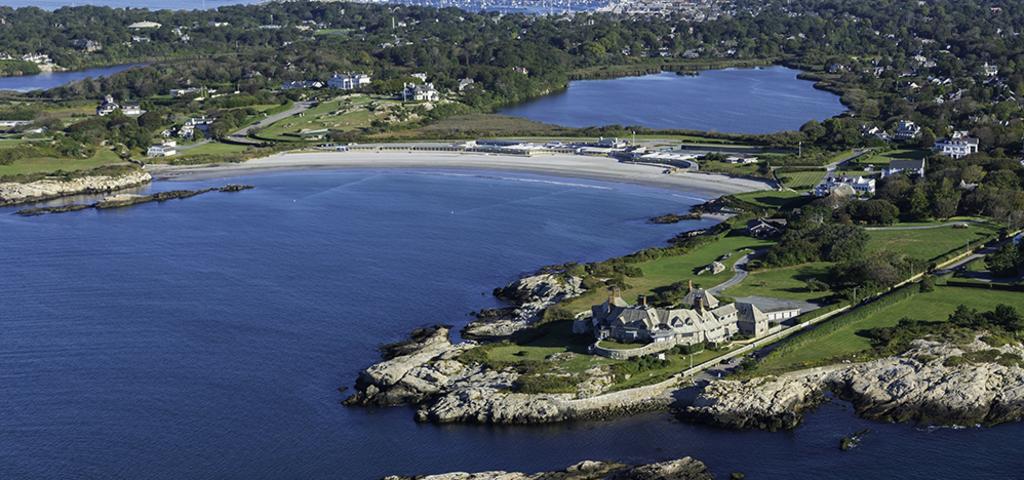 Aquidneck Island (discovernewport.org)
To shore up reliability going forward, National Grid has studied a few potential options, taking into account cost, safety, reliability, and local environmental impacts, while also accommodating an annual increase in gas usage of about one percent (1%) from now through 2035. According to Grid, the solutions must close a gap of 18% by 2035 between available supply and peak demand on the coldest days in winter.
The solutions are summarized here:
A lot of these words are confusing the lay person—or even us at Green Energy Consumers! To simplify the options:
Do Nothing: continue to operate a "portable LNG" (liquified natural gas) facility during the winter, which provides backup gas that can be injected into the pipelines in the case of a low supply situation
Add "Demand Side Management:" i.e., utilize energy efficiency and other low-carbon approaches to reduce demand on the gas system alongside the existing portable LNG facility
Different LNG option: develop a more reliable liquified natural gas solution
AGT Project: build another gas pipeline into Aquidneck Island
Non-Infrastructure: the greenest option, which would involve converting buildings over to high efficiency electric heat and investing deeply in energy efficiency
The solution listed above called "Non-Infrastructure," which is really all about efficiency and decarbonization, is the only one that is consistent with the Resilient Rhode Island Act, which sets a goal of reducing Ocean State carbon emissions 40% percent by 2035.
We think the numbers in the table above deserve a lot of scrutiny by state energy officials and interested citizens. The costs of these projects should not be viewed in isolation. Instead, they must be understood alongside the health, climate, and economic costs associated with the fossil fuel options.
Combining Solutions is the Best Path Forward
In the short-term, meaning the next three years or so, we recommend the following multi-prong approach, based largely on the second row of the table above:
Continuation of the portable Old Mill LNG facility with steps taken to improve safety and local environmental concerns

. As time passes, better long-term solutions should emerge. In the short-term, the facility will ensure that Aquidneck Island residents stay warm and safe all winter.

A major commitment by National Grid to reduce gas demand on the island through green approaches.

A combination of basic weatherization measures, demand response, and reasonable incentives for gas customers on the island to install heat pumps is both necessary in the long-term and helpful in the short-term. To be clear, this means using gas ratepayer dollars to finance the administrative expenses and incentives offered to gas customers to install a heat pump.
Heat Pump Operation (DTE Energy Company)
Continued gas efficiency incentives. Gas consumers should be given the option of replacing their old system with a very high efficiency gas system. According to National Grid, only 15% of customers on the island now have high-efficiency systems. This could make a big difference in the short-term to shore up gas reliability. But this should only be allowed for a few more years. At some point after that, consumers who want to stick with gas should not receive ratepayer-funded incentives for new gas heating systems. Incentives for insulation should stay in place until every roof and wall has been filled.

Enhanced incentives for highly efficient, all-electric new construction.

With financing such as Property Assessed Clean Energy or incentives from state efficiency programs, an efficient, electrified new building can be as cost-effective as a building heated by gas. Once we see those programs producing results, Aquidneck Island should, with state approval, put in place a moratorium on new gas hookups.
Yes, there are costs involved with the solutions we recommend. But they compare well to the combined costs of building out expensive supply-side gas infrastructure and of offsetting the resulting increased carbon footprint that Aquidneck would have.
Solving the Problem Requires Changes in Governance
Under current law, National Grid could take one of the fossil fuel options to the Rhode Island Public Utilities Commission (PUC) and the Energy Facilities Siting Board (EFSB) for approval even if it would result in a big increase in gas consumption and GHG emissions. That's because the Resilient Rhode Island Act is aspirational and is not binding. Rhode Island should catch up with neighboring states by amending the Act to include mandatory, enforceable, short-term emissions reductions targets.
Another barrier to solving the gas budget problem on the island is the Public Utilities Commission's position that heat pumps are not a cost-effective way to decrease gas usage. That's because gas is cheap—unless you take into account the avoided expenses of the supply-side infrastructure and the costs associated with reducing emissions enough to compensate for Aquidneck Island's increased emissions.
We will make our case to the PUC and the EFSB, but the buck stops on Smith Hill; the Governor and the General Assembly should pass real climate legislation that sets a clear pathway for Rhode Island to transition to low-carbon energy.
Reacting to the problem on Aquidneck Island is just a small piece of the puzzle. Errors in the gas system can happen anywhere. Rather than retroactively focusing only on Aquidneck Island, we need to move towards a cleaner, safer future statewide.
Dogs That Won't Hunt, At Least Not For a While
In National Grid's report, they talk in grand terms about "renewable natural gas" (RNG) and hydrogen as being solutions that would be compatible with decarbonization goals. Neither of these fuels are ready for deployment. Our proposed approach would not preclude the deployment and usage of those alternatives, but let's go deep on tried-and-true efficiency and electrification strategies for the next few years while National Grid proves their concept.
Meanwhile — in Massachusetts
At the request of Attorney General Maura Healey, the Mass. Department of Public Utilities has opened up a proceeding calling upon gas utilities to hire an independent consultant who will look into various ways that the companies might be able to help the state meet its goal of getting to net-zero greenhouse gas emissions by 2050. Throughout the process, DPU said in its order, it will solicit feedback from the utilities and others as it "develop[s] a regulatory and policy roadmap to guide the evolution of the gas distribution industry." We don't know what will come of this proceeding, but we intend to participate and we encourage Rhode Island to do something similar.