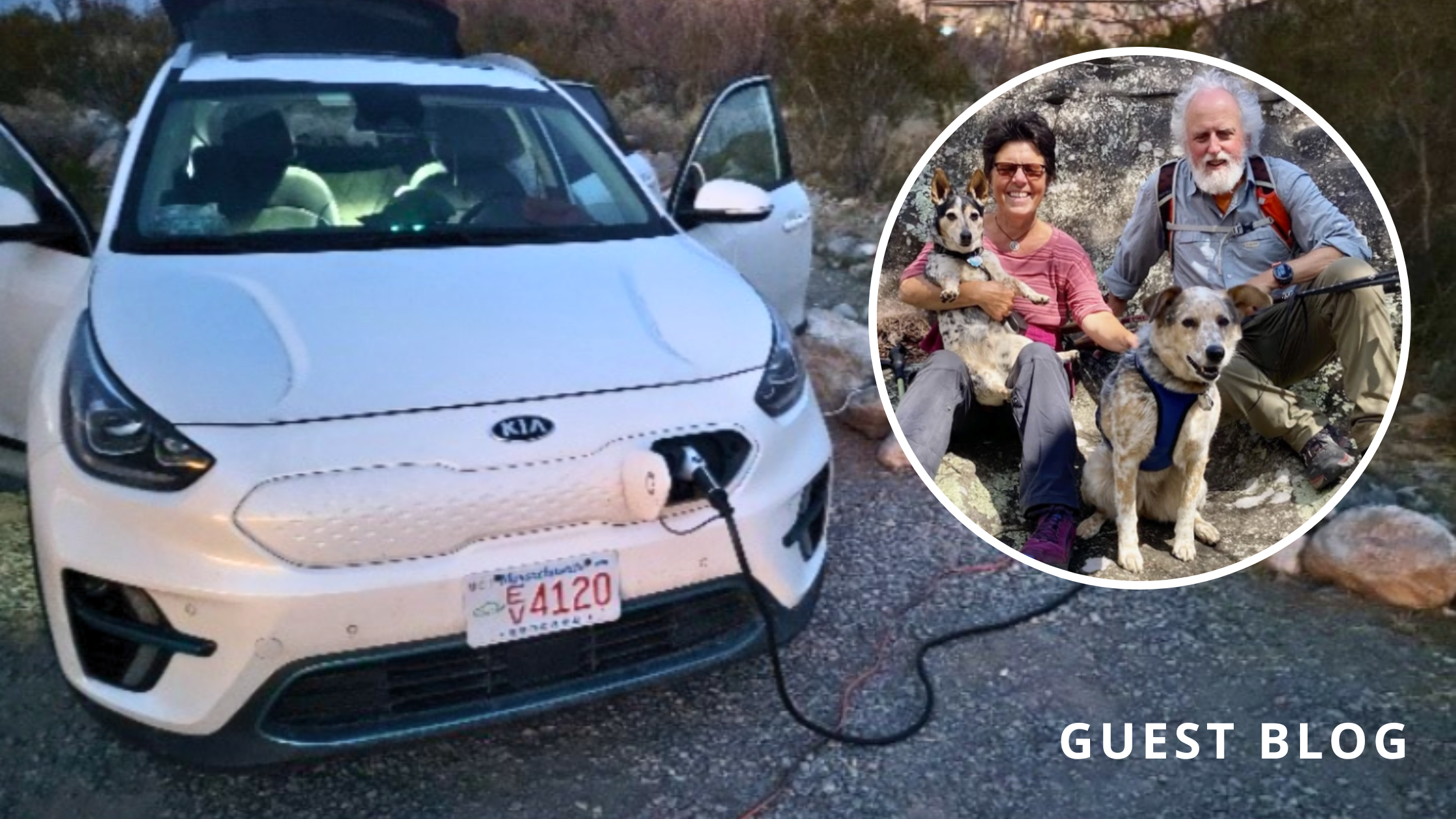 My wife Mary and I just returned from a 2-month, 8,181-mile winter camping road trip, traveling from Massachusetts to California and back in our 2019 Kia e-Niro fully electric (64 kWh battery) crossover SUV. Along the way we spent 58 nights in a tent with our two dogs, mostly in the desert southwest, so calling it "winter camping" needs to be qualified. For most of the nights, the temperatures were well above freezing, though there were definitely a few chilly nights at the end of January when we began our trip, and a few more out west, especially when camping at higher elevations.

Our EV loaded with camping gear for the trip (the "frunk" of our EV contains the charging gadgets)
During our 61-day trip, we toured 17 states, stayed at 24 different State Park or Regional Park Campgrounds, occupied 33 different campsites, and visited several National Forests, Parks, Monuments, Preserves, Wilderness, or Conservation Areas, where we hiked, camped, explored, and enjoyed the peace and quiet of the great outdoors. We hiked a total of 350 miles, averaging about 6 miles per day, with our longest hike taking us about 9 miles into the backcountry desert.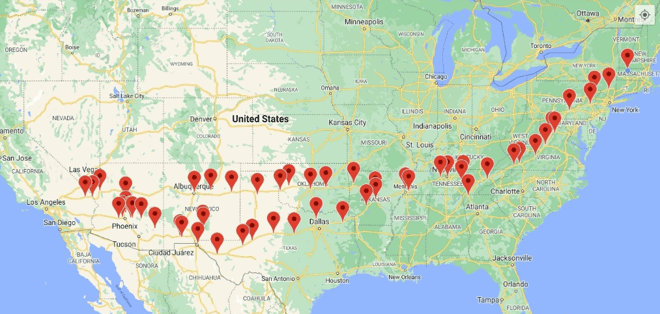 A map showing the route and all of the stops where we charged our EV, including at campgrounds
Our 8,000+ mile cross-country trip used 2,109 kWh of battery power, which meant that we had to recharge our car 70 times, 41 times at DC Fast Charging Stations collecting 1,266 kWh of juice costing $293. The other 40% of our recharging was done overnight at campgrounds where we plugged our car into RV connections, thereby capturing an additional 834 kWh of electricity.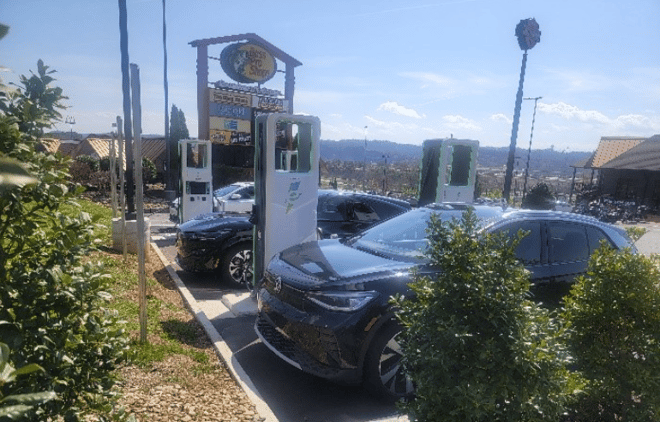 Charging at a DC Fast Charger
We bring our own portable Level-2 EV charger with various adapters, allowing us to plug into the typical NEMA 14-50 (240-volt) or TT-30 (120-volt) RV outlets found at the campsites. Overall, this means that during our trip we averaged roughly 3.9 miles per kWh at a cost of less than $.04 per mile traveled. A similar gas-powered trip in an SUV getting 30 mpg with gas costing $3.50 per gallon would have added up to about $1000 or roughly $.12 per mile. So, the cost per mile of travel in our EV was about one-third as much as a gas-powered vehicle.
While charging an EV does have indirect greenhouse gas (GHG) emissions related to the way the electricity from the grid currently gets generated, as electrical generation is decarbonized, the grid will become cleaner and those indirect emissions will go down. If we had traveled in a gas-powered SUV getting 30 mpg (most get less), the trip would have emitted about 5,200 pounds of CO2. According to numerous studies, EVs emit one-quarter to one-fifth as much CO2, due to the better efficiency of large-scale electrical generation (80% efficient), as compared to the energy conversion of internal combustion engines (20% efficient). Thus, by driving an EV, our GHG emissions were also reduced by 75-80%.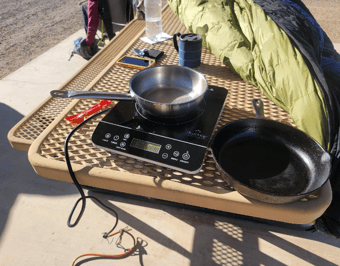 On this trip, we reduced our GHG emissions further by using an induction hot plate for cooking while at electric campgrounds. We normally cook on a two-burner Coleman propane camp stove when car-camping, so we were excited to try out our new Duxtop portable induction countertop "burner" which plugs into any 120-volt outlet. We were very impressed with the speed and instant responsiveness of induction cooking and preferred using the Duxtop whenever electricity was available. We did rely on the Coleman stove when we were staying at non-electric sites, but it felt clunky, slow, and finicky in the wind, compared to the induction hot plate.
One great new addition to our "winter-camping" gear for this trip was a 12-volt electric blanket, which we used as a covering between ourselves and our sleeping bags, mostly when the temps were below 30 degrees at night. Especially during the few nights when the temps were in the teens, the electric blanket made sleeping in the tent a toasty experience. At electric campsites, we plugged the blanket into an AC-DC converter. At non-electric campsites, we plugged the blanket into the DC socket of an EcoFlow battery pack.
Our long-distance camping adventure in our EV did require more advanced planning, especially around charging the car, but after owning an EV for close to four years, that has become a normal part of travel. We did notice that there were more EV charging stations along our travels, and we also saw significantly more EVs charging at them, as compared to a similar trip we took three years ago. That is a good sign, but we need to keep working on expanding the charging system until EV stations are as common as gas stations are currently. That will take some time and effort, but until then our trip shows that an extended long-distance EV road trip is not only becoming easier but can be very enjoyable as well.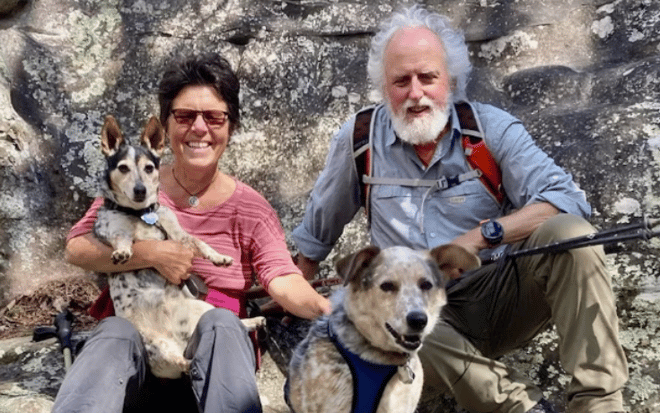 Twyla, Mary, Nyssa, and Glen
---
This isn't Glen's first EV road trip! Read about his other travels:
Exploring with Absolute Confidence: EV Adventures in the Adirondacks