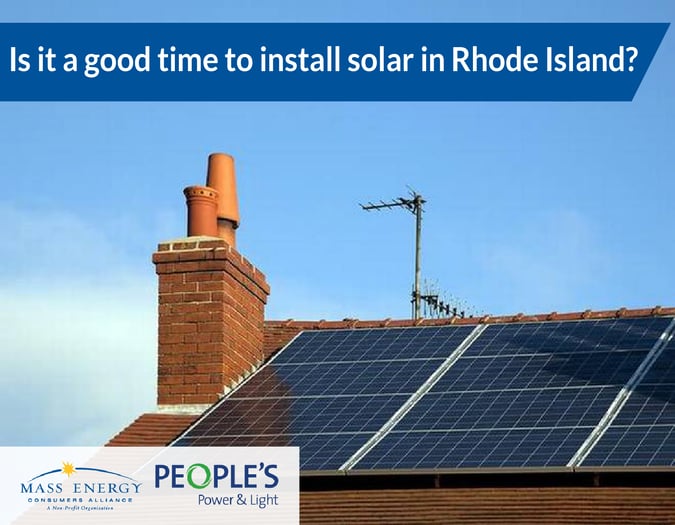 In March 2017, Rhode Island Governor Gina Raimondo announced a statewide initiative to increase the amount of clean energy by 10 times by 2020. That means that Rhode Island is set to achieve a total of 1,000 MW by 2020. Just in time for these important commitments, we're partnering with EnergySage to make it easier for everyone to install solar. Homeowners and business can contribute to the 1,000MW goal with smart investments in clean energy, like rooftop solar.
Is it a good time to pursue your solar ambitions if you live in the Ocean State? Of course it is!
Solar PV systems can be found throughout the entire state: on residences, public and municipal buildings, businesses, non-profits, and even commercial properties. According to solarpowerracks.com, Rhode Island is ranked 3rd in states as the friendliest towards solar. Because of that, there are tons of solar panel installation companies doing in business in Rhode Island. As of the end of the first quarter of 2018, the Ocean State had an installed solar PV capacity of approximately 95 MW, with 4,619 known installations.

Your home could be next, and we want to help. In fact, that's why we wrote this blog, and we've got a webinar coming up too.
Free webinar on installing solar:
How to pay for your new solar system in Rhode Island
Due to state investment in driving the solar market, cost of installations are down, and has become more affordable for the average homeowner. Solar payback periods in RI now average between 6 and 10 years, but can be shorter. Net-metering credits plus sales and property tax exemptions make this possible. People can also choose to go with the Renewable Energy Growth Program (REG) to help recover the costs of installing a solar system .
Net-metering, or selling the solar power you don't use back to the grid, has become an important financing factor. Grid customers receive credit on their electric bills for excess generation produced by their net-metered solar system. So, for the life of the solar system, you save money on your electric bills.
The Renewable Energy Growth Program is a performance-based incentive (PBI) program that is for residents who are National Grid customers. This PBI compensates owners who adopt solar for the electricity produced by their system in the form of a bill credit and a cash payment. Payments for residents are available for 15 or 20-years .
The state has passed bills on Sales Tax Exemptions and Property Tax Exemptions for renewable energy systems. Rhode Island provides sales tax exemptions for eligible renewable energy materials, as well as property tax exemptions for residential and manufacturing renewable energy systems.

If you are in need a flexible loan option to make adopting solar more affordable, we are very fortunate here in Rhode Island to have a few different state approved financing options designed to make solar ownership easy. Here are financing options we trust:
Residential Property
Commercial Property
How to find a solar installer in Rhode Island
"EnergySage offers an invaluable service....Getting a third-party comparison from EnergySage put all the installers on a level playing field...Using EnergySage is a no-brainer!"

- Brian G., North Kingstown, RI
With all these fantastic factors in play, we urge you to take advantage of them. Now is the best time to install solar panels because we've teamed up with EnergySage to help make finding an installer and a great price easy through Solar with People's Power & Light (or Solar with Mass Energy if you live in Massachusetts).
Our partner, EnergySage, is an extensive online platform that makes researching, comparing, financing, and installing solar transparent, affordable, and clear. It allows you to get the solar info you need without all the hassle by compiling competitive offers from national and local solar panel installation companies, all of whom are pre-screened and licensed to work in RI.
Ready to explore Solar with People's Power & Light (or Mass Energy)?
Solar with People's Power and Light (or Mass Energy) involves a free, quick and easy registration on the EnergySage platform. Here's what to expect:
Answer a few questions about your home (location, roof confirmation)
Estimate or upload your electric bill
Verify your email address with the platform
Set your solar preferences
View Marketplace tutorial to learn how to use the features EnergySage offers
Receive and view up to seven quotes from installers competing for your business
You don't have to share your contact info with any of the installers until you want to. EnergySage solar advisors will be there to provide neutral advice every step of the way.
So what are you waiting for?