We Saw A Peak: Will We See More?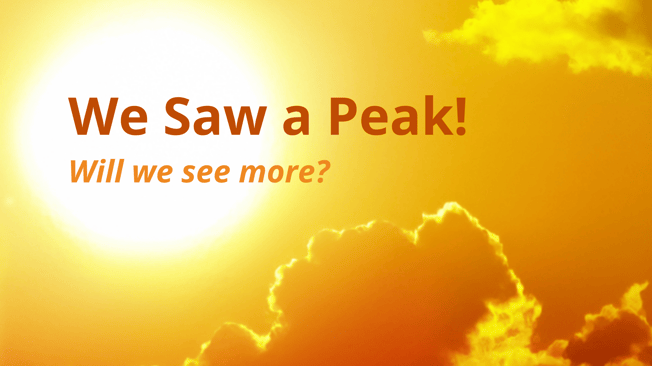 Last month, we predicted that summer temperatures might drive high demand — high enough to cause a peak day! Indeed, despite the depressive effect of the COVID-19 pandemic on regional electricity demand, weeks that saw 90+ degree days across New England were enough for us to call peaks on July 20th, 27th, and 28th. A peak electricity demand day is a day on which extreme weather (usually hot temperatures) leads to a spike in electricity demand; these spikes are associated with more expensive and polluting electricity than usual.
July's Peaks: Pumped Hydro & Natural Gas
Over the last two weeks, we experienced three peaks, including the third highest demand day since 2016 on July 27th. Despite the high demand, emissions and prices remained lower than we might expect from peak days. The average real-time wholesale electricity price during of the three demand days was $36.24 per MWh, which is significantly higher than this spring's record low prices, but doesn't seem so high when compared to the average wholesale price of June 2019 of $30.67/MWh. We saw very little coal and oil come onto the grid, and more natural gas than in previous years. Pumped hydro storage performed its role admirably, reducing dependence on natural gas — and perhaps staving off coal and oil — during the highest demand hours.
Peak Summary
Day
Peak Demand
Peak Emissions Hour
Peak Coal/Oil Hour
July 20, 2020
23,838 MW from
6 - 7PM

7 - 8PM, as hydro declined following peak

Mostly negligible, but coal/oil peaked at 11AM

July 27, 2020

24,697 MW from
6 - 7PM

6 - 7PM; oil came online to meet peak

Coal/oil peaked 6 - 7PM

July 28, 2020

24,174 MW from
6 - 7PM

2 - 3PM, as natural gas generation ramped up and before pumped hydro came online

Coal/oil peaked 1 - 2PM
On all three peak days, pumped hydro storage did an excellent job Shaving the Peak. Pumped hydroelectricity storage — a "battery" that stores electricity by pumping a reservoir uphill during periods of low demand and then generating electricity as the water runs downhill during periods of high demand — met demand throughout the evening, acting as a clean peak resource. In addition, peaks were lowered and shifted due to behind the meter solar and the efforts by large energy users and individual residential energy consumers to Shave the Peak (unfortunately, we don't have data on these actions!). Even so, oil peaker plants did come online, especially on the evening of July 27th from 6pm to 9pm.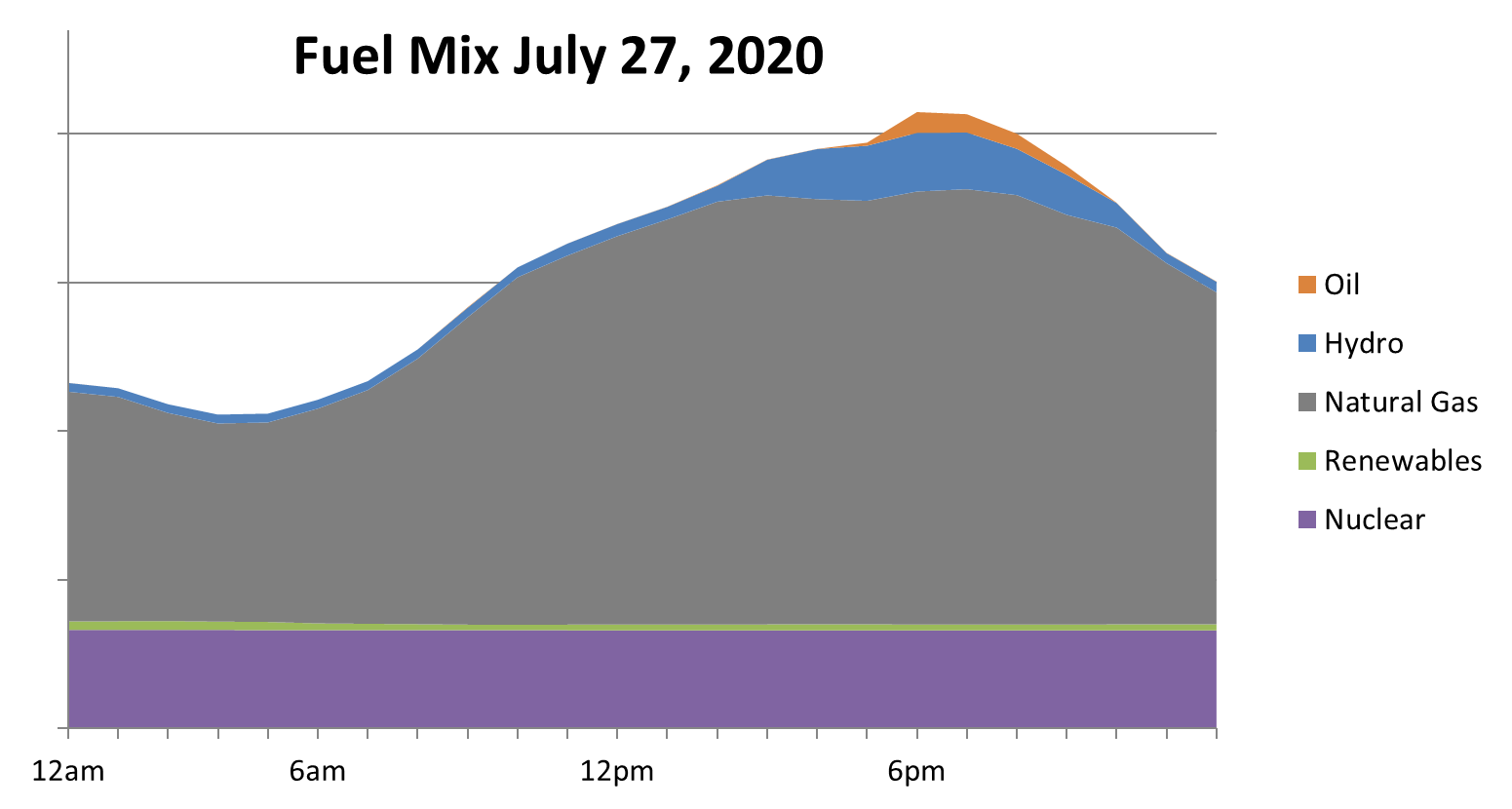 The peaks this year continued the trend of solar pushing back the highest demand hour, which occurred at 6 to 7 pm rather than the 3pm or 4pm peaks that were the norm before behind the meter solar was so prevalent across New England.
We are still looking at the data to determine the extent to which natural gas has pushed coal and oil off the grid on peak days and to better understand why coal and oil were dispatched at all given their expense and emissions. We may have more information on that next month.
June Saw Rising Electricity Demand
Even before July's peaks, demand was rising. In June, ISO-NE, New England's grid operator, observed that March through May saw demand about 3 - 5% less than expected because of the pandemic; however, hot temperatures are bringing demand back up to normal. Mid-June saw just 0.6% less demand than expected. In the heavily commercial Northeastern and Rhode Island load zones, overall electricity usage was up, especially during the daytime, when air conditioners are working the hardest.
Change in Demand from June 2019 to June 2020 (via ISO-NE)

Northeastern MA Load Zone
Rhode Island Load Zone
Total Electricity Usage

Up 4%

Up 6%

On Peak Usage

(Weekdays 7AM - 11PM)

Up 10%

Up 15%

Off Peak Usage

(Weekends & Overnight)

Down 3%

Down 12%
Even as demand gets back to the usual levels, data from the Green Municipal Aggregations that receive renewable energy from Green Energy Consumers reveal the ongoing impact of stay-at-home orders on our electricity usage. In June, residential demand was up 15% compared to last year, while commercial demand is still 19% lower than last year. These changes may not be reflective of all of ISO-NE's territory; our aggregations represent only a small portion of overall demand in the region.
Unfortunately, as demand has risen, so have emissions and prices. In June, the grid saw its highest levels of each of coal, oil, and natural gas since the pandemic began. With the higher levels of fossil fuels and the higher demand, emissions from the grid were much higher in June than in May. Emissions were even higher in June 2020 than in June 2019. This may be attributable to a higher average temperature this year, which would drive higher demand; higher temperatures also reduce hydro and nuclear generating capacity.
Prices, driven in large part by global markets of fuel rather than just regional demand, are still lower than what we would expect without COVID. However, the gap has shrunk significantly since the spring's record-low prices. In May, day-ahead electricity prices were the lowest in market history and down 32% from the prior year. May 2020's average real-time prices were the lowest ever prices seen in May and the third lowest overall since the wholesale market began. This June, prices were still low, but down just 8% from the prior year.
Shaving the Peak
Thousands of subscribers received text and email peak alerts over the past couple weeks. Although we can't trace exactly how these individual efforts affected the peak, we thank our subscribers for their efforts to minimize the impacts of peak electricity demand on our grid.
Peak electricity demand is a problem for our electricity system in a number of ways: as we have discussed, many old, inefficient power plants are kept around just to supply electricity during peak hours. Electricity tends to be more expensive during peak demand hours. Perhaps most significantly, like highways, the electric grid must be built out in order to be able to handle the highest demand hours of the year. Expensive transmission and distribution infrastructure are planned and built to handle future peaks. By keeping peaks low, we avoid or defer the need for new poles, wires, substations, and other electric system infrastructure.
In the long term, Green Energy Consumers advocates for time of use electricity pricing, smart meters, efficiency program-supported active demand response measures, battery storage, and other strategies that will reduce the impact of peak demand on our electric grid. We believe that energy consumers should benefit from their actions to Shave the Peak! In the short term, Shave the Peak is an educational program that empowers energy consumers to respond to peak demand. It demonstrates that energy consumers can and will take action to minimize the peak's impacts on the electric grid.
Thank you to our subscribers for their actions the past couple weeks; and remember to share our program with friends and family to magnify our impact.
For an interesting take on our program as it relates to electric cars, check this out.
Related Posts
In January 2020, Governor Raimondo signed an Executive Order setting a goal of meeting Rhode Island electricity...