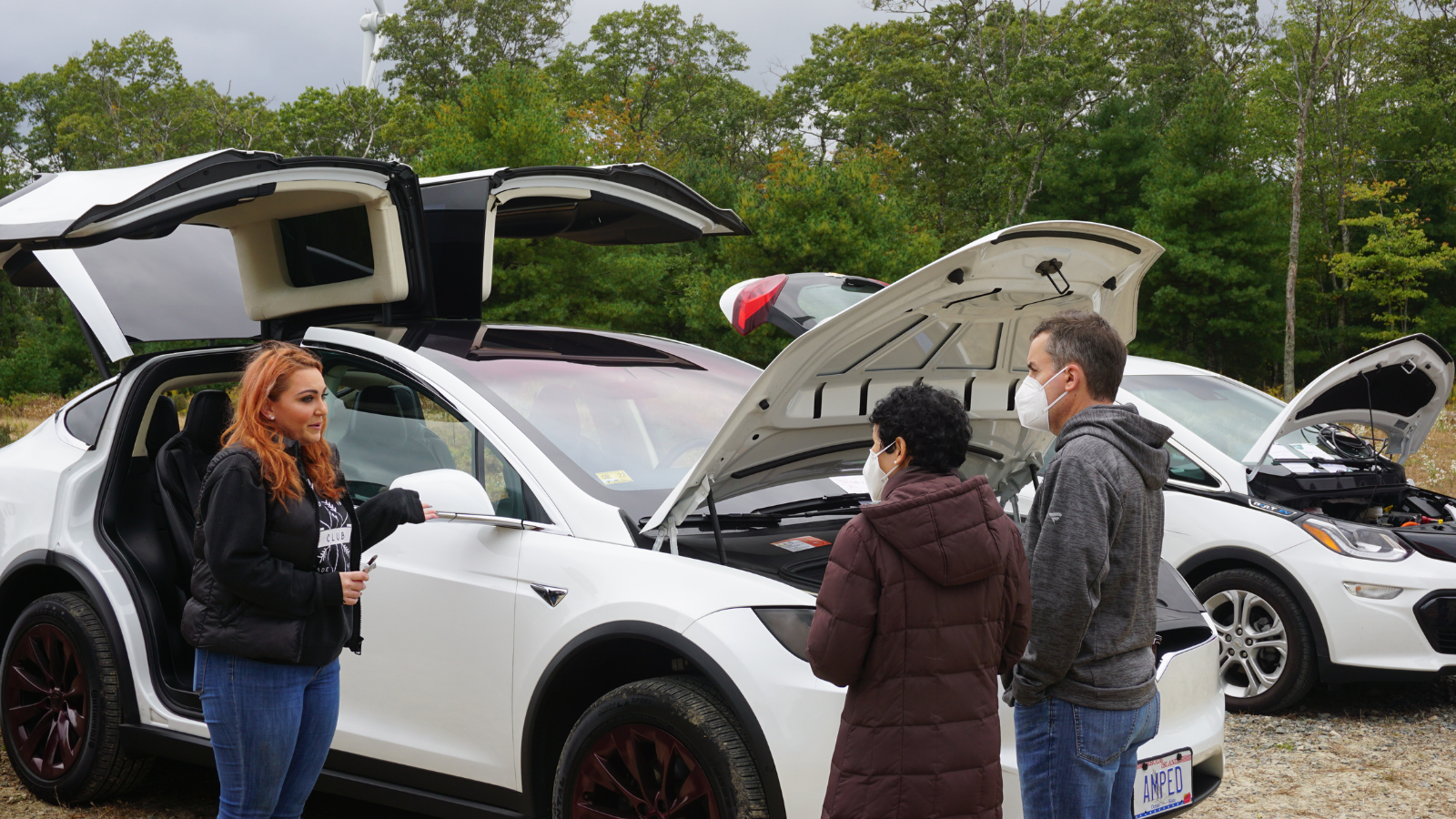 This summer, the RI Office of Energy Resources is planning on launching DRIVE EV, an incentive program to help drivers access electric vehicles (EVs). This program is desperately needed, as Rhode Island has the lowest EV adoption rate in all of New England (and much of the US). Here's what you need to know.
Why do EV rebates matter?
Consumer surveys consistently indicate that the upfront cost of EVs prevents many drivers from buying them over gas-powered cars. The good news is that the upfront cost of EVs is declining and will probably reach cost parity with gas-powered cars by the end of the decade. Nonetheless, addressing the climate crisis requires speeding up the transition away from gasoline, which means replacing the sale of new gas cars with EVs.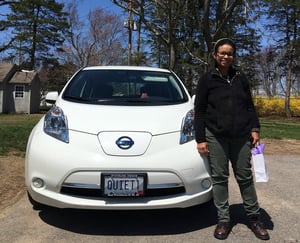 Purchase rebates are a very effective policy tool to incentivize EV sales. According to 2018 ZEV State Scorecard by the Electrification Coalition and the 2021 ACEEE State Transportation Electrification Scorecard, states that offer an EV purchase rebate also have greater EV adoption in states across the US.
There's historical evidence of EV purchase rebates shifting purchase decisions in Rhode Island. In the chart below, we compared Rhode Island's annual EV sales to the 50-state average on a per-capita basis. In the one year that Rhode Island offered an EV purchase incentive from summer 2016 to summer 2017, there was a jump in EV sales, relative to the national data, that subsequently shrunk after DRIVE ended.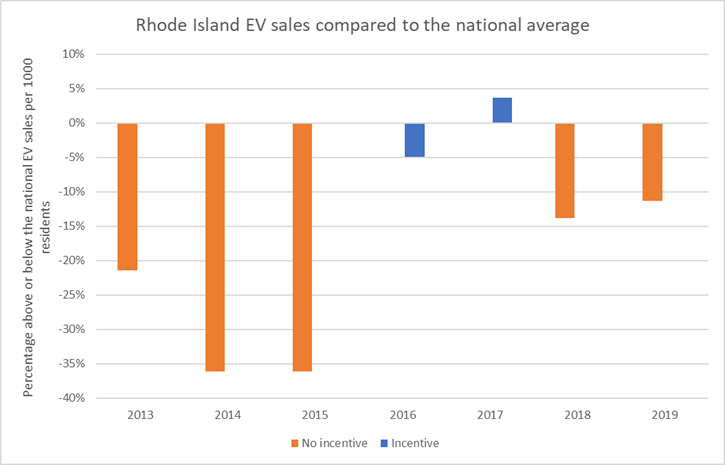 Because the data here accounts for differences in state size, annual improvements in technology, and greater model availability, it's very likely the original DRIVE program is what caused the boost in sales in 2016 and 2017. We expect a similar boost in sales to happen once the new DRIVE EV program is launched.
How is DRIVE EV structured?
The Rhode Island Office of Energy Resources proposes spending $1.25 million for the DRIVE EV program according to the following incentive structure:
$2500 rebate for new BEVs and $1500 rebate for new PHEVs.
$1500 rebate for used BEVs and $750 rebate for used PHEVs.
Low- and moderate-income participants are eligible to receive additional support for each vehicle type, as illustrated in the DRIVE+ Rebate column below.
Fleet operators, including small businesses, non-profits, and public entities, are eligible to take advantage of DRIVE EV program.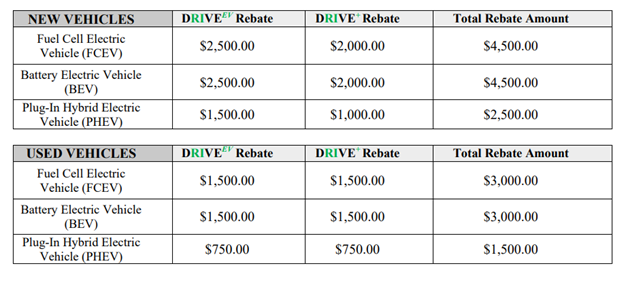 It's important to remember that the above proposal is not yet final; the final program design will be announced sometime in June.
Areas for improvement
Green Energy Consumers Alliance reviewed the DRIVE EV program proposal and drafted 10 pages of comments identifying the strengths, weaknesses, and future opportunities for this program.
Our key priorities are:
Reducing the most climate-warming gases possible per dollar spent.
Advancing the EV market in Rhode Island and instilling confidence for Rhode Islanders to go electric.
Making sure low- and moderate-income Rhode Islanders can benefit directly from the program.
You can read our full letter here, but here are our four most important recommendations.
1. Program longevity and continuity
OER expects the $1.25 million allocated for the program to support 600 EV purchases. The program will start sometime this summer and continue until the funding is spent out. Although we appreciate that OER prioritized re-establishing the program and scraped together the funding to make it happen, the lack of certainty on the longevity of the program is a problem.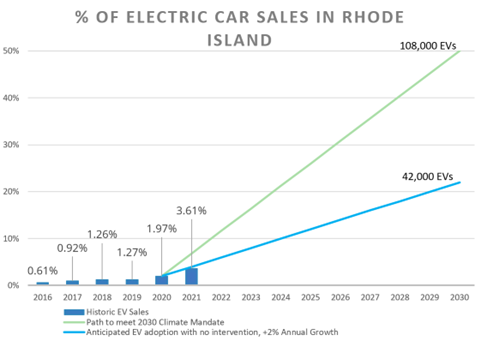 To meet the state's climate goals, Rhode Island needs about 100,000 EVs on the road by 2030. As of 2022, there are only about 5,000 EVs in Rhode Island.
A new car purchase is major decision that occurs once every 10 years or so; an incentive needs to be offered consistently to influence decisions. We need a commitment to fund the DRIVE EV program for several years. The limited funding and the lack of a guarantee that the program will return makes it urgent to squeeze as much greenhouse gas reduction as possible out of the $1.25 million.
2. Limit to BEVs
The Massachusetts Department of Energy Resources recently released a report that reviewed the cost-effectiveness of the MOR-EV purchase incentive. The report found that because PHEVs typically drive half of their miles on gasoline, incentivizing PHEV purchases reduces fewer greenhouse gases per dollar spent than incentivizing BEV purchases. Data from the Massachusetts EV incentive program MOR-EV from 2018 shows that the cost per metric ton of CO2 reduced was $201 for BEVs and $323 for PHEVs.
Considering the limited program funds, we are urging OER to maximize the emissions impact and limit the incentive to BEVs only.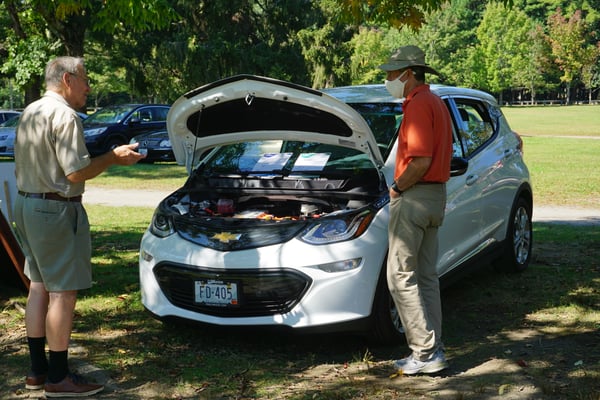 3. No magical thinking about the availability of used EVs
Green Energy Consumers Alliance absolutely supports making EVs accessible to all drivers, especially the majority of people who never buy a brand new car in their lifetime and only ever buy on the used market.
However, offering an incentive to purchase secondhand EVs at this time is wishful thinking – because there are almost no EVs available on the secondhand market. The incentive for used EVs, especially now as used car prices are 40% higher than last year, will neither help to reduce greenhouse gases nor help make EVs accessible to more drivers.
To make this point, here's a Carfax search of 6 top EV models within 100 miles of Providence.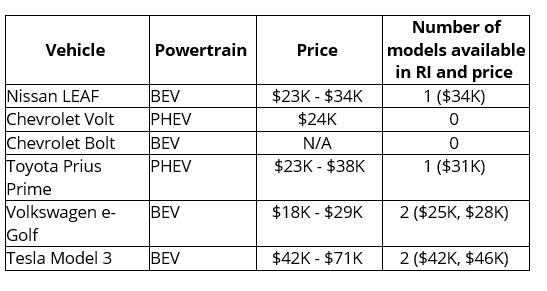 To take advantage of the incentive, OER stipulates that a driver must purchase their EV at a Rhode Island dealership. This means there are exactly six EVs that would qualify for an incentive, and none of them are particularly affordable. The reality is that Rhode Island won't have a robust secondhand electric car market until there's a boost in new EV sales first.
To emphasize this point, take a look at this data from Norway, the global leader in EV sales. It shows that used EV availability follows a strong market for new EVs.

4. Offer an incentive for e-bikes
Vehicle electrification, while very important, is not the only way to reduce emissions from transportation. Creating better options for non-car travel can both reduce emissions and eliminate the cost of fuel, maintenance, repair, and insurance that make transportation a major expense for car owners. Rhode Island needs to cement reduction in car dependence as a strategy alongside electrification to reduce emissions from transportation.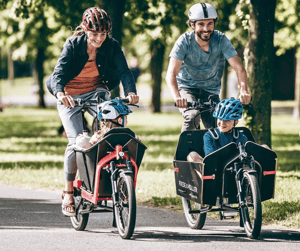 That's why we believe the DRIVE EV program should be expanded to offer an incentive of $900 to low- and moderate-income Rhode Islanders who would like to replace travel in a gas-powered car with an e-bike.
E-bikes can act as a replacement for gas-powered cars by making bike travel faster, increasing the distance a rider can travel by bike, making it easier to carry cargo, and making biking more physically accessible, especially in hilly terrain. The idea is gaining traction in California, Connecticut, Massachusetts, and in the Biden Administration's Build Back Better Plan.
By focusing the e-bike incentive to low- and moderate-income households, we can make sure there's a realistic, low-carbon option in the DRIVE EV program for Rhode Islanders at every income level. If the e-bike incentive turns out to be effective at reducing car miles traveled, it can be expanded to Rhode Islanders of all incomes in the future.
What you can do
The Office of Energy Resources is accepting public comment on the DRIVE EV program until May 22, 2022. If you live in Rhode Island, we encourage you to submit support for the program. Here are some suggested key points to make.
Rhode Islanders need the rebate to increase EV sales and make EVs more affordable.
Rhode Island needs a consistent, well-funded rebate to inspire consumer confidence in EVs. OER should prioritize identifying a funding source to continue the program after the initial $1.25 million is spent out.
Rhode Island should expand the program to offer an incentive for e-bikes.
Pro Tip: Your comments will be more impactful if you tell a personal story. For example, you can discuss how your next car purchase decision might be influenced if there is a rebate available.
If you were already planning on buying a new car in the next year and want to take advantage of the rebate to go electric, we will update this blog with the final program details when they are finalized.
Finally, to learn more about our advocacy for a clean, affordable, and equitable transportation system in Rhode Island, join us for our Spring Meeting on May 18!