RGGI's Third Program Review: Charting a Path Towards Zero?
The Regional Greenhouse Gas Initiative (RGGI), a cap-and-invest program among Northeastern and mid-Atlantic states to reduce CO2 emissions from the power sector, is currently undergoing its third program review. This means the participating states, including Rhode Island and Massachusetts, are collectively examining the successes, impacts, and design of their CO2 budget trading programs, and considering updates to the program design. We see this third program review as a real opportunity to strengthen RGGI in a way that would significantly and equitably drive down power sector emissions and have been following the process closely. We have been told that the process will conclude by the end of the year. Here is what we know:
The Cap Must Decline in Line with State-Level Climate Policy
Currently, the RGGI emissions cap declines by 3.655 million tons each year by 2030 and is held steady thereafter. While this cap has produced significant emissions reductions in the power sector, it does not decline in line with the clean energy and greenhouse gas reduction policies of several RGGI states. Last year, Rhode Island passed a 100% renewable energy standard by 2033. Massachusetts has a renewable energy portfolio standard of 80% by 2050. In addition to these laws requiring a drastic increase in renewable energy, both Rhode Island and Massachusetts have binding laws to reduce their Greenhouse gas emissions. Rhode Island has the Act on Climate requiring the state to reduce its emissions 45% by 2030 and net-zero by 2050. Massachusetts has the Global Warming Solutions Act requiring the state to reduce its emissions 50% by 2030 and net-zero by 2050.
Given that these policies already set aggressive targets for how much renewable energy MA and RI must procure, and even further how much they must reduce their Greenhouse Gas emissions, RGGI must set the regional cap low enough to continue to accelerate decarbonization. Thankfully, during this third program review, RGGI Inc. Is exploring a cap that does just that.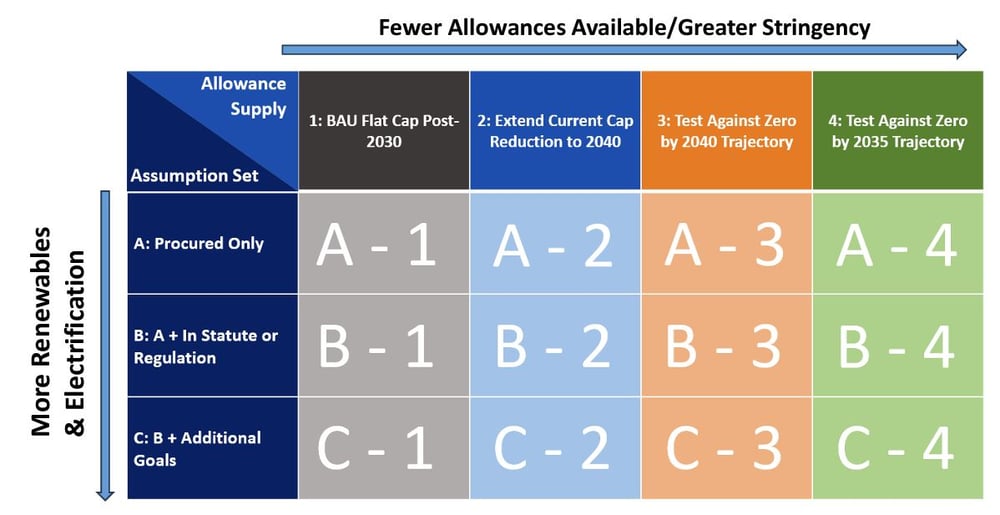 Source: RGGI Inc.
The above chart shows the various frameworks modeled during this third program review. As you move to the right, the emissions reduction cap modeled becomes more stringent. Similarly, as you descend, the amount of clean energy buildout and electrification modeled increases. Considering the urgency of the climate crisis and the ambitious decarbonization goals set by participating states, we are advocating for RGGI to pursue the C-4 modeling framework which includes the highest number of renewables and establishes a cap of zero emissions by 2035.
Lower Cost of Carbon Abatement
We were pleased to see that the allowance price modeling for a zero-emission cap by 2035 (C 0x35: green line) would result in an estimated allowance price of $21/ton, as shown in the below graph. A recent study published in Nature estimated the social cost of carbon to be approximately $168 per short ton of CO2, meaning that the projected allowance price would still be 8x lower than the social cost of carbon.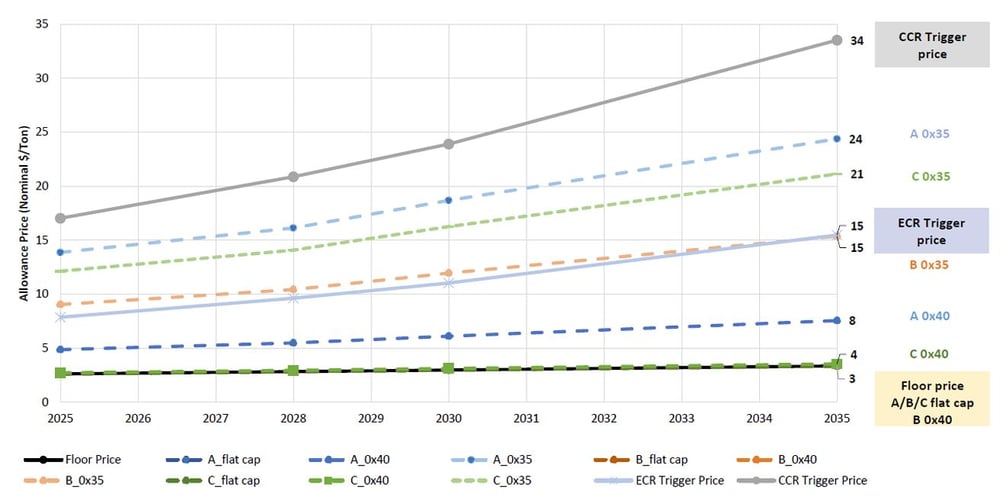 11-State RGGI Allowance Price, RGGI Inc.
In comparison to other emissions trading systems such as the European Union Emission Trading System (EU-ETS) and the joint California-Quebec emissions trading market, RGGI's carbon prices are substantially lower. For example, in 2022, the average EU-ETS carbon price was USD $79.64 per short ton of CO2. As of March 2023, the EU-ETS had reached an all-time high of USD $105.73 per short ton. In 2022, the joint California-Quebec allowance auctions averaged USD $25.81 per short ton of CO2, nearly twice RGGI's price in the same year. Although RGGI's scope is smaller than these trading programs, the price levels are informative as prices that markets can handle, making $21/ton a good deal in terms of carbon abatement.
Revenue for Clean Energy & Electrification
In addition to curbing emissions, RGGI also generates revenue from auction allowances. While the specific use of the funds generated from RGGI auctions varies from state to state, several states reinvest these funds into a wide range of clean energy and electrification solutions. This reinvestment allows RGGI to promote clean energy and electrification technologies while stimulating economic growth. This revenue has been pivotal for the implementation of programs such as the RI Drive EV and E-bike incentives, and the MA MOR-EV program. In future RGGI funding allocations, we urge for a 40% allocation towards clean energy and electrification initiatives within environmental justice communities. This aligns with the Biden Administration's Justice 40 initiative aimed at fostering equitable access to the benefits of clean energy and electrification.
Opportunities to Advance Environmental Justice
Speaking of Environmental Justice, in this third program review, RGGI has the opportunity to ensure equity is built into the model rule. Although they have not yet outlined their strategy for including equity, we, along with fellow advocates, have been advocating for RGGI states to incorporate air quality monitoring in their program review. We urge them to prioritize accelerating emission reductions at power plants that pose the most significant respiratory health risks to vulnerable communities. Specifically, we propose a reduction in the MW threshold capacity for power plants covered under RGGI, from 25MW to 15MW. According to the RGGI Report by the Acadia Center, 91% of these smaller generating units are situated within a 3-mile radius of an EPA Environmental Justice Socioeconomic Indicators (EJSI) community or a community with a high asthma prevalence. Therefore, their inclusion in the program can contribute to addressing the health disparities caused by these power plants' proximity to EJSI communities.
Stay Tuned
RGGI Inc. maintains that the program review will be completed by the end of this year. You can subscribe to receive updates here. We will continue to follow the process and advocate for a more robust RGGI that effectively reduces emissions from the power sector in line with MA and RI decarbonization goals while promoting equity.
Tags: