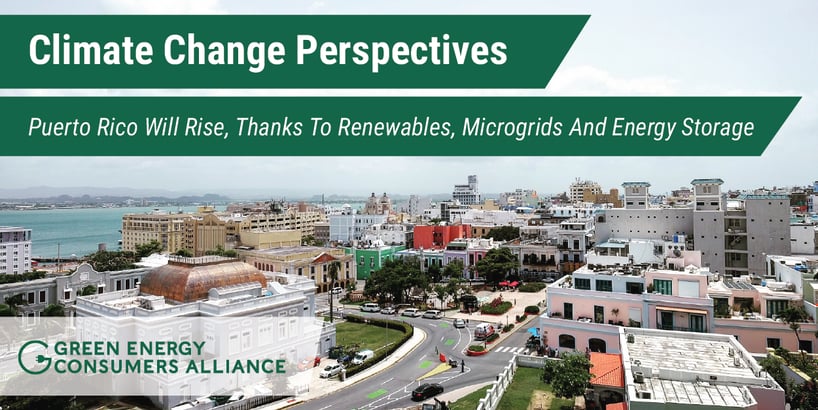 Our Climate Change Perspectives mini-blog series is a 3-part series that brings to light the personal impacts of climate change on Green Energy Consumers' staff members' lives. This series aims to clarify what is at stake for people around the world and how those realities influence the choices we make on a daily basis.
Yaima Braga is our Energy Programs Manager.
"Maria was nearly a worst-case scenario for the territory: The center of a huge, nearly Category 5 hurricane made a direct hit on Puerto Rico, lashing the island with wind and rain for longer than 30 hours. It was as if a 50- to 60-mile-wide tornado raged across Puerto Rico, like a buzz-saw" –Robinson Meyer, the Atlantic.
Puerto Rico is my second home. Even though I left over a decade ago to attend college in Boston, my family still lives there. And let's be honest, a place like Puerto Rico stays in your heart forever. So it's needless to say that the aftermath of Hurricanes Irma and Maria broke my heart.
Puerto Rico has been left in limbo by history. On paper it's a commonwealth under the United States, but in reality, it does not even compare to the rights and benefits that a US commonwealth such as Massachusetts has. American citizens since 1912, Puerto Ricans have no vote in Congress and no electoral votes for the presidency. They have been left alone to fend for themselves and the local government has struggled for decades with a declining and now bankrupt economy with no help in sight from Washington.
Hurricanes in the Caribbean are not a matter of "if" but "when". The most important thing is to be prepared for when that day arrives. And in the fall of 2017 that day arrived twice. Even though it passed 60 kilometers north of Puerto Rico, Hurricane Irma left considerable damage and a third of the population without power, my grandmother included. Two weeks later, the unforeseeable happened: another hurricane headed straight to Puerto Rico. On September 20, 2017 Hurricane Maria made landfall as a category 4 with sustained winds at a maximum of 155 mph. Overnight, a crippled island was torn apart by what my mother who lives in the greater San Juan area recalls as a monster. I was lucky enough to be able to talk to her the following morning and learn that my family was alive and well. But those would be the only good news I would get.
What followed will most likely be the hardest months my family and I have gone through in our entire lives. Puerto Rico was in total state of devastation: massive flooding, extensive infrastructure damage, loss of major sources of water supply and the entire island without power. My mother would tell me over the phone (the very few times I was able to reach her) how my family, and the rest of the island, did not have access to the bare necessities of food and water. How people would wait in line for hours to get into grocery stores whose shelves were already empty. My family was lucky, I was able to get on a plane two weeks after the hurricane passed and bring food and supplies but that was not the case for most. Many Puerto Ricans suffered months without getting 3 or even 2 meals a day, no access to clean water or even have a job to support them as many businesses closed.
Puerto Rico's infrastructure has always been outdated. Lacking adequate funding, the government-owned utility supplied fossil fuel generated electricity throughout the island through power lines dangling on electric posts. Prior to the hurricane the utility did not see fit to include renewables in its electricity mix. So when Maria pummeled through Puerto Rico, power lines were torn off posts making fuel for both electricity and transportation scarce.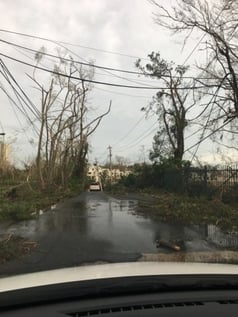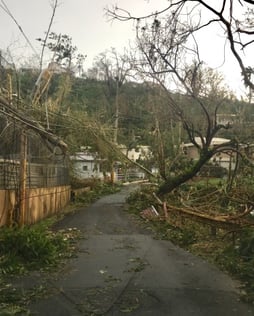 Power lines damaged by Hurricane Maria in San Juan, Puerto Rico. September 2017
Federal government aid and supplies slowly trickled in during the months after Hurricane Maria, only after federal officials got a reminder that Puerto Ricans are US citizens too. But the private sector along with some state and local US officials stepped up to the plate and helped Puerto Rico get back on its feet. It took over 6 months for electricity to be restored to most parts of the island. My family was without electricity for 142 days. Power was fully restored 11 months after Hurricane Maria.
While the road to full recovery is still a long ways ahead and the Puerto Rican government still needs all the help it can get, the biggest win after the hurricane was the welcoming of renewable energy, microgrids and energy storage in the island. On December 12, 2017, Puerto Rican Governor Ricardo Roselló, along with New York Governor Andrew M. Cuomo, announced the release of "Build Back Better: Reimagining and Strengthening the Power Grid of Puerto Rico", a report that outlines a way for making energy more sustainable for the people of Puerto Rico. Local officials now recognize that in the event of another hurricane, all of these technologies would help keep the lights on allowing for emergency aid and supplies to be delivered to those in need.
Today marks one year since Hurricane Maria changed Puerto Rico's fate and I'm happy to report things are changing. In May, the Puerto Rico Energy Commission adopted a regulation allowing households and small businesses to create microgrids supported by solar panels and batteries. "Prior to that law, microgrids were not recognized as a way to legitimately get your energy," says Agustín Irizarry Rivera, an electrical engineering professor at the University of Puerto Rico - Mayagüez. On June 20th the Puerto Rican legislature passed a bill allowing private entities to own and operate generation in the island while the Puerto Rico Electric Power Authority (PREPA) will continue to own transmission and distribution. This bill paves the way for private, utility-scale renewable projects in the island. And on August 27 another bill passed that allows communities to set up electric co-ops which locals hope will bring new electricity options which include renewables.
Climate change is creating more powerful and recurring severe weather events such as Hurricane Maria. And it is very important that we prepare ourselves against any outcome that a warming climate may bring. That is why it is very important to invest in clean energy that can help us both mitigate and adapt to the effects of climate change. I for one am very proud of the work that we do at Green Energy Consumers and encourage everyone to support local, renewable energy as much as they can.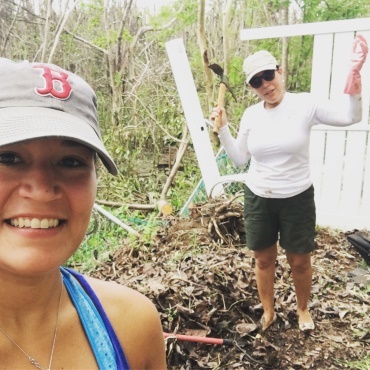 Yaima and her mom cleaning up after Hurricane Maria, October 2017.