Our Drive Green program is still very new, but already we have some participants who just love their new cars. If you've been wondering whether an EV is right for you, check out what these folks have to say:
Debby & Greg Andell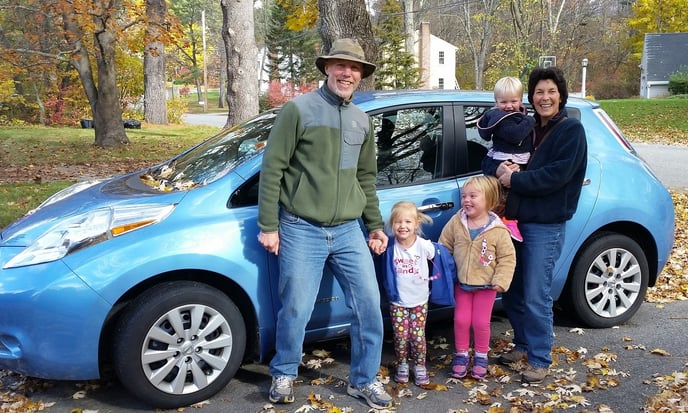 I love our Nissan LEAF! I drive it daily from our home in Acton to Mass Audubon in Lincoln where I work. It is comfortable, quiet and accelerates with ease, to provide a safe and dependable way to commute but not use gasoline. With New England's weather extremes over the past 2 and a half years, I have had plenty of opportunity to drive the LEAF in bitter cold as well as blistering heat, and have never been disappointed with the car's performance.
Although I usually charge the battery at home, I have the ability to plug in anywhere there is an outlet!
As grandparents with an eye on the future, we love the fact that an electric car is a much better choice for the environment.
The Mass Energy Drive Green program has amazing discounts, enabling us to choose a plug-in hybrid to replace our gas-powered vehicle. Having an electric vehicle as well and a plug-in hybrid will allow us all of the flexibility we need for commuting to work as well as visiting relatives out of state.
Electa Sevier, Executive Director of Mothers Out Front
We love the LEAF more and more. It is peppy, comfortable, quiet, smooth and so cute! We get 125+ miles to a charge and can re-charge all over the place. Mike at Quirk Nissan was knowledgeable and helpful. There are quick-charging stations free at all the dealerships that will charge our car in 20 minutes. Fits 5 people comfortably for carpooling. The sound system rocks. We don't have a single complaint!
Mike Massagli, Cambridge, MA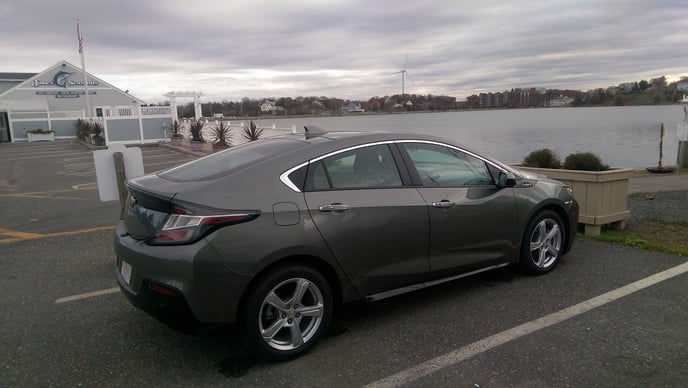 I did purchase a Volt last weekend from Quirk Chevy in Braintree. It went pretty quickly as I had been in touch with them in October after researching the vehicle and my options in the Boston area. I didn't pull the trigger then, but as I was considering picking up the ball again and trying to get something done this month to insure that I could get the MOR-EV rebate and Fed tax credit in 2016, I received the e-mail about the Drive Green program. Because I already knew what I knew, it was clear that taking advantage of the Drive Green pricing would help me lock in a good deal on a car that had the trim and options I was interested in. So I followed the path through the Drive Green web page and submitted my request to Quirk and they reached out to me quickly (next day). I coordinated my visit with Shayne Dextrauder, the Drive Green program manager at Quirk, and things went very smoothly thanks to him.
The other thing that made this an easy decision for me is the success I had in working with Direct Energy Solar to install a home PV solar system through the Mass Energy program last year. That went well, the product is working exactly as projected, and will be providing the clean energy I need to cover most of my routine driving with the Volt.
To my eye, both the Volt and solar programs that Mass Energy put together offer consumers good value because of the program discounts but also because you have vetted the vendors and they are doing their job.
Tom Brown
I'm incredibly proud to drive my Volt. Global warming is a global problem, and every one of us has to do our part to address it. I am thrilled when I plug my car in at a public charging station and others stop by to ask me questions about it. Driving an electric car allows me to not only do my part to save the environment, but to encourage others to do act as well. It is one more way to spread the word about climate change and to motivate change from the ground up.
Joel Gates, North Scituate, RI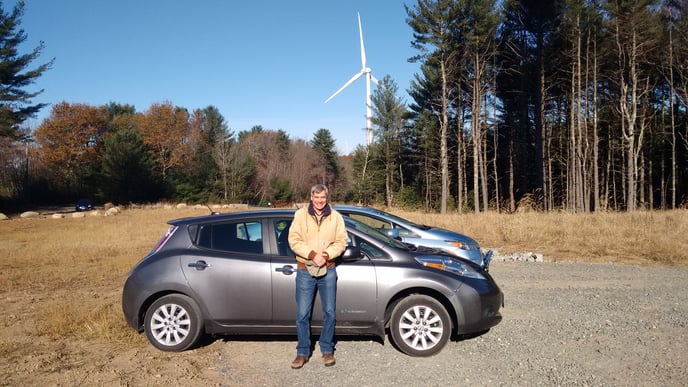 With PP&L as our electricity supplier, our choice to drive an EV makes us feel better about our car, our environment, and the health of those behind us, on and near the road! The LEAF is very fun to drive, both accelerating and braking. The acceleration is immediate, smooth, quiet, and neck-snappingly fast! On the other hand, the regenerative braking not only recoups some of the kinetic energy, but is great in stop and go traffic. Anybody who's skeptical, just take a test drive.
Claude Cicchetti, Concord, MA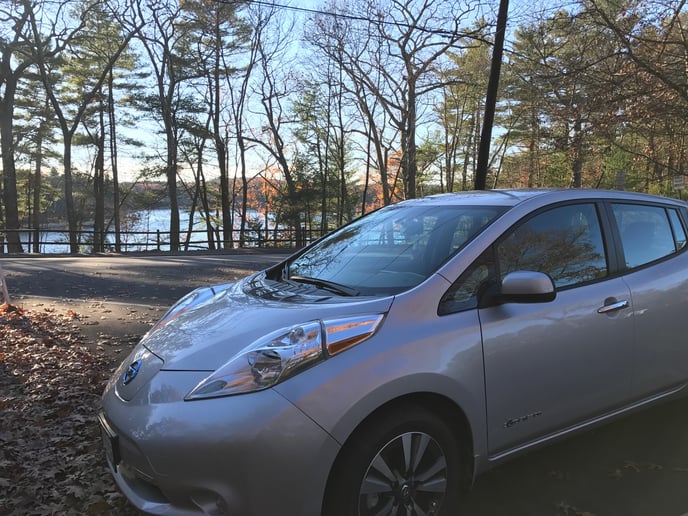 Bentley University's Director of Sustainability sent out an email blast to all faculty and staff announcing the Drive Green with Mass Energy program for hybrid and electric cars. Two weeks later, I took delivery of a 2016 Nissan LEAF. It was, BY FAR, the best car-buying experience I've ever had, due in large part to the Mass Energy pre-negotiated price. In fact, the only deviation from the incredibly low price was when the general manager of Marlboro Nissan told me that in addition to the $8700 Mass Energy discount, and the $2500 Massachusetts tax rebate, and the $7500 Federal tax credit, the price would be $600 LOWER because of a university employee discount. What parallel universe had I just entered?
I'm also very impressed with the lower routine maintenance of electric cars. Gone are oil changes, transmissions, tune-ups, carburetors, emissions systems, and on and on. Before I purchased the LEAF, I walked into the dealership's service area and asked the LEAF technician how service generally works out. The answer? "Well at 7500 miles we plug it into the computer and rotate the tires. At 15000 miles, we plug it into the computer and rotate the tires." Sold.
My commute is 25 miles round trip. While the 2016 Nissan LEAF SV has an official range of 107 miles, my actual range is closer to 140 miles since (for stress avoidance) I stick to calm back roads rather than deal with the stop and go lights and maniacal crush of the theoretically faster Route 2. I typically recharge overnight every three or four days, and it couldn't be easier. Plus, Bentley has an electric vehicle charging station if I ever want to use it.
And while I'm happy that my electric car has less of a carbon footprint than its internal combustion engine cousins, I also appreciate the zero tailpipe emissions, as I no longer have to deal with noxious fumes filling the garage and seeping into the house.
The range of my LEAF is great for me, and there are new cars due out this model year that will double that range. It's remarkably clear that the future of cars is electric.
Paul Lauenstein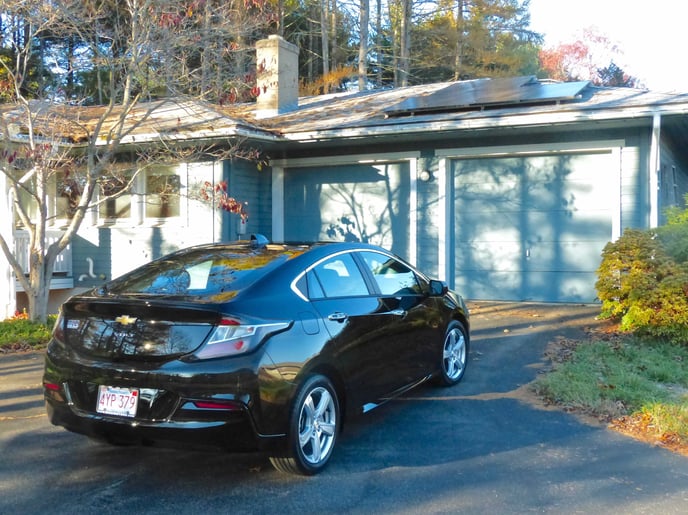 My wife and I just purchased a new Chevy Volt LT. It's an electric car with a gasoline generator that greatly extends its range.
It goes about 50 miles on a full charge before switching over to gas. Its total range on a full charge and a full tank is about 420 miles - similar to a conventional car. Since most of our trips are less than 50 miles, we will seldom have to use gasoline.
Some of our household electricity comes from the solar panels on the roof of our garage and the rest comes from a community solar project. See: http://blog.ucsusa.org/rachael-nealer/gasoline-vs-electric-global-warming-emissions-953
The list price of the Volt LT is about $34,000. Thanks to Mass Energy's Drive Green program, we got a $7,000 discount off the list price. On top of that, we will be eligible for a $7,500 credit off our federal income taxes, and a $2,500 rebate from the state of Massachusetts. The net price of the car after sales tax, registration and document fees was under $20,000 – not including the trade-in value of our old car.
The Volt is fun to drive. It goes from zero to 60 mph in 7.5 seconds, and it comes with many features and comforts. Go for a test drive at a dealer near you and see for yourself!