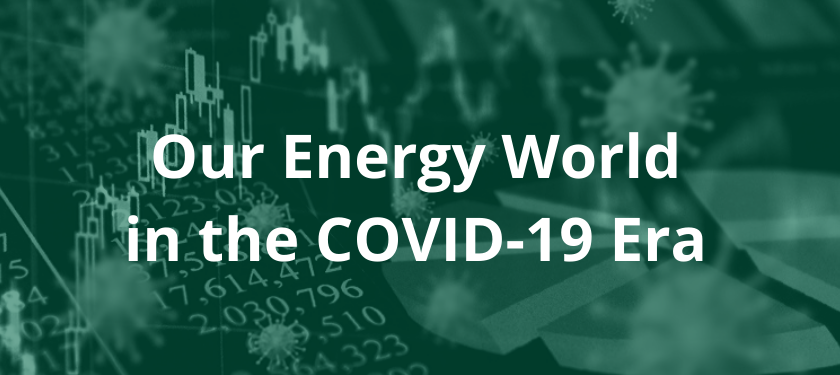 All of our minds are on the virus itself and its impacts on the health of ourselves, our loves ones, and the economy. We are grieving for those who have passed on and worrying for those who are losing work. So it's understandable if you're not interested in thinking about energy at this time. But, if you are, please join this discussion of how the pandemic could change the ways we produce and consume energy.
The Economic Symptoms (for now)
If your income is tumbling, falling energy prices provide little solace. But crude oil prices have fallen like a rock and may hit record lows when adjusted for inflation. Supplies are so plentiful; there might not even be enough storage. This will affect gasoline, diesel, heating oil, and jet fuel and will have all kinds of implications in complex and countervailing ways.
If you heat with oil, you'll save money, but heating season is just about over. If you drive a gas-powered car, you'll save money, but where are you going to go? The airlines will have cheaper jet fuel, but they have no customers.
If you are concerned about climate change, as we are, you are probably worried about how low oil prices will just encourage people to buy gas guzzlers and fly to Tahiti.
Hold that thought.
It will take some time for that reaction to manifest even after we're allowed to visit each other. With unemployment high, big new cars and discretionary travel are going to be out of reach for many.
The Rebound Effect & False Paradigms
But oil and clean energy are not on a seesaw, in which the fall in price of one causes a rise in price of the other. Clean energy has not become more expensive in an absolute sense and it will continue to become more affordable over time. Unfortunately, in the near term, capital intensive projects will become more difficult to finance while financiers are worried about falling demand. The cost of borrowing money is already low, but you have to be lucky enough to qualify for a loan.
The key point is this: The virus has caused a financial crisis, not an energy crisis.
Again, the many implications are complex and subject to rapid change as the virus causes upheaval in ways that no one can predict today.
Policy Matters More than Ever
Only a decade ago, we experienced the worst recession since the Great Depression. But the federal stimulus package, the American Recovery and Reinvestment Act of 2009 (ARRA), accomplished the goal of putting people back to work. It also sped the transformation of our energy systems – through research and development, weatherization, loan guarantees, and tax credits for wind, solar, and EVs. Without equivocation, we can point to great advancements in clean energy over the last ten or so years and trace many of them to projects and programs within ARRA.

Green Energy Consumers saw firsthand what ARRA did. We received a cash grant to build a 107-kilowatt solar array in Boston. And thanks to the leadership of Boston's then-mayor Tom Menino, we were able to administer a $2 million weatherization program targeted to low- and moderate-income residents. That program was called Renew Boston and helped the city earn the title of most energy efficient city in the country by ACEEE.
In 2012, Michael Grunwald wrote a great book, "The New New Deal: The Hidden Story of Change in the Obama Era", about how ARRA came to be and its results – most of which were incredibly positive. But the benefits did not stop in 2012. What started with ARRA funding caused favorable market and technology developments that continue to play out today like a snowball rolling down a long hill.
Maybe ARRA wasn't perfect because of political compromises, but we are much, much better off today as a result.
It's Time for Another Federal Stimulus Package
Congress is now debating about what kind of stimulus is needed to shorten the COVID-19 Recession. As in 2009, passing good legislation will be a challenge. Hopefully, the good ideas will outweigh the bad ideas.
We can learn from ARRA and can build from it. Our energy systems are not the same as they were then. Clean energy has taken hold and is no longer "alternative energy."
Hopefully, Congress will keep some of those points in mind as it deliberates anything to do with energy, and ask its collective self these questions:
Can we provide necessary help to dislocated workers while doubling down on investments in industries and products that we need for a sustainable economy? Emissions are going to rebound when the economy begins to recover, but the "new normal" could have lower emissions than the good old days of 2019.
Are we going to be short-sighted or can we recognize the benefits of things that transform markets and/or that have long-lasting value? Some clean energy investment ideas might look less appealing compared to the cheap oil we see in March 2020, but emission reductions must happen regardless of how low oil prices go.
Are we focused on the private or the public? For example, let's acknowledge the fact that public transportation moves 15 times more people every day in this country. If any concessions are made to industries like oil and aviation, hopefully Congress will attach a few strings such as a tax on fuel ramped over time.


Not All Policy is Federal
State governments got into the energy and climate game over the last ten years largely as a result of ARRA. And they have to stay in the game. We've learned what states can do – from increasing renewable energy standard and signing long-term contracts for off-shore wind to building electric vehicle (EV) charging stations and offering rebates for EVs on top of the federal tax credit for EVs.
Here's one challenge for states: Both Massachusetts and Rhode Island test energy efficiency measures according to avoided costs. If the evaluators run those tests against today's oil prices, some measures would fail. To repeat - the emission reductions must happen regardless of how low oil prices go. Mitch McConnell and Donald Trump do not dictate how we evaluate the efficiency programs.
Local policy
Cities and towns have also stepped up in recent years. Many have created positions like energy coordinator or sustainability coordinator. Good things have come from this. Communities have learned how to save energy, install solar panels, buy electric vehicles, and many have adopted the model of Green Municipal Aggregation. All these things are good, but were not enough before the virus. Post-COVID, local governments have to get back to the work of energy and climate.
Your policy
There's no question about it – good government is needed all the time – and now more than ever. Nonetheless, not even the current circumstances should let us, as citizens and consumers, off the hook. The siren song of cheap gasoline might be appealing, but we can change the playlist. We have every obligation to make the wisest possible choices. And we have more good energy choices than ever before in history.
How do you see the glass?
Coping with the virus is hard already and it's going to get worse before it gets better. And while it may be unique in the ways in which it is challenging society, how we manage it will depend upon the compassion, courage, attitude, and confidence that we bring to the problem. Whether the glass is half full or half empty, let's fill it to the top with what our children deserve.