When we talk about electric cars at Green Energy Consumers, we often get questions about road trips. How do you drive hundreds of miles with a battery electric vehicle? How do you plan where to charge? Does it take forever? That's why we love featuring real stories from real people about their experience driving electric. Here's a guest blog from our friend Nicole about her family's trip from Massachusetts to Virginia in a fully-electric car. (This blog refers to the different types of charging and plugs. If you need a refresher, check out our charging basics page!)
Nicole and Her Family
We are a family of four from Millbury, Massachusetts and we have been on a journey of sorts over the past few years to reduce our carbon footprint as much as possible. We started our "decarbonization journey" when we moved into our house in 2016 by weatherizing our home through Mass Save and upgrading all our lighting and appliances to be as energy efficient as possible. We converted our heating system to highly efficient air source heat pumps in 2019 and then converted to an electric heat pump water heater in 2021. We had a 15kW PV system installed in early 2022 and our most recent step was to switch both our internal combustion engine (ICE) cars over to electric vehicles (EVs) this summer. We have enjoyed making these "green" changes to our household over the years, but our recent move to EVs has definitely been the most fun out of all of them!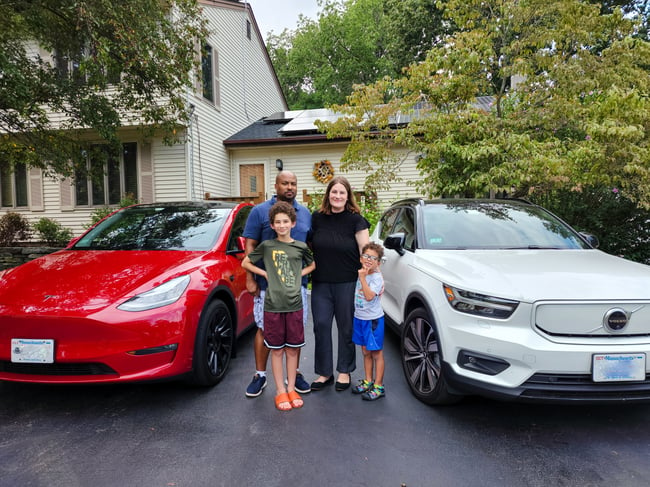 Charles, Nicole, Charlie and Owen Cooper in front of their home and with their EVs
Our first EV "journey"
We have wanted to get EVs for many years. Charles is an early adopter and lover of all things technology, so he has been admiring the advanced technological features of the Tesla brand of EVs for a long time. In September 2021, we finally decided it was the right time to make the move to an electric vehicle and we placed an order for a Tesla Model Y with third-row seating to be able to best accommodate our life – including two kids, two big dogs, and the occasional need to fit in friends, grandparents, etc. We had a NEMA 14-50 outlet installed to support Level 2 charging from home and waited for the order update on when we could pick our new Tesla up.
We planned a road trip for June 2022 to go to our niece's high school graduation in Chesapeake, Virginia, and thought it would be the perfect opportunity for our first EV road trip. We were excited about not having to worry about rising gas prices and felt confident we could go the 600+ miles each way with only stopping a few times to charge at Tesla superchargers along the way. The only hitch in our plan was that by early June 2022, we were no closer to a confirmed delivery date for the Tesla that we had ordered 9 months prior!
Meanwhile, I had been researching different EVs for myself and started test driving several – including a Volkswagen ID.4, Kia EV6, and a Volvo XC40 Pure Electric Recharge. I considered other EV SUVs such as the Toyota Bz4x and Hyundai Ioniq 5, but those were unavailable for local test drives. A few days prior to our scheduled trip to Virginia, we decided to purchase a used 2021 Volvo XC40 Pure Electric Recharge AWD P8 when one became available from a regional dealership. Buying a pre-owned EV had the advantage of not having to wait months for a new vehicle; however, we were not eligible for any tax credits or rebates. (A note from Green Energy Consumers: Starting in 2023, there will be a federal tax credit available for used cars, and the Massachusetts state rebate for EVs will soon have a used option as well!)
Planning our EV Road Trip
We originally mapped out our charging plan for our Virginia trip based on the presumption we would be taking a Tesla, but once we realized we would be driving the Volvo, we had to rethink our plans since non-Teslas are not currently compatible with Tesla superchargers, and the Volvo XC40 Recharge has less range than the Model Y. The average range on the Volvo is around 230 miles on a full charge so we wanted to plan to charge around every 175-200 miles to ensure we had a bit of a buffer. We downloaded multiple apps to plan out our charging stops ahead of time and quickly realized just how many EV charging apps there are! We downloaded A Better Route Planner (ABRP), ChargeHub, PlugShare, as well as apps that were specific for the brand of chargers – including ChargePoint, Electrify America, EV Connect, EVGateway, EVGo, and Volta.
We were a little overwhelmed by all the choices of charging apps and EV trip planners at first but based on reviews we decided to mainly use ABPR to plan our route ahead of time. ABPR had an advantage over other apps because you can choose the exact EV model that you are driving, enter in different criteria such as the expected starting charge percentage of the car at the start of the trip and the types of chargers you are looking for along the route. We also used the Electrify America app since we knew that we wanted to primarily use DC fast chargers (DCFC) to make the trip as fast as possible and Electrify America seemed to have the best network that aligned with our route. ABRP estimated it would take us approximately 13 hours to make the 615-mile trip, which included 2 hours and 10 minutes of charging time. Considering we were traveling with two kids, we knew we would need to stop along the route for bathroom breaks and meals anyway, so the 'extra' two hours for charging was not a big deal.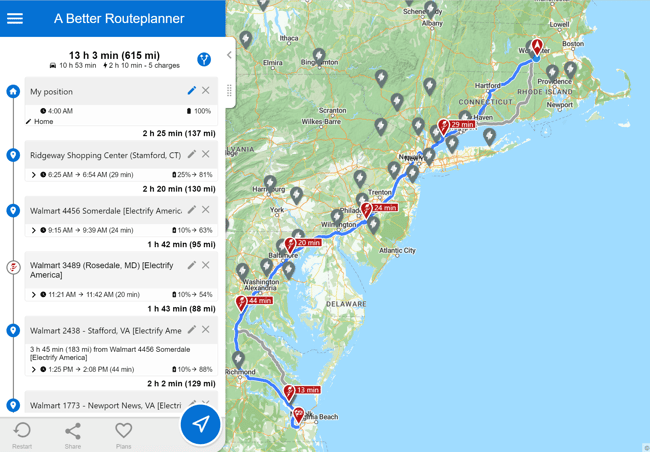 ABRP trip preview from MA to VA with charging stops along the way
Once we decided that using Electrify America chargers would make the most sense for our trip, we checked out one nearby to us before our trip to make sure that we did not have any issues with the app or charging. We signed up for their monthly Pass+ membership plan for $4 to get a $.10/min discount on charging, which ended up saving us about $60 over the course of our trip. Since we will be primarily charging at home, outside of possibly taking a few road trips per year, the Pass+ membership does not make sense for us in the long term, but it definitely was worth it for this trip.
The nice thing about the Volvo XC40 Recharge is the built-in navigation software helps with trip planning and locating EV charging along our route. Our Volvo uses Google-based software so all we have to say in the car is "Ok Google, find the nearest EV charger" and it will show multiple options on the infotainment screen. Once a destination is selected, it will also indicate the estimated percent battery remaining upon arrival as well as the final charge percentage for a round trip. There are also multiple apps available to use in the car – such as the PlugShare app – so it is not necessary to use a phone or computer to plan out a route ahead of time. But as this was our first big trip in an EV we did find it helpful to plan all our charging out in advance online.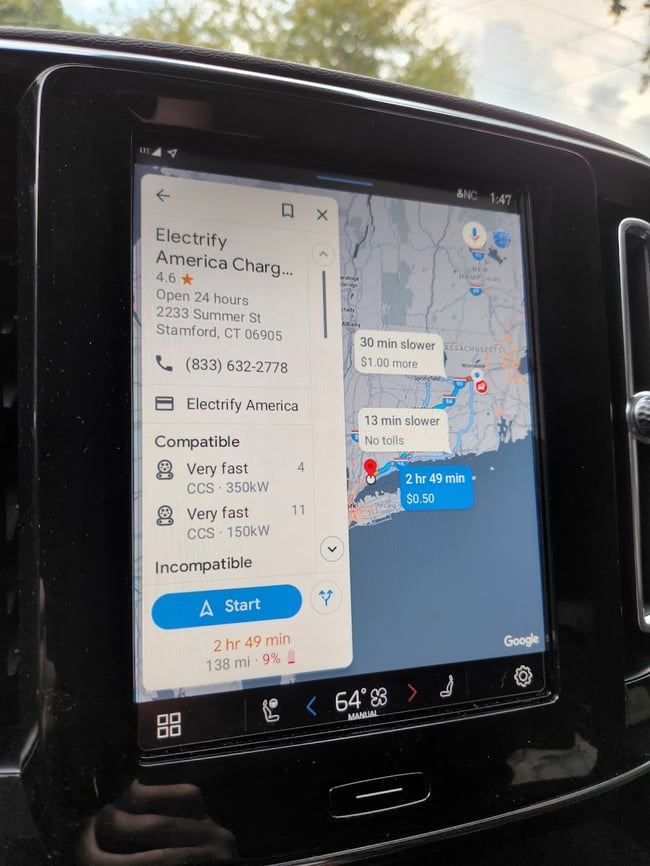 Volvo XC40 Recharge infotainment screen with information about charging stop
On the Road
On the day of our trip, we left our house around 4:30 AM with 100% charge. Depending upon the battery technology, it is not recommended to charge EVs to 100% for everyday use, but in the case of long-distance trips, it is necessary. We made it to our first charging location in Stamford, CT around 7:00 AM at 38% charge. Our first stop was in a parking garage of an outdoor shopping center and despite looking up the location ahead of time, it did take us a few minutes of driving around the parking garage to find the chargers, which were located on the basement level and not the street level as we thought. Upon locating the chargers, we parked in one of the several open spaces. It was early in the morning, and the only store in the shopping center that was open was Stop & Shop, but that worked out perfectly as it had public restrooms and we were able to get breakfast from their bakery. When we got back to the car we chatted with some friendly EV owners that were parked at the nearby chargers while waiting for it to finish charging up to 90%. Ensuring a higher % charge provided us with a cushion en route to the next charger. Opting to charge up to 90% instead of stopping at 80% took about 15 minutes since EV batteries charge more slowly as they reach capacity.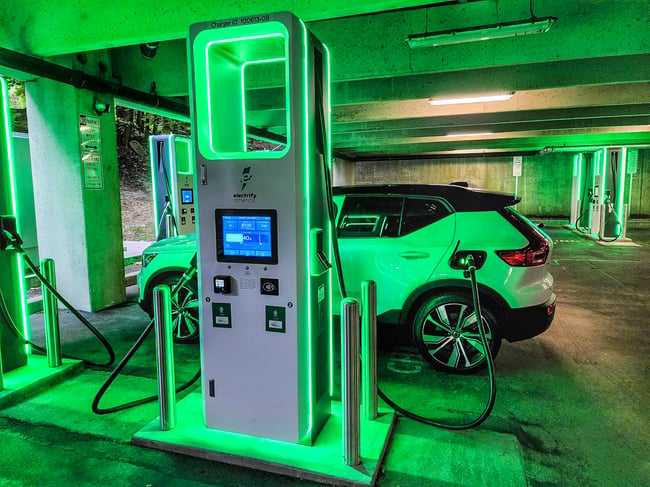 Charging at Electrify America in Stamford, CT
To give some perspective on the time and cost of charging at the stops along our route, at this stop we charged for 45 minutes to go from 38% to 90%, using a 150 kW CCS connector, which had a max charging speed of 176kW and delivered a total of 44kWh, costing $14.51. In comparison, my previous vehicle got an average of 24 mpg in gasoline and we saw that gas prices in Stamford, CT on this date were around $5.50/gallon so it would have cost $31.39 for us to go the same distance in our previous ICE vehicle.
We felt pretty good about our first 'on the road' charging experience and set off to our next stop – a Walmart in Somerdale, NJ. We did not have any trouble this time locating the Electrify America chargers in the Walmart parking lot, but we did have our first experience needing to try out a few chargers before finding one that worked for us. The issue was not that the chargers did not work, it was that we first pulled into a 350kW CCS connector, but our Volvo could support only up to the 150kW CCS connector. It took us a few minutes to figure this out. We arrived at 32% charge and decided to let it charge up to 92% while we had lunch and did a little shopping.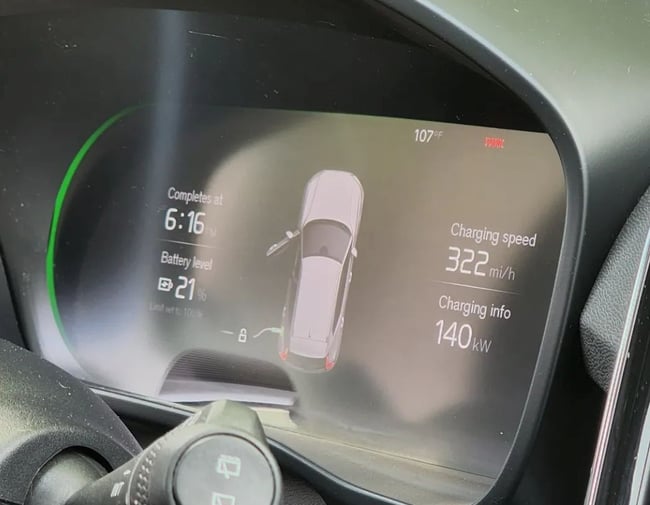 Charging info display in the XC40 Recharge
Once we were back on the road we ended up hitting a lot of traffic due to various accidents and road construction, so what should have only taken us a few hours to get to our next stop took much longer. We ended up stopping at a rest stop along the way in Maryland and there were several available DCFCs there so we decided to charge while we used the facilities. This was an unexpected stop along our route, but it was a good use of our time at the rest stop and the cost was comparable to the Electrify America charging. Because we added this charging stop to our route we ended up adjusting our plans slightly and skipped our next "planned" stop in Maryland and were able to instead head to an Electrify America location further down the route in Springfield, VA. Our next stop was at a shopping mall parking lot, which took a little while of driving around to find. The chargers were located on the side of the mall closest to the food court, and it was around dinner time by the time we arrived, so it worked out well. Whenever we were charging we were able to track our charging progress both from the Volvo app and also the Electrify America app. This was convenient to make sure there were no issues with the charging, which actually happened while we were getting dinner at this stop. We got an alert on the Electrify America app that our charge had stopped at 42% and we had a 10-minute grace period to unplug the car or it would begin to incur an idle fee (this grace period appears to be pretty standard but not all EV chargers will charge a fee if you exceed the time allotted). I quickly made my way out to the vehicle to check on it and found that for some reason the charging session had stopped. I was able to start a new charging session, but I decided to stay with the vehicle to make sure it was able to charge all the way in case there was something wrong with the charger. Luckily, it was able to charge up to 90% without any other issues and we were on our way.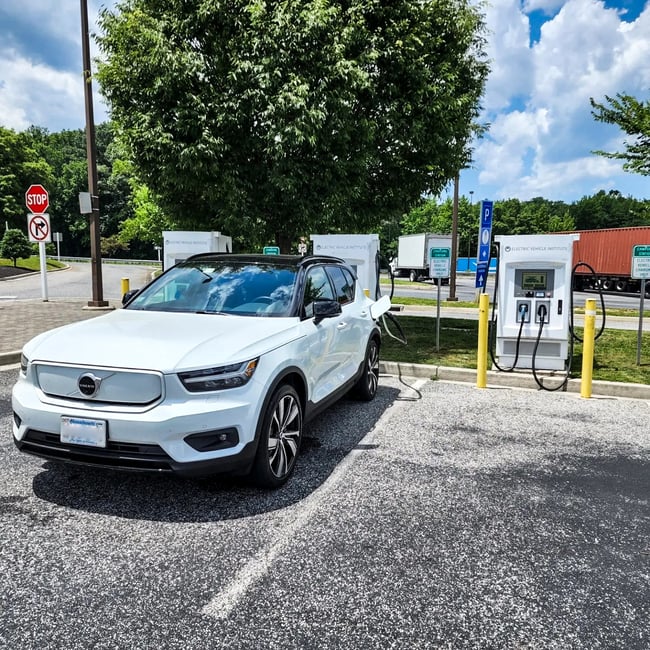 Charging at rest stop in Maryland
One thing we realized was that the charging apps (like ABRP) and even the Volvo navigation tended to have more conservative estimates for the % of charge expected at each waypoint. Every stop along the way we arrived with higher charge than expected. This could have been due in part to regenerative braking or our driving style being more "EV-friendly" – by avoiding things like super-fast acceleration, driving fast, blasting the air conditioning, etc. One misconception that we have heard from people is that if you get stuck in traffic in an EV you could easily break down by running out of a charge. Our experience was quite the opposite – we hit a lot of traffic on our trip down to Virginia (making our planned 13-hour trip into a grueling 18-hour trip…) but our Volvo always had more of a charge at our stops than we expected. Unlike ICE vehicles, our EV seemed to do better in stop and go traffic because the use of one pedal driving helped to maintain a charge by engaging the regenerative brakes while we were constantly having to brake for traffic.
We had one final stop that evening at a charging station in Newport News, Virginia, which was about 25 minutes away from our hotel. We knew that there were no EV chargers at our hotel where we would be staying for the next few nights, and there were not many DCFCs in the nearby area, so we decided to charge up to 90% so that we would have a decent charge to use over the next several days.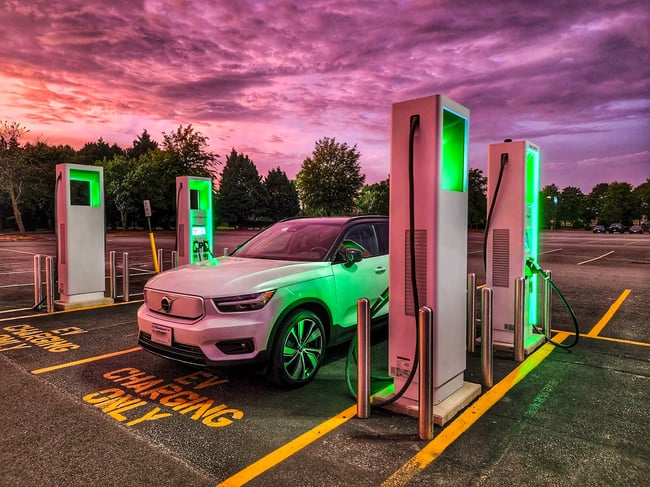 Charging at Electrify America stop in Newport News, VA
We ended up charging a few times over the weekend as we unexpectedly found free charging in a few parking garages that were nearby. Since those chargers were considered Level 1 (7kW chargers versus the 150 kW DCFC we had been using) they took much longer to charge up even a small percentage so when we used them it only gave us about 10% or so of a "free" charge. But, that is certainly not something that happens when you have an ICE vehicle – we have never had anyone give us free gas!
On our trip home we ended up stopping at the same EV charging stops as we did on the way down and since we (thankfully) did not run into the same issues with traffic, the trip home was much faster! We learned a lot along the way but are really glad we made the decision to take our first EV on this road trip.
Cost Savings
We traveled a total of 1,330 miles on our trip and spent $139.52 on charging (about $0.10/mile). In comparison, during the time period that we traveled in mid-June 2022, the average price for premium gasoline (which is what our previous ICE vehicle used) in the United States was $5.69/gallon. It would have cost us about $315.34 on gas for the same distance in our previous car, assuming the 24 mpg that my previous ICE vehicle averaged. This was a savings of $175.82 on EV charging versus gasoline for our trip. Comparably, it is much cheaper for us to charge at home; however, when you are traveling long distances on a road trip the use of a DCFC is a must and that comes with an associated higher cost to charge. While charging an EV may not always be as convenient as refueling an ICE vehicle (where there are nearly unlimited options for refueling), it definitely was a cost savings for charging versus fuel use and much better for the environment. And, we found our Volvo much more fun to drive than our previous ICE vehicles!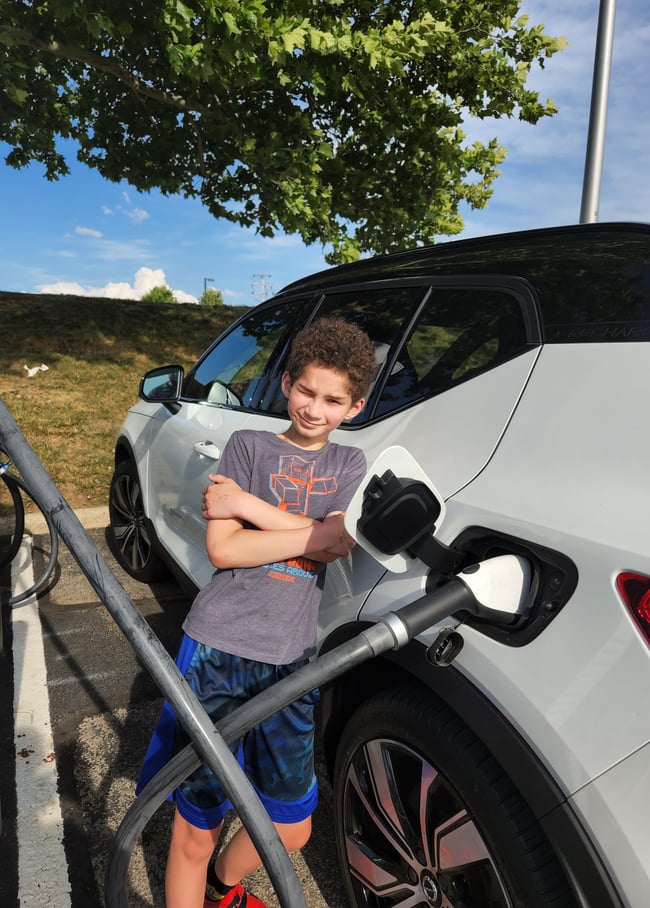 An expert charger excited about cost-savings
EV Family
While on our trip we received a notification that the delivery date for the Tesla would be the following week. We picked up the Model Y from the Dedham, MA Tesla Service Center a week after we returned home, officially making us a two-EV household. We are now looking forward to our next road trip and trying out the Tesla superchargers, as well!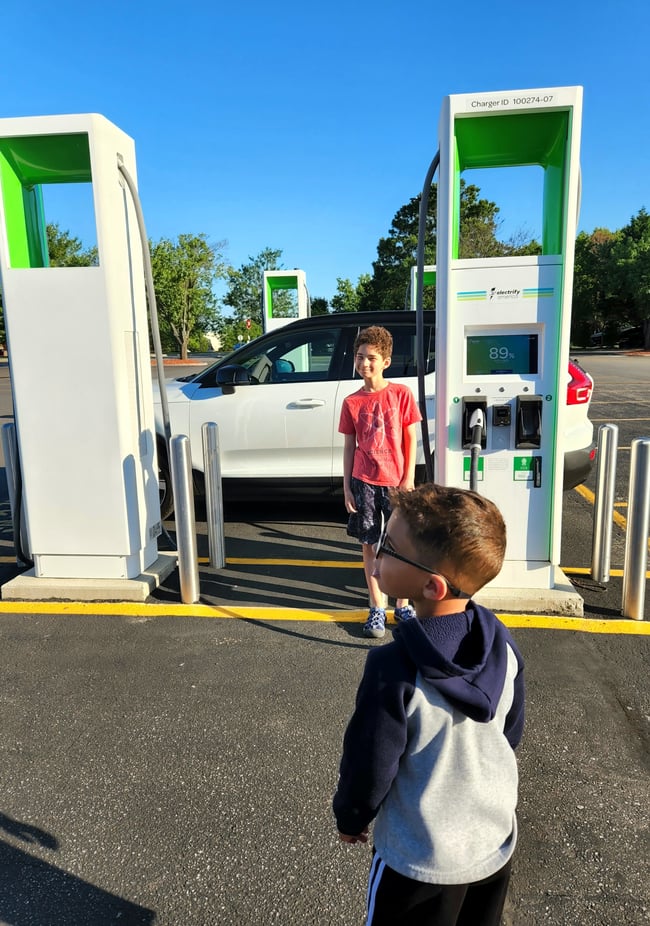 This time: Electrify America. Next time: Tesla too!
Nicole is the Clean Heat Manager for the Executive Office of Energy and Environmental Affairs for the Commonwealth of Massachusetts.