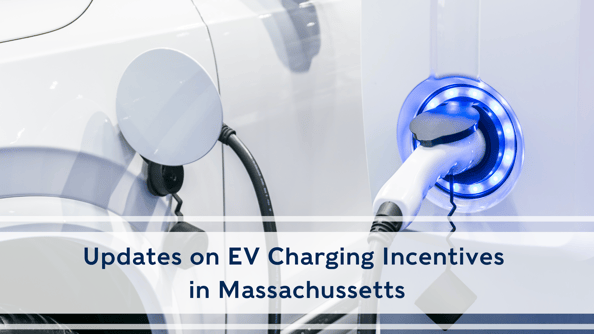 In our Drive Green program, we talk a lot about the incentives that can help get you into an electric car, like the Massachusetts state MOR-EV rebate and the federal tax credit. If you live in Massachusetts, you should know that there's support for electric vehicle charging installations too. The Massachusetts Department of Environmental Protection (MassDEP) has implemented a few changes to their Massachusetts Electric Vehicle Incentive Program (MassEVIP) while also introducing a brand-new DC Fast Charging Station Program. Here's what you need to know as an EV driver, business, municipality, apartment/condo building, or university.
New: The DC-Fast Charging Program
The Direct Current (DC) Fast Charging Program is a competitive grant that aims to make EV fast charging stations widely available across the state of Massachusetts. (Click here for a reminder on what DC Fast Charging is and how it differs from Level I and Level II charging.) The grant is open to "property owners or managers of non-residential locations that are accessible for use by the general public 24 hours per day, or to educational campuses with at least 15 students on site and available to all students and staff," according to the MassDEP website.
The program provides hardware and installation costs up to $50,000 per charging station. It covers:
100% for publicly-accessible stations on government-owned property,

80% for publicly-accessible stations on non-government-owned property, and

60% for educational campuses
The deadline to apply for the grant is March 19, 2021.
Updated MassEVIP Incentives
In addition to the new DCFC incentive, MassEVIP offers incentives to public entities to buy or lease EVs and install charging. These public entities include public-access government and non-government buildings and educational facilities. MassEVIP just updated some of these incentive programs too.
What it is: An open enrollment grant that can cover up to 60% of hardware and installation costs of a Level I or Level II EV charging station. Organizations with more than fifteen employees and that are operating within a non-residential location can apply.
Improvements:

Private and non-profit fleet owners are now also eligible for the grant. Level I charging is now considered suitable equipment for fleets, and MassEVIP now also covers installation costs for workplaces.
What it is: An open enrollment grant that covers Level I and Level II charging stations and offers up to $50,000 per address. Buildings with five or more residential units or educational campuses with at least fifteen students on site are eligible to apply.
Improvements: The required number of residential units decreased from ten to five and now allows educational campuses to apply. Installation costs will be covered moving forward as well.
What it is: An open enrollment grant that covers up to 100% of installation and hardware fees for government buildings and up to 80% for other locations. This includes locations that can be accessed by the "general public for a minimum of 12 hours per day." The grant covers Level I and Level II charging and up to $50,000 per address.

Improvements: The program will now accept applications on a rolling basis and will consider Level I charging as eligible equipment.
For more information and to apply see the links to the program webpages listed above or email your questions to MassEVIP.MassDEP@mass.gov.
Note: The Fleets program under which public entities could previously acquire EVs and charging infrastructure is now for EV acquisition only: public and private entities seeking charging stations for vehicle fleets should apply to the new WPF program.*
There's federal help for charging too.
The federal tax credit for installing EV charging has been extended to the end of 2021. You can receive a tax credit of 30% of the cost of purchasing and installing an EV charging station. This incentive previously expired in 2017 and has now been extended through December 2021. (By the way, this tax credit is available for home installations of EV charging too.) To learn more and apply: visit the U.S. Department of Energy website and fill out IRS Form 8911 during tax season (AKA, right now!).
---

A generous donor will match up to $10k through September 30th. With your help, we could raise $20,000 for climate and clean energy!