As a twenty-something renting an apartment, I personally don't have much incentive to update my heating system or install insulation for the sake of energy efficiency. In fact, since I do not own the apartment, I would need my landlord to authorize any large scale construction projects. That being said, it was still worth the two hours I took out of a workday to get a no-cost home energy assessment of my two-bedroom apartment. And it paid off! The time was well spent.
I signed up for my audit on the People's Power & Light website (RI only) and scheduled my energy assessment the following week. (In Massachusetts, you can schedule your home assessment by calling Mass Save at 866-527-7283.) I was looking forward to the efficiency goodies that often come with the energy audit.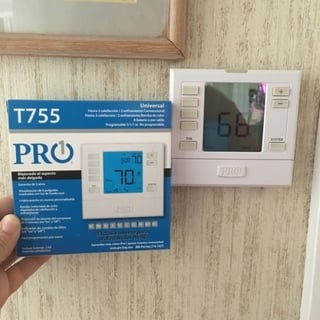 Two energy specialists came to my apartment around 8:30am and left around 9:30am. The visit was shorter than average because they could not run the blower door test due to asbestos in the basement. A normal visit takes about 2 hours. (In Massachusetts, special shorter visits for renters are now available.) In addition to checking for insulation and air sealing opportunities, they checked our heating system and water heater. They also installed a number of energy saving technologies that will immediately start shrinking my utility bills.
The value of all these "immediate savings measures" more than makes up for the work time that I missed. The programmable thermostat would have cost me about $64 to purchase online, and an hour or more for me to install. Now, instead of having to turn down the thermostat every time I leave the house, my thermostat will follow a set schedule: going down in the evening and daytime, and back up when I'm at home.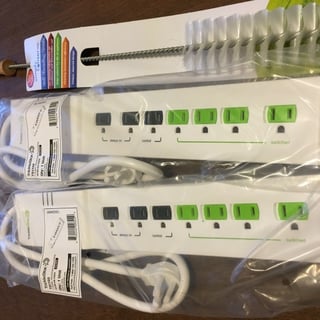 The Energy Specialists also gave me two smart power strips, one for each television in my apartment, which would have cost me about $9 each. The smart power strips are designed to save energy on entertainment centers. They work like this: the TV is plugged into the control outlet that communicates with four other outlets, where you might plug in a DVD player, game system, sound system, or any device used only when operating the TV. When the TV gets powered off, those four other outlets are also automatically powered off, saving you electricity. Fancy right!? On that same power strip there are two more outlets that stay on, in case you have the internet or a DVR player that needs to be kept on at all times. They can also save energy in home offices with multiple peripherals.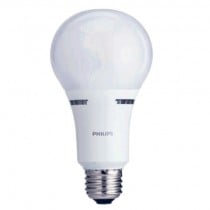 Plus, they installed a few LED light bulbs throughout the apartment, valued at about $30.
I was also given a brush to clean the coils on my refrigerator. This would have cost me about $10 to buy in my local hardware store.
So to re-cap, if I had gone out to purchase these products on my own, I would have spent about $120. This price only accounts for the cost of the hardware and not the time it took for these two qualified professionals to come out to my home, determine my needs, and install the recommended products. These savings also do not include the savings I expect to see on my electric bills which could range anywhere between $383 to $426 a year
Sophia's Home Energy Audit Results
With his laptop and portable printer the Energy Specialist was able to write up a report summarizing his findings, and put it in my hand on the spot! I found out that my apartment has no insulation in the walls, so we lose a lot of heat over the course of the winter. I passed the recommendation along to my landlord. If she decides to move forward with their recommendations, 75% of the cost of insulation work (up to $2,000) and 50% of air-sealing (up to $600) can be covered through . There is also 0% interest financing available, 2 years for microloans between $500 and $2,000, and 7 years for larger loans.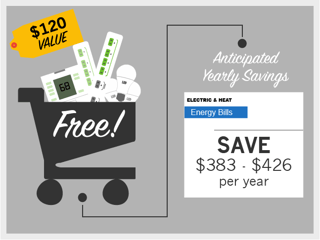 As a renter, I may not be able add insulation to my apartment, but I am more than happy with the short-term benefits of scheduling a no cost home energy assessment. I look forward to seeing the long term savings on my gas and electric bill as my new gadgets begin to make my home more energy efficient.
Click here to Sign-Up for your Free Home Energy Assessment. I recommend it!
(In Massachusetts, you can schedule your home assessment by calling Mass Save at 866-527-7283 or you can leave your contact information after filling out an online survey at http://www.masssave.com/en/residential/home-energy-assessments/about-home-energy-assessments/online-home-energy-assessment.)
Infographics:
https://www.energystar.gov/products/ask-the-expert/lighting-made-easy
https://www.energystar.gov/products/ask-the-expert/heating-season-footprint
http://energy.gov/articles/energy-saver-101-infographic-home-heating
References:
http://www.eia.gov/consumption/residential/data/2009/
https://www.energystar.gov/index.cfm?fuseaction=refrig.calculator
http://energy.gov/energysaver/thermostats