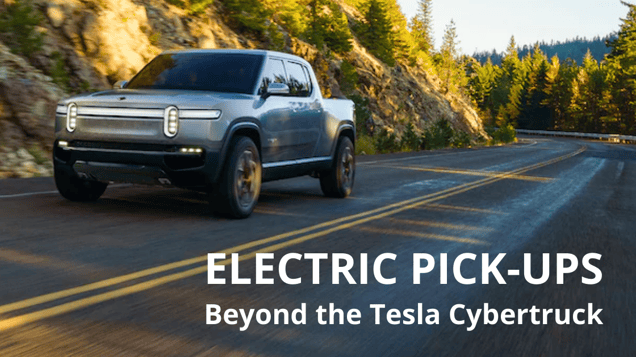 Electric cars have long been bogged down by the same stereotypes. People claim that they are less powerful than their gasoline counterparts, made just for urban life, and not in it for the "long-haul" journey. The call for innovation to reimagine what an EV can do or look like has been heard by an array of automakers, from established brands to up and coming change makers. Whether the world is ready or not, 2020 marks the dawn of the Electric Pickup Truck.

We've written extensively about the fact that the transportation sector is the largest producer of greenhouse gas emissions. The Center for Climate and Energy Solutions reports that passenger cars and light duty trucks are the largest source of emissions within the transportation sector. Popular light duty trucks that act as both utility and passenger vehicles include the Chevy Silverado and Ford F-150. Statistics show that light duty truck sales have been on the rise, increasing in the US by 7.7% as of 2018.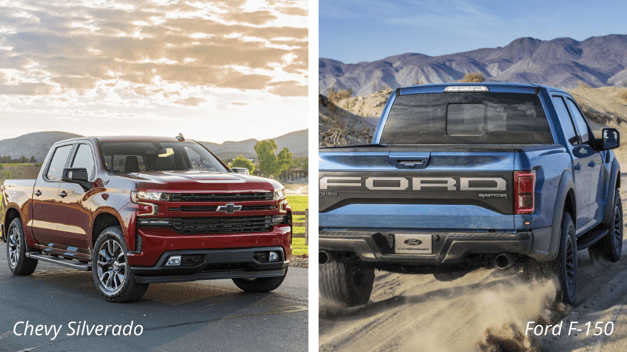 To properly address the issues of improving air quality and mitigating climate change, we need to electrify all vehicles, including pick-up trucks. Automakers have heard the call for a solution to the traditional gas guzzling pick-up truck, and unveiled an array of creations ranging from sci-fi inspired to off-road ready. All the models boast impressive specs that seek to go head to head against traditional pick-ups. We've done some research to let you know what's here and what's coming.
Meet the Trucks
Rivian R1T
The R1T, a product of the organization Rivian, is set for release and sale in late 2020 and geared towards outdoors enthusiasts and weekend adventurers. The vehicle will be available for purchase directly to consumers, and Rivian is stating that they plan to set up a network of stores similarly to Tesla. Three battery sizes will be available for the model, topping out at a range of 400 miles. To learn about Rivian's other electric vehicles and dive deeper into the specifications of the R1T, or pre-order the R1T with a $1,000 deposit, visit the Rivian website here.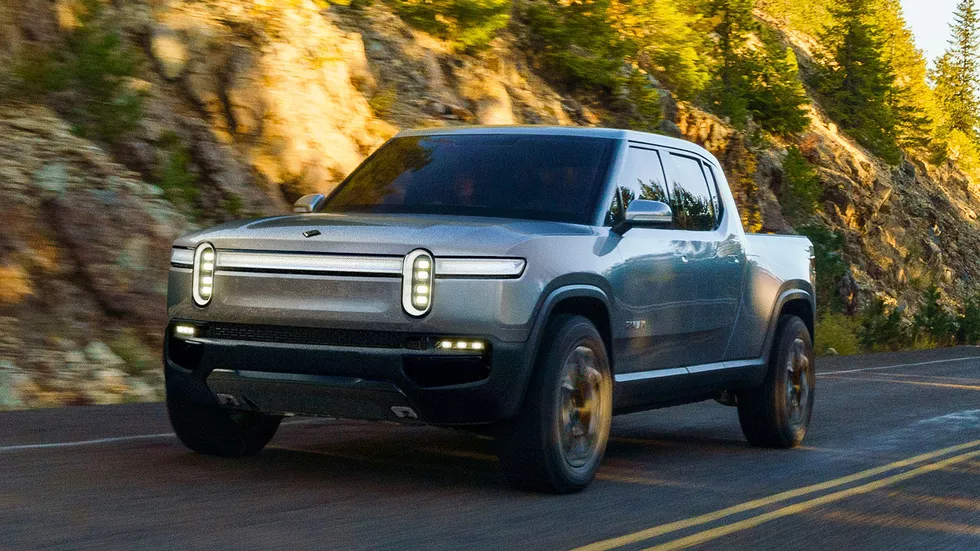 Electric Ford F150
No specific details are yet available for Ford's electric version of the best-selling vehicle, however the automaker has hinted that the truck will be available for a 2021 model. This all-electric version will follow the redesign of the current gas-powered version and mimic the original truck in most aspects, aside from being zero-emission!
Tesla Cybertruck
Tesla revealed the Cybertruck in a theatrical fashion that depicted much of the truck's powerful capabilities, including showing off a towing capacity of up to 300,000 pounds. The Cybertruck will come with an option of three battery sizes, and tops out at a range of 500 miles. Check out the Cybertruck in more detail at the Tesla website. Interested in ordering one? You can place a $100 refundable deposit online & expect the vehicle's delivery near the end of 2021.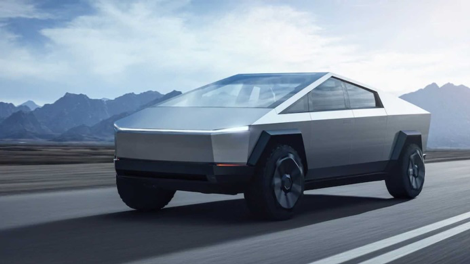 Nikola Badger
Nikola has announced on their website that the Badger is set for release as of September 2020. Those interested in the Badger can sign up for updates regarding release and ordering dates directly on the Nikola website. This vehicle uses a hydrogen fuel cell engine and electric battery combination to get up to 600 miles of range. Without the hydrogen fuel cell addition, the battery range is about 300 miles.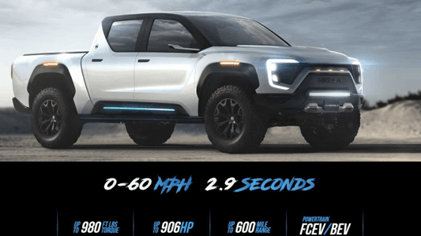 Bollinger Motors B2
Bollinger Motors B2 is one of the flashiest cars on the list, and is described as a sport utility vehicle with the price tag to match. The B2 starts out at $125,000 and has a range of about 200 miles. This car is suited for going around town or transporting outdoor gear to nearby recreation areas, and can be reserved in advance on the Bollinger website directly.

Atlis XT Pickup Truck
The Atlis XT pickup rivals the Tesla Cybertruck in regards to range, also boasting up to 500 miles in range capabilities. Release for purchase of the XT is set for late 2020 sometime, and the starting price is the closest to the Tesla Cybertruck as well, at $45,000 (before the $7,500 federal tax rebate). You can reserve a truck and explore more of Atlis Motors' innovations, including their 15 minute fast charging technology, at their website.
Atlis XT
GMC Hummer EV
GM revealed the Hummer EV pickup during the 2020 Superbowl with a notable phrase, that a "quiet revolution is coming". The truck's range and price details are not yet released, however the vehicle does boast an estimated 1000 hp and 3 second 0-60 mph time. The debut is set for May 2020, and sales will begin in the fall of 2021, according to Car and Driver.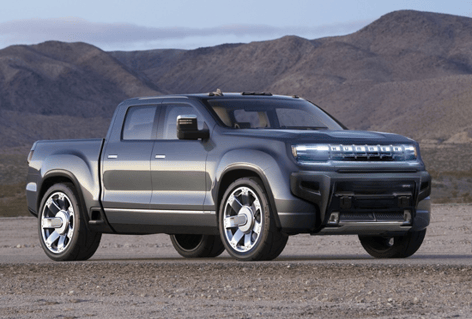 Lordstown Endurance
Prior to COVID-19, Lordstown Motors was intending to ramp up production so cars could be set for delivery by the fourth quarter of 2020. However, due to the pandemic the vehicle will now likely be released in 2021. The difference with the Lordstown and other competitive vehicles is the development of in-wheel hub motors that allow for precision control of torque delivery to each wheel. You can pre-order and explore the Endurance on Lordstown's Website.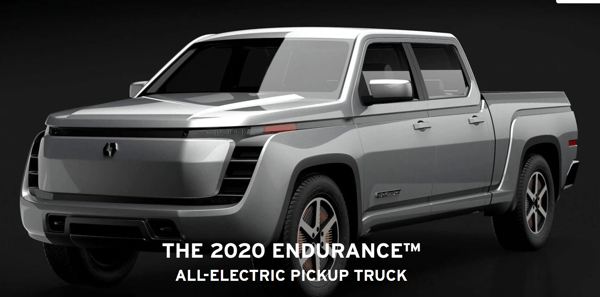 XL Hybrid Plug-In Retrofit Kit
XL Fleet is a Boston-based company that helps electrify commercial fleet vehicles, a space light duty trucks often occupy. The company turns popular trucks, such as the Ford F-150, into hybrid and plug-in hybrid vehicles, which substantially improves their energy efficiency, operating cost, and carbon footprint.
Tax Credits and Rebates for Pick-ups
You can learn how tax credits for electric vehicles work in detail from our blog, but in a nutshell any taxpayer who purchases an electric vehicle is eligible for a tax credit up to a maximum value of $7,500 (depending on the car's battery size and your personal tax liability). The credit phases out by being sliced in half every six months after an automaker sells 200,000 plug-in models in the US. Cars with battery storage of 18 kWh or more, roughly a range of 50 miles, qualify for the full $7,500. That means all of the vehicles on our list, aside from Tesla (whose tax credit is now completely phased out) will qualify for the full $7,500. The prices on our list are the base MSRP without the tax credit subtracted. If you live in Massachusetts, there is also the state MOR-EV rebate for personal vehicles, but the cut-off final sales price to qualify is $50,000.
Performance
So far, we've covered how electric pick-ups contribute to emissions reductions and how they are financially competitive thanks to tax credits compared to their diesel counterparts. But, how do these vehicles really stack up against a traditional pick-up in terms of performance? To answer this, we compiled a list of the seven most exciting electric pick-up models set for release between 2020 and 2021 that we just introduced above. Our list includes battery capacity, 0-60 mph speed, horsepower, the number of seats, towing capacity, starting price, and the highest available range for each model. While several other trucks are rumored for release, the details available for these cars were too sparse to include in our list.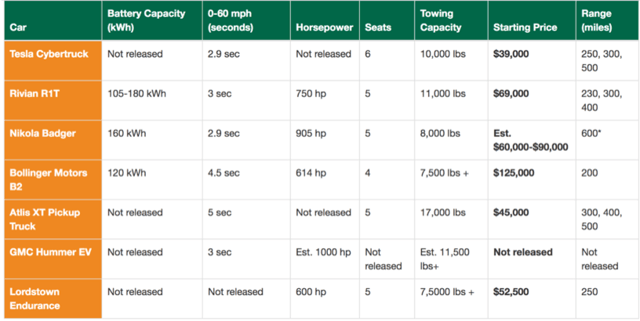 *Note that the Tesla is not eligible for federal tax incentives.
**The Nikola Badger maximum range is with their hydrogen fuel cell & electric battery combination.
So, you want an electric pick-up truck.
If you are determined to get an electric pick-up truck, there are a couple things you should know:
Right now, the cars listed in this blogpost are your main options. The market is nascent - electric trucks are expected to become more competitive options in terms of pricing as batteries continue to improve in cost and efficiency.
Within the next 10 years, experts expect battery prices for EVs to decrease by 50%, with the possibility of this reduction becoming a reality by as soon as 2025. That means expect to see even more new models entering the market in the next couple of years.
The pick-up truck market has amazing potential for contributing to emissions reductions due to the sheer number of trucks on the roads and the reliance our society has on them in both the personal and commercial transportation sectors. Rest assured, this is just the start of the electric pickup revolution and we can expect further technology advancements, improved charging infrastructure, and price decreases soon that will certainly give all the competitive fossil fuel trucks a run for their money.