Global Warming and Public Health
Before he died in 2011, Dr. Paul Epstein of the Harvard School of Public Health researched the impacts of global warming on public health. The work he did brought complicated science down to a very basic fundamental point – how does changing our climate affect human health? He illustrated the many ways that we are being harmed. Shortly before he died, he wrote a great piece for the Atlantic.
I had the pleasure of meeting Dr. Epstein a few times and I am often reminded of his forewarnings. For example, I think of him sometimes when I see a lot of kids using inhalers on soccer sidelines, including my own daughters. Recent news events make me think of Dr. Epstein again – very vividly.
On July 17, it was reported that a new mosquito-borne illness called chikungunya virus has reached Florida. Scientists have tracked the disease from Africa to the Caribbean, to Central America, and now to the US mainland. I am paying attention to this story because my daughter probably contracted the virus on a February vacation to Puerto Rico. She had all the symptoms of a similar mosquito-borne virus called dengue. But a blood test at Boston's Children's Hospital was negative. They did not test for chikungunya. Thankfully, my daughter got better after a few days but the doctors were not able to identify the virus. Just a few months later, Children's is now aware that the disease has been showing up in the Boston area. That's alarming, but it's more alarming that mosquitos with the disease are in Florida.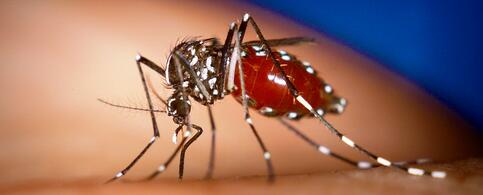 So what does this have to do with climate change? To me, it is obvious that some tropical infection diseases are on the march north, just as Dr. Epstein said. As he pointed out, there are limits to how well medicine can treat highly infectious diseases. And that is why prevention is so important. Prevention can come in many forms. In our view, mitigating global warming is the key because, yes, burning fossil fuels is harmful to public health. To me, that is not an Inconvenient Truth. It's just a fact that must guide our actions. It is helpful to remember that renewable energy and energy efficiency are not just good because they give us hot showers and cold beer, as Amory Lovins said. They don't give us tropical diseases.
Dr. Epstein – thanks for everything and rest in peace.