Paying for climate change adaptation doesn't require short-changing investments in energy efficiency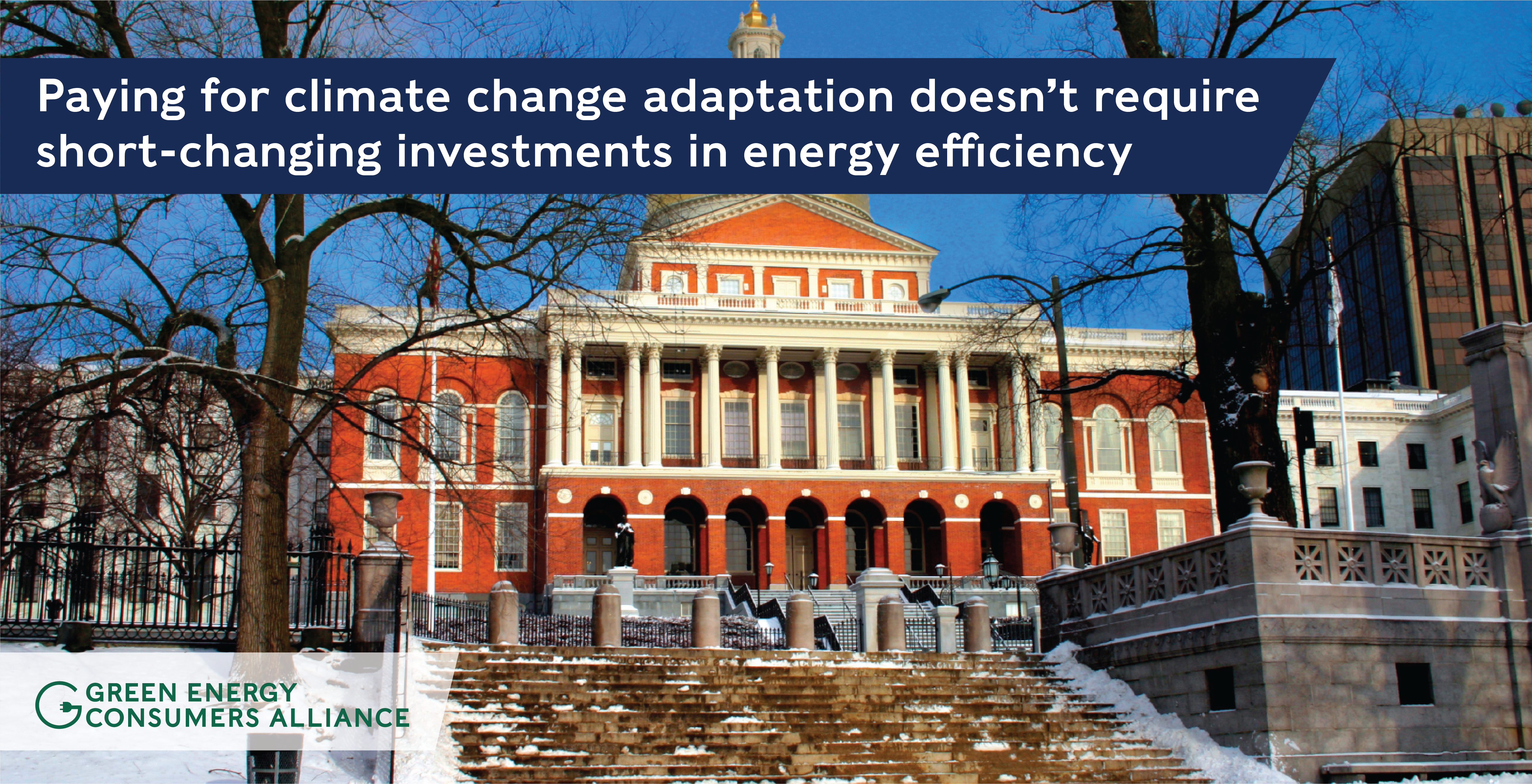 Proposals to fund resilience and adaptation were floated as part of Governor Baker's FY20 Budget. One approach would modify the real estate transfer tax. The other approach would expand to adaptation and resiliency the use of dollars currently dedicated for energy efficiency (mitigation) in Massachusetts. When it comes to combating climate change, investments in adaptation/resilience and mitigation should complement, rather than compete against each other.
The Baker Administration's proposed FY20 budget includes notable climate components. One is worth pursuing; the other, less so.
Thumbs Up: Real Estate Excise Tax to Pay for Adaptation
As part of the proposed FY20 budget, the Baker Administration proposed designating $75 million for "a substantial and sustained investment to protect Massachusetts' residents, communities, economy, and infrastructure…supported by a modest increase in the excise on real estate transfers, and will amount to $137 million on an ongoing, annualized basis for the Global Warming Solutions Trust Fund."
Although mitigation is our primary focus at Green Energy Consumers Alliance, we recognize that there is also a need to address the most severe effects of climate change being experienced, with increasing frequency, in the here and now (e.g., coastal erosion, flooding, sea level rise, heat island effect, etc.). There are, in other words, some resiliency measures that can and should be employed in the near term as hazard mitigation strategies.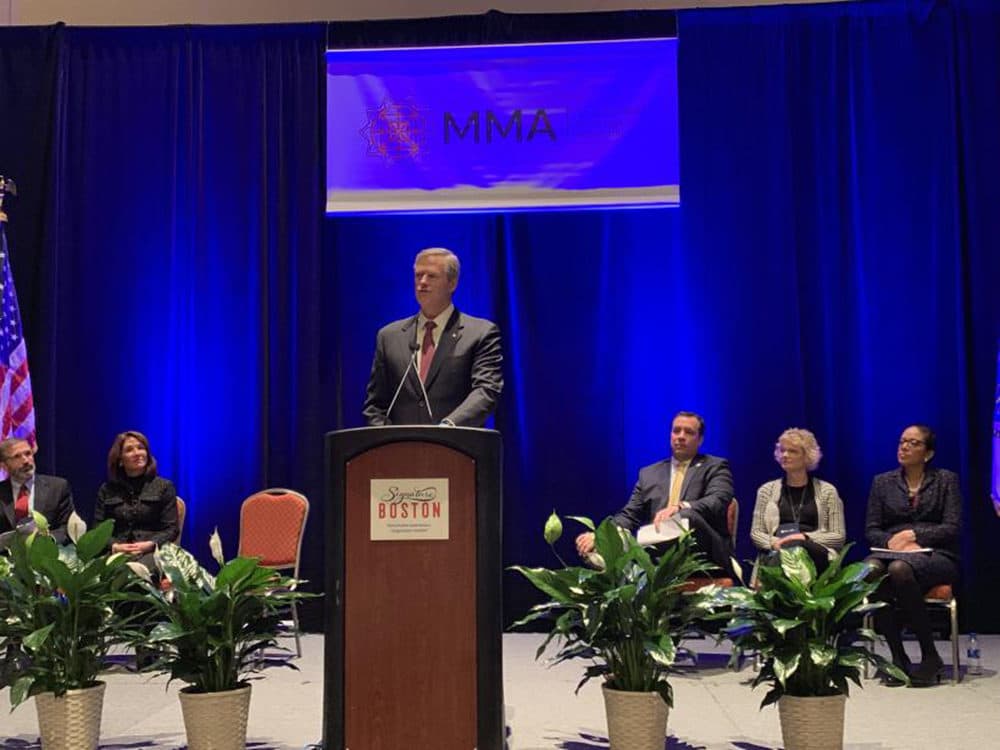 Resilience and adaptation, which was prioritized in Baker's Executive Order 569, does not benefit from a designated funding source. In fact, those resources that have been made available, are largely limited to capital funding authorized in the 2014 and 2018 Environmental Bond Bills. It make sense that a sustained source of funding for related solutions is being sought, especially in an effort to address the community vulnerabilities and hazards that are already known.
The deeds transfer tax does not actually address the cause of climate change. It is not putting a price on carbon or otherwise funding things that would actually reduce carbon emissions. But, taxing property transactions to pay for climate change adaptation measures is a bold proposal; one that connects the impacts of climate change on property values with the need to fund solutions to preserve said values. Baker's proposal is really bold compared to what many decision-makers nationwide have said and (not) done to address adaptation and resilience.
But, this concept is not without its challenges and challengers.
For starters, new legislation is needed to enact a tax increase. Such a bill would need to be initiated in the House where Speaker DeLeo recently introduced his own proposal to help municipalities combat climate change.
DeLeo's GreenWorks proposal, which is being further developed, consists of $1B invested over a decade in renewable energy, energy efficiency, and climate change resiliency efforts.
Even if a bill based on Baker's idea were to come to be, the Commercial Real Estate Development Association (NAIOP) and the Massachusetts Association of Realtors have already expressed disdain for the proposal and will undoubtedly make every effort to block its progress. It is worth mentioning that while these groups acknowledge that climate change needs to be addressed, their lobbyists have consistently been a barrier to the adoption and implementation of measures like enhanced building codes, building energy rating, and labeling or scorecards.
Others have argued that the deeds transfer tax increase would fail to generate enough revenue to properly protect our cities and towns from the ravages of global warming, such as rising sea levels. In our view, it is premature to get sidetracked by discussions of whether or not such a proposal will generate sufficient funds to finance action on the scale needed to tackle climate change. Modest or not, it is a step in the right direction and a concept that is very much worth exploring further.
Thumbs Down: Loosening Restrictions on RGGI Proceed Investments
Also included in Governor Baker's FY20 budget proposal are two sections that seek to loosen restrictions on and redirect proceeds from the Regional Greenhouse Gas Initiative (RGGI) allowance auctions. The diversion would allow for investments in (loosely-defined) "greenhouse gas mitigation and climate change adaptation."
These two sections of Baker's budget are a reintroduction of a proposal put forth and beat back by advocates last legislative session. Then, as now, we joined a chorus of voices asserting that energy efficiency investments remain the highest and best use of RGGI proceeds.
The Baker Administration has suggested that the reallocation is a matter of enabling state government to more strategically invest in all climate solutions in addition to efficiency. But that is a slippery slope. Massachusetts law requires 80% of RGGI proceeds to be reinvested in energy efficiency, but in recent years decision makers in other states, including the Rhode Island Legislature, have diverted RGGI funds away from efficiency investments.
Proponents of the maneuver suggest that overall investments in efficiency won't change because the bulk of our utility-administered programs are paid for by ratepayers anyway. However, that is misleading. Indeed, Massachusetts electricity customers help to pay for efficiency, but that contribution is modest, in part because RGGI money is also invested in the statewide programs. So long as efficiency continues to be our cheapest and most abundant energy resource, and until we have fully exhausted all the efficiency that is less expensive than new supply, as the law requires, then we should not be considering what other things to buy with the same dollar. We need to find NEW resources to pay for resilience and adaptation. It is disingenuous to suggest otherwise.
John Holdren, who went on to be President Obama's Science Advisor, said it best:
"We basically have three choices: mitigation, adaptation and suffering. We're going to do some of each. The question is what the mix is going to be. The more mitigation we do, the less adaptation will be required and the less suffering there will be."
Tags:
Related Posts
On May 6th, our members and friends gathered at the beautiful Roger Williams Park Casino in Providence for...