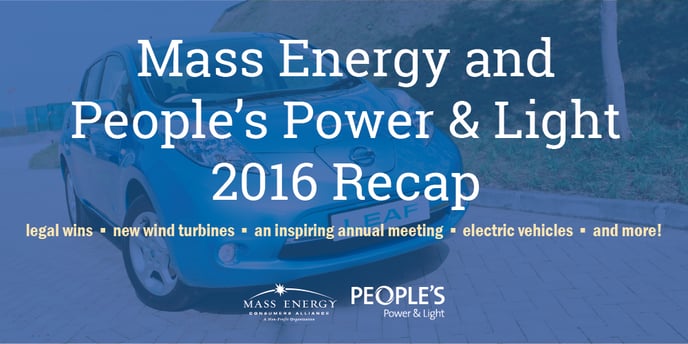 2016 has been a tremendous year for Mass Energy and People's Power & Light. Our organizations have done great work, have launched several new initiatives, and together with collaborative partners we will continue to rise to the challenges ahead. We take a moment here to look back at 2016.
2016 at a Glance: Legal wins, legislative maneuvers, and more
Massachusetts' Supreme Judicial Court favored consumers and the environment. Twice in 2016 the Massachusetts Supreme Judicial Court (SJC) issued decisions on the side of consumers and the environment. The May ruling in Kain v. MassDEP set Massachusetts on a path to new regulations and compliance with the Global Warming Solutions Act (GWSA) by 2020. Mass Energy was co-plaintiff in the case argued by Conservation Law Foundation. Mass Energy will continue to engage in the process, pushing for regulations capable of achieving compliance by 2020 while also setting us on a path towards 2050.
Another huge win came in August when the SJC ruled against the proposed "pipeline tax." This was another critical blow dealt to pipeline proponents. Even so, Spectra Energy and its utility partners remain undeterred and are exploring ways to move ahead as planned with construction.
Rhode Island leads on wind. After a handful of project delays at last in 2016, PP&L's Coventry wind turbine came online. PP&L entered a long-term contract with Wind Energy Development LLC to purchase the Renewable Energy Certificates (RECs) from one of the ten turbines at the site. Those RECs are now part of the green electricity portfolio we have to meet the needs of our members. PP&L's early support of the project a few years offered much needed reliability to the developer's justification to build. PP&L hosted a large crowd in November at a wind turbine tour and EV showcase. Kids, neighbors, and PP&L members came together to learn about the project's background and contribution to Rhode Island.
Rhode Island also celebrated the progress of the Deepwater Wind project. Rhode Island may be limited by its land mass, but as the Ocean State it is rich in offshore wind capacity. Offshore wind is a vital resource to reduce harmful emissions and to support Rhode Island's growing clean energy industry. Block Island was previously solely reliant on expensive, imported diesel power. Late this fall, the turbines came online and provide clean power to Block Island. The project also connected the island to the mainland for the first time. PP&L is proud that Rhode Island is the first state in the nation to successfully implement offshore wind. Because of our leadership, other states are now considering building offshore wind. PP&L had the chance to tour the turbines up close this summer
Energy bills passed in both states as sessions came to a close. Energy was a top legislative priority this year. In Massachusetts, this culminated the passage of an omnibus energy bill. Most notably the bill includes large scale procurements of offshore wind and hydroelectricity and a requirement to move forward with the identification and repair of leaks in the gas distribution system. The final bill signed by Governor Baker in August marks an important step in the right direction. However, it was far from perfect and not only lacked critical measures, like an increase in the Renewable Portfolio Standard (RPS).
The Rhode Island Renewable Energy Standard (RES) extension passed the House and Senate in the waning hours of RI's 2016 session. PP&L attended the bill signing by Governor Raimondo with several local advocates. The new extension charges the state to reduce polluting emissions by an increasing percentage until 2035. The Renewable Energy Fund (REF) was also set to expire in 2017, but that extension also passed at the close of the session. The REF commits funds and support for renewable energy projects now until 2022. These state actions will help us reach our greenhouse gas emissions targets.
People's Power & Light was honored this fall for our past advocacy efforts by the Attorney General in a ceremony where we were awarded the 2015 Justice Award.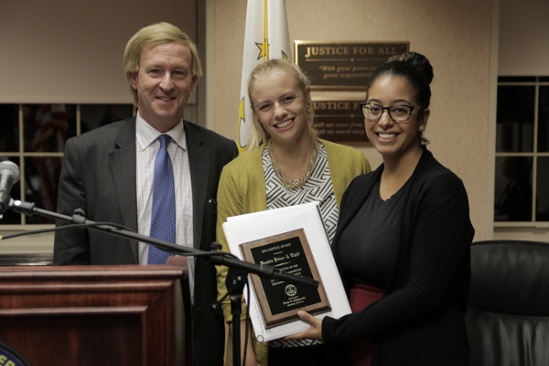 Former Attorney General Jeff Pine (left) presented the award. Energy Programs Associate Kat Burnham and Marketing & Membership Director Priscilla De La Cruz (right) accepted the award on behalf of PP&L.
Energy Efficiency advocacy contributes to increased savings goals in RI plan. Energy efficiency is a low-cost local resource that also helps our state reach its climate goals and curbs our appetite for fossil fuels. PP&L was an active stakeholder in the process to draft the 2017 Annual Plan. We advocated for strong long-term goals and sure enough, the proposed plan increases the lifetime savings goals for both Rhode Island's electricity and natural gas programs compared to last year's plan. The lifetime savings goals went from 1,792,431 lifetime MWh in the 2016's plan to 2,101,619 MWh in 2017's plan for the electric programs. For the gas programs, the goals shifted up from 4,935,572 lifetime therms to 4,967,081 lifetime therms. Larger lifetime savings translates to greater bill savings for customers, deferred expensive infrastructure upgrades, and of course, deeper emissions reductions.
Programs for oil heat customers are not guaranteed in the annual plans. This year, unlike past years, Regional Greenhouse Gas Initiative (RGGI) funds were not available for assisting efficiency for delivered fuel customers, putting those folks at risk. PP&L urged planners to support oil heat efficiency for Rhode Island residents. Fortunately, National Grid listened and understood the importance of providing reliable funding services for delivered fuels customers. The proposed 2017 plan allocated $1.3 million of funding and services to oil heat customers. We appreciative of this solution for the 2017 Annual Plan, especially because we know a home heated by oil today will likely one day be heated by natural gas or electricity (i.e. high-efficiency heat pumps). The 2017 Annual Plan is anticipated to have a ruling by the Public Utilities Commission by the close of the month.
Partners and honorees celebrated at Mass Energy's 34th Annual Meeting
Nearly 200 members and supporters gathered Mass Energy's 34th Annual Meeting held on December 7th. It was a celebratory event where we recognized many accomplishments and the important contributions to clean energy and climate made by several of our collaborative partners. It was also an evening of reflection. Despite growing concerns about the potential for federally-led backsliding on climate under the incoming administration, keynote speaker Greg Watson allayed any anxiety by reminding all in attendance that it is in these times of uncertainty that nonprofits like Mass Energy must work within the gaps in the system to direct change, innovatively and despite unequal resources.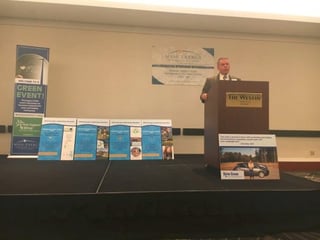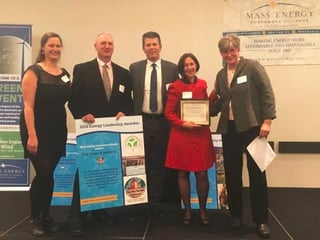 Building upon the many wins of the last year, the only place to go next is forward. As Greg Watson suggests we must embrace the opportunity to demonstrate further what can be accomplished regardless of who may be setting the agenda at the top.
Looking ahead
We were excited to launch Drive Green in both states. This time-limited electric vehicle (EV) group-buy program is designed to make the lease or purchase of an EV affordable.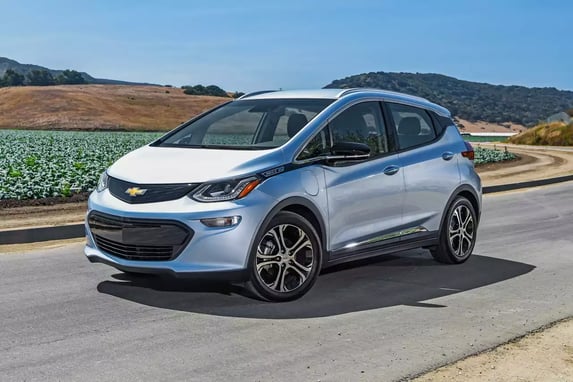 We will continue to advocate for strong savings through efficiency, including working to ensure renters and moderate income customers in both state are adequately served. In RI, we will work to advance an expansion of services similar to the moderate income initiative introduced in the 2016-2018 MA energy efficiency plan. This expansion could capture more savings for the state and provide much needed comfort to those individuals.
Mass Energy will soon move forward with a new solar initiative designed to help our members and affiliates access deep discounts on solar PV. On the policy front, we are focused on continuing the fight against fracked gas pipelines. In Massachusetts this means ongoing opposition to the pipeline tax or any proposed "Plan B," support for an increase in the state's Renewable Portfolio Standard, and monitoring and engagement in the GWSA regulatory process.
The work we do at Mass Energy and People's Power & Light and our collaborations with communities and other organizations will continue to play an integral role helping Massachusetts, Rhode Island, and the region achieve an energy future that is affordable and sustainable. Channeling Buckminster Fuller, Greg Watson noted that nonprofits are the trim tabs of society. Exerting a small amount of pressure, strategically, innovatively, together will make it possible to maintain course towards our clean energy goals or to shift directions entirely as needed. We should, said Greg, be optimistic when it comes to climate solutions. Be participatory and anticipatory.
We know the road ahead will not be without challenges, but we will rise to them, as we are prepared to be, as Greg suggest, optimistic when it comes to climate solutions. Be participatory and anticipatory.
We look forward to keeping our sleeves rolled up and our noses to the grindstone in the year ahead. Whether you are a member of one of our programs or an informed energy consumer, we thank you for your engagement and ask for your continued support through membership, donations to our New England Wind Fund, or contributions made to our advocacy efforts.
---
Take action
---