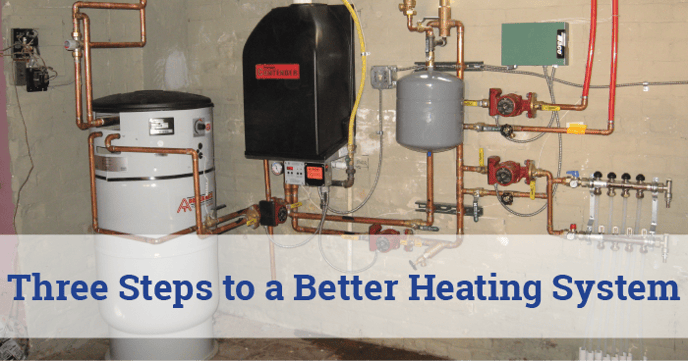 Now that spring is here, we have plenty of time to prepare for next heating season. Heating system upgrades are a great way to help you save energy and money. Though upgrading may seem like an intimidating project, you can break it down into manageable steps.

Step 1: Get help finding energy-saving incentives.
Both Massachusetts and Rhode Island have programs to help you afford the most energy efficient upgrade possible. Why? Because spending a little bit of our collective cash to help you save energy is less costly overall than having to build new power generating facilities and transmission infrastructure.
In Rhode Island you can schedule your no-cost home energy assessment at https://www.riseengineering.com/home-energy-assessment or by calling 1-888-633-7947. In Massachusetts, call Mass Save at 866-527-7283 (or, if you have a municipal power company, 888-333-7525) to find out what incentives apply to your home and schedule a Home Energy Assessment.
Step 2: Compare bids and options.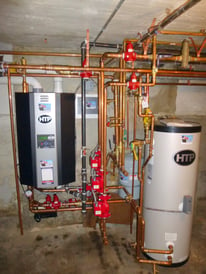 Once you have completed insulating and air sealing your home, get quotes from two, or preferably three, HVAC contractors on your heating upgrade options.
It is wise to think about your water heating system while you are planning to upgrade your heating system. If you currently have a stand-alone water heater, get quotes for an indirect water heating system. These systems are more efficient than a stand-alone water heater. You can also ask your contractor about installing a heat pump water heater. Those are generally more cost-effective than old-fashioned electric resistance water heaters and oil-fired water heaters. But some homes are not set up properly for heat pump water heaters.
Renewable heating technology, such as heat pumps, is continually improving. Ask your Home Energy Assessment advisor about incentives.
Step 3: Take advantage of 0% financing.
To help finance your upgrade, ask your advisor about interest-free financing for energy efficiency, the "HEAT Loan Program" or HLP, and whether or not your heating system upgrade might qualify. The details about HLP in Rhode Island can be found here and in Massachusetts can be found here.
Before settling on a new heating system, take one step back for a few minutes and think about your "building envelope". INSULATE AND/OR SEAL YOUR HOME IF THERE IS AN OPPORTUNITY! The more efficiently your home retains heat, the less expensive your new system will be to operate. Your advisor will provide you with a list of energy efficiency recommendations that your state program can subsidize, including insulation and air sealing in your basement and attic. Then – take that third and final step to reduce your energy consumption for years to come!
Our Energy Efficiency Associate is always happy to discuss ways to make your home more energy efficient; call Loie Hayes at 800-287-3950 x 155 to discuss your project.