Mass Energy members (and friends) make Solar Connect a huge success!
Mass Solar Connect came to an end on August 31st and we are pleased to report that not only was the program tremendously successful at increasing awareness and access to solar at a discounted price, but thanks to the interest and support of our members and affiliates, Mass Energy surpassed its goal of 200 contracts. A total of 261 contracts were signed, with a total electricity capacity of 1.9 megawatts! That's the equivalent of removing 361 cars from the road and avoids approximately 1,700 metric tons of CO2 per year.
As part of Solar Connect, Direct Energy agreed to donate $25,000 to Mass Energy to support a solar installation of 10kW or larger. We will announce the non-profit receiving this donated system at our 33rd Annual Meeting on Wednesday, October 21, 2015. Please join us in celebrating this great accomplishment!
Solar Connect's inaugural run was a time-limited offering modeled after Solarize Massachusetts. Together the programs are aimed at increasing solar installations in Massachusetts. Solar Connect was run at the same time as Solarize Quincy and Solarize Provincetown. In total, the three programs resulted in 399 solar systems contracted between March and August. That's a lot of new solar panels in Massachusetts!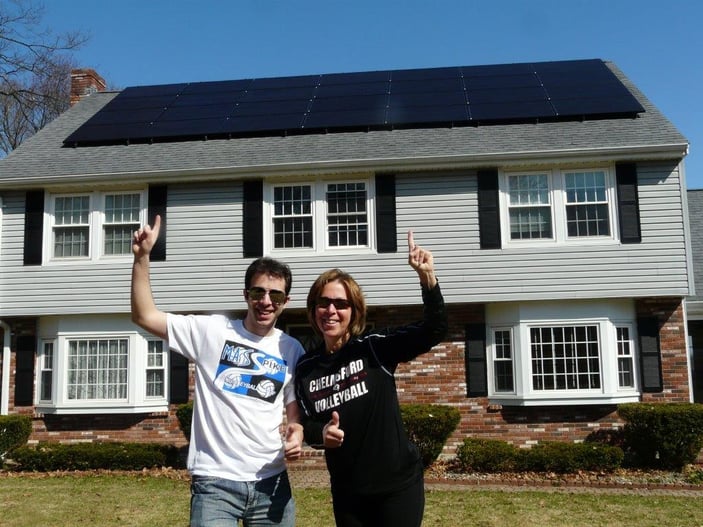 "When the program first started, we were excited to be able to offer to our members and affiliates solar electric installations as an affordable, accessible clean energy option," said Eugenia Gibbons, clean energy program director at Mass Energy. "These installations will go a long way to help our members reduce their greenhouse gas emissions 80 percent by 2050, a goal that our organization has embraced."
"This will greatly reduce electricity costs for the participants, and will also importantly, have a strong positive effect in reducing greenhouse gas emissions that would have been generated had the electricity been generated using fossil fuels," said Shelly Dein, Quincy's energy and sustainability director. "By switching to solar power, Quincy residents are taking a step to slow climate change."
"We're grateful to our partners for helping us make Solarize Provincetown a huge success," said Austin Brandt, Provincetown's energy manager and conservation agent. "The program nearly tripled the amount of solar power in Provincetown, and is a big step in Provincetown's goal of becoming a more sustainable community."
Massachusetts currently has 923 megawatts of solar capacity installed statewide, more than halfway to the Commonwealth's goal of 1,600 megawatts installed by 2020 and enough to power more than 140,000 homes.
Want to read more about Solar Connect? Click HERE to read MassCEC's press release on the program.
Want to install solar panels in Rhode Island?
Inspired by the results of the Solar Connect program, Mass Energy will be rolling out a similar program in Rhode Island – where we do business as People's Power & Light. Be sure to subscribe to this blog to stay in the loop on updates to this program.