Updated October 8th. Recently, we posted a blog about the proposals by Massachusetts' investor-owned utility companies (Eversource, National Grid, and Unitil) to expand their electric vehicle (EV) programs through 2025. Alongside the proposals for what the utility companies can do to support EVs, the utilities have filed their second round of Grid Modernization Plans (GMPs), continuing the work begun in grid modernization filings in 2018. This time, the filings include plans for the statewide roll out of smart meters. In the coming months, the Massachusetts Department of Public Utilities (DPU) will deliberate over the utilities' Grid Modernization Plans and Advanced Meter Implementation Plans.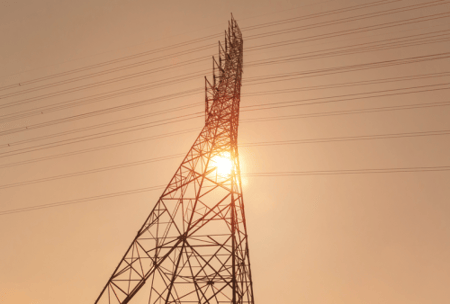 Just as in the EV dockets, we at Green Energy Consumers Alliance have been granted the position of "intervenor" in the DPU's decision-making process for Docket 21-80 (Eversource's GMP), Docket 21-81 (National Grid's GMP), and Docket 21-82 (Unitil's GMP). As an official intervenor, we have an elevated ability to weigh in because on our experience working with energy consumers (a big thank you to members and participants in our programs for this opportunity). In these dockets, we will advocate for proposals that support cost-effective improvements, speed the integration of green energy with the grid, and unlock consumer-based energy efficiency technology.
The public  had an opportunity to weigh in on grid modernization at a public hearing over Zoom at 2pm on September 9th, 2021. But if you live in Massachusetts, you can still help us make our case for strong grid modernization by taking our 10-minute energy use survey by the end of October.

The proposals from the utilities (GMPs) are rife with confusing acronyms and technical descriptions, but you don't need to be an expert to explain why grid modernization is important to Massachusetts. In this blog, we'll give you the basic ideas so that you can speak in support of a greener, more modern grid.
Why now for Grid Modernization and Advanced Metering Infrastructure (AMI)?
Massachusetts became one of the first states to consider approving investment in many types of grid modernization technology, including smart meters, in 2018 when the utility companies submitted their first round of Grid Modernization Plans to the DPU. At that stage, the DPU approved some initial investments in "grid-facing" technology but barred utilities from investing in "customer-facing" technology—that is, smart meters—on the basis that the costs were not justified by the benefits. Three years later, the picture has changed. It has become increasingly clear that investments in clean energy technology, including smart meters, will be necessary to maximize our energy efficiency to help reach climate goals.
In May, in part in response to the climate roadmap bill passed earlier this year, the DPU ordered the utility companies to file new Grid Modernization Plans that include a proposal for full scale deployment of advanced metering infrastructure (AMI) in addition to plans and budgets for grid-facing technology investments. In the filings, each utility is asking the DPU to approve these investments. Importantly, they are also seeking approval of the recovery of their costs from ratepayers through our electricity bills.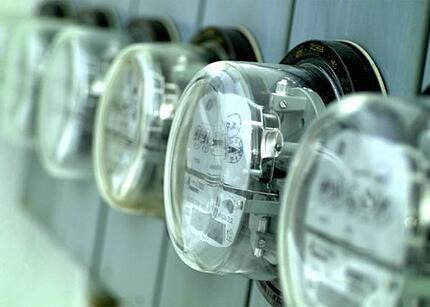 Smart meters will look similar to our current meters, but their capabilities will be dramatically greater.
In weighing costs, it is important to remember that many of the costs may be offset by increased efficiency, system reliability, or other benefits that result in lowering our bills overall. And, in our opinion, it is important to make smart grid investments that contribute to the reduction of greenhouse gas emissions. Climate benefits need to be prioritized in the analysis of these plans.
The key questions for stakeholders include whether the investments represent a smart use of ratepayer dollars and whether the utilities' proposals are adequate to accomplish our clean energy goals.
There's a lot more detail in the proposals. If you want to dive into the nitty-gritty, you can review National Grid's GMP and AMI Plan or  Eversource's GMP and AMI Plan directly.  
What is grid modernization?
The electric grid is a huge machine operating around us at all times—but we generally only take notice when it doesn't work, like during a power outage. At the local level, the electric distribution company is tasked with making sure that enough electricity is coming in to their system to meet the demand from their customers. This difficult task is exacerbated as electric demand grows (as transportation and buildings electrify) and as the utility companies are increasingly called on to manage electric supply in the form of small scale distributed generation like solar and wind. Meanwhile, it's taking longer and longer for new solar and wind to be able to connect to the grid because the utility companies do not have enough tools to evaluate whether they have enough grid capacity for new supply or to manage the distributed generation once its interconnected.
Many energy consumers will be shocked to learn that the utility companies still rely on customer phone calls to find out if there's been a power outage, or that the companies, for the most part, do not have a way to measure and be notified if there are any problems in their system on real time basis. A whole host of newer technology solutions have sprung up to increase efficiency and reliability of the grid by giving the distribution utility increased real-time visibility and control.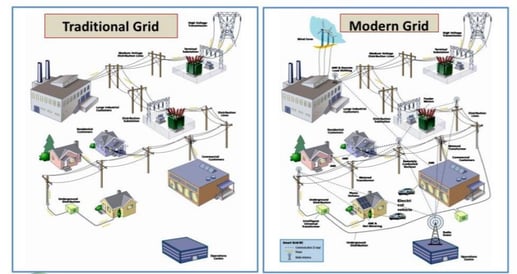 A transition to a more complex grid with more electric heat and transportation and more distributed generation will need new grid technology. Diagram via IEEE.
Grid modernization investment consists of both hardware and software. The GMPs propose continuing to roll out:
Grid-facing sensing and control devices.

The GMPs propose to continue rolling out the installation of monitoring, sensing, and control devices on power lines or in feeders and substations. These devices record data—like how much power is on the grid or whether there are any problems in the area controlled by a substation—and transmit it to the utility company. Some of the devices can also control the grid directly. For example, volt-VAR optimization (VVO) makes small adjustments to the voltage level on the grid to increase grid efficiency.

Wired and wireless information transmission.

All of the data gathered by the devices needs a way to get to the utility company for processing in real-time. The GMPs propose continued investment in this communications technology.
Back end data processing and management.

The utility's Advanced Distribution Management System (ADMS) helps glean useful information from all of the data now coming in about the system.
This combination of investments in sensing, data processing, and grid control will increase efficiency and reliability. For example, grid sensors can now alert the utility company to a power outage in real time, dispatching crews to address the issue. Before in-person crews even arrive, however, automated control devices will already have kicked in to re-route electricity around the damaged area and keep as many customers online as possible.
Although the 2018 GMPs as approved by the DPU kicked off initial investments in all of these areas, the technologies are still only installed in a very small percentage of the system. In addition to the technologies already approved by the DPU, the GMPs are proposing new investments in technologies that will be able to better manage Distributed Energy Resources, like solar, wind, stationary storage, and electric vehicles as they come on to the system.
What is Advanced Metering Infrastructure?
As we have talked about for years through our work with Shave the Peak, being a responsible consumer of electricity is not just about greening up with solar and wind, nor is it only about being efficient and conserving where possible. When we use electricity is also important. When electric demand is high, the costs and emissions of the electric grid go way up. In fact, peak periods are responsible for an outsize portion of the year-round costs of electricity. This problem will only get worse as transportation and building electrification add to demand—unless we figure out a way to shift electric demand away from peak periods.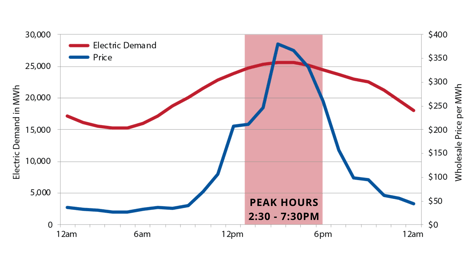 Uneven distribution of demand throughout the day impacts electricity prices.
Unfortunately, almost all of the electric meters in Massachusetts are "dumb"—that is, they get read once a month and tell the utility company the entire amount of electricity used over the course of that month. Smart meters are lightyears ahead: they transmit electric use data to the utility company wirelessly at much smaller intervals, often around every fifteen minutes. This allows the customer and the company to track electric usage throughout the month, flagging unusually high usage and opening other opportunities for greater efficiency. Perhaps most importantly, smart meters unlock the possibility that customers could be incentivized to use less electricity during peak periods through "time varying electricity rates" (TVR), also known as time of use (TOU) rates.
Many of our Shave the Peak participants have been asking how they can measure their impact on the grid and if they can be incentivized for doing this work. That would be possible if we had smart meters. That's why we're strongly advocating for the adoption of AMI plans with sufficient technological capacity to support advanced TVR in the years to come.
What Can You Do?
If you live in Massachusetts, take our 10-minute energy use survey to help inform our advocacy.
Some of you weighed in at the  public hearing on September 9th at 2pm. Thank you!
Here are the key points we think need emphasizing at the DPU. If you have personal experience related to any of the topics below, your expertise is welcome.  
Grid modernization technologies promise to increase the efficiency and reliability of the grid, but we want to be sure we're getting all the bang for our buck that we can. We urge the utility companies to prioritize the grid modernization technology that leads to the most quantified benefits, including emissions reductions and customer experience benefits, not just utility system benefits.

Smart meters are an essential technology to enable customer participation in the clean energy transition. The utility companies must install smart meter technology that can enable robust customer participation in aggregated demand response programs.
Distributed Energy Resource Management Systems, as well as the pilot projects proposed by National Grid, promise to speed up interconnection of distributed energy resources while minimizing curtailment of those resources. We want clear expectations from the utility companies that investments in these areas will lead to more clean energy coming onto the grid.
 We hope to write more about these dockets as they proceed.